Description
2019 Bay Area Impact Summit:
Connecting Founders and Funders to Accelerate Impact
ONE WORLD is excited to host our 5th Bay Area Impact Summit on March 19th! If you're a social entrepreneur, impact or angel investor, fund or foundation manager, or are simply curious about how we can move more money to the companies solving problems that benefit people and the planet, you'll want to be there.
At BAIS, we will highlight examples of the inspiring ways Bay Area investors, entrepreneurs, and other professionals in the impact ecosystem are taking bold steps today to create a better world. We will create space for you to deeply connect with your mission-driven peers, learn from others founders and funders, and find potential collaborators or local companies to support.
THE 2019 PROGRAM WILL FEATURE:
on-stage keynote presentations and interviews with thought leaders in the field of impact investing
fireside chat discussions and panel discussion with seasoned investors

breakout sessions on ways to raise capital, how to leverage the alternatives offered by the impact investment community, how to build diversity and inclusion into your business or investment portfolio, and more

a full slate of pitches from 10 of the best Bay Area-based social entrepreneurs

and an engaging reception to connect with local investors, entrepreneurs, and other partners sharing our interest in ramping up support for companies and investors that prioritize people and the planet, in addition to profits.
Register today to roll up your sleeves and get inspired to take action. Space will be limited for this event to ensure high-quality idea exchange.
*** View the previous highlight video, 2017 Impact Summit blog and 2018 Impact Summit blog ***


AT THE 2019 BAY AREA IMPACT SUMMIT YOU WILL:
Learn – Gain exposure to the fundamentals of the industry and learn directly from practitioners

Network – Build relationships with other companies and impact professionals

Action – Identify opportunities to increase impact, as investor, entrepreneur, or corporate professional

WHAT'S UNIQUE:
Structure – Roundtable and discussions, entrepreneur pitch presentations, reception and networking time

Participants – Mix of entrepreneurs, investors, VCs and corporate professionals

Focus – Bay Area based impact professionals so you can get to know your local community


AGENDA
10am-1pm: Morning roundtables (space permitting, by invitation)
1-1:30pm: Registration
1:30 pm: Opening session with Joel Solomon, Founding Partner, Renewal Funds; Co-Author of "The Clean Money Revolution" and Kristin Hull, Founder & CEO, Nia Capital
moderated by Scott Saslow, CEO & Founder, ONE WORLD Training & Investments
2:30 pm: Social Entrepreneur Presentations Round I
3:30 pm: Break & Networking
4:00 pm: Breakout Sessions
Breakout I: Funding Social Impact Enterprises: From the Known to the Novel
Investors have several options in terms of both the sources of capital they deploy into social enterprises, as well as the tools they use in structuring the deals all of which help to manage financial return expectations. This roundtable discussion examines the options and allows participants to share what has worked for them- and what hasn't- in funding social impact companies. Presenters: Valerie Red-Horse Mohl, Executive Director, Social Venture Circle and Tony Stayner Board Member of SV2 / Managing Director at Excelsior Impact Fund. Moderator: Lisa Van Dusen, Chief Relationship Officer, SV2
Breakout II: Impact Investing Across The Asset Classes
Investors have a wide variety of choices in terms of impact investments in each of the major asset classes: Equity, Fixed Income, Real Assets, Alternatives, and Cash. Stephanie Cohn Rupp, Cat Berman of CNote and Jase Wilson of Neighborly will provide an overview of options across the classes, as well facilitate a conversation with the participants on how best to identify and evaluate the performance of such investments.
Breakout Panel III: The Social Entrepreneur's Secret Weapon: Grants, Crowdfunding, and Non Dilutive Financing
There are certain types of funding sources that only social entrepreneurs have access to, including grants, program related investment or low-interest loans. Where can you find these sources of capital, and how do you successfully apply for them? This breakout will explore these options in detail, and you will hear from entrepreneurs who have successfully raised this type of capital. Moderator: Catherine Crystal Foster, CEO, Magnify Community
Panelists: Ken Tsunoda, Vice President of Development, TechSoup and Miranda Wang, Co-Founder and CEO of BioCellection
5:00 pm: Social Entrepreneur Presentations Round II
6:15: Closing Remarks & Award Ceremony
6:30 pm: Reception

JUDGES


WHAT MAKES OUR DEMO DAY UNIQUE?
Intimate Structure: Educational fireside chats, 8 pitches from social entrepreneurs based in the SF Bay Area, and active networking

Genuine Engagement: our programs attract those who want to interact and genuinely engage with one another. We draw a mix of impact investors, entrepreneurs, and other key influencers of the local, social impact space to engage offline and in person

Local Focus: Silicon Valley is a unique place- by focusing on local entrepreneurs, we are building more intimate connections and collaborative exchanges to inspire action and positive change.
**Student & Nonprofit discount on request. Please contact: angie@oneworld.training**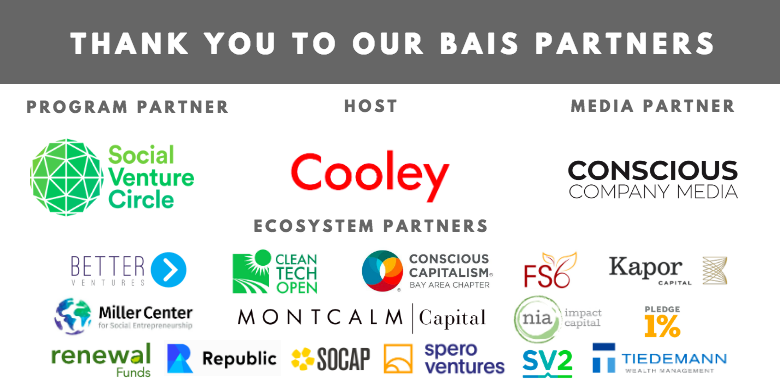 SEE OUR GROWING GUEST LIST
Mindy Christensen, Amalgamated Bank / Andi Kleissner, Amped Innovation/ Michael Steinrueck, Artisan Partners / Thomas Querton, atlasGo / Linda Itskovitz, Aventi Group / Dr. Jin Lee, BabyNoggin / Stephen Malta, Bay Area Council / Rick Moss, Better Ventures / Miranda Wang, BioCellection /Aishetu Dozie, Bossy Cosmetics / Wanny Hersey, Bullis Charter School / Eric Brisson / Shelley Swan, Carry The Vision / Larissa Robideaux, Center for Excellence in Nonprofits / Brittany Hodge, Client Safety Services / Cat Berman, CNote / Michael Meara, Community Capital Advisors / Erik Edwards, Cooley LLP / Jen Barnett, Cooley LLP / John Clendenin, Cooley / Arno Hesse, Credibles / Carolina Miranda, Cultivating Capital / Rosemary Jordan, Elder Care Alliance / Nika Duan, Emerson Collective Tony Stayner, Excelsior Impact Fund / John Levy, Franklin Tempelton Investments / Andreas Freund, DiveIn / Shannon McNair, DiveIn / Cynthia Travis, Earth Altar / Arup Roy-Burman, Elemeno Health / Peter Herz, fs6 / Philipp Stauffer, FYRFLY Venture Partners / Catherine Crystal Foster, Give Local Silicon Valley / Kathy Jackson, Give Local Silicon Valley / Wendy Stern, Grief Support Network / Gagan Jared Levy, Guru Media Solutions / Elizabeth Stelluto Dunaier, Gnu Foundation /Alison Martin, Great Guides / Gagan Jared Levy, Guru Media Solutions / Laure-Anne Pirson, Hult University / Daryn Dodson, Illumen Capital / David Fox, Internet Archive / James Fournier, JLINC Labs / David Rosenheim, Jobs With Impact / Joe Bialowitz / Kaiser Permanente Eric Wilburn, Karuna /Uriridiakoghene (Ulili) Onovakpuri, Kapor Capital / Meena Sankaran, KETOS/ Yscaira Jimenez, LaborX / Jocelyn DeGance Graham, LEVERS / Logan Yonavjak, Lift Economy / Andrew Hill, LiftEd / Kristian Ranta, Meru Health / David Fox, Internet Archive / Dolly Ngo, Miller Center for Social Entrepreneurship / Teri Eyre, Miller Center for Social Entrepreneurship / Tet Selva, MomWarrior / David Cooper, Montcalm Capital / Raymond Hutchison, NationSwell / Karen Melendez, NationSwell / Jase Wilson, Neighborly / Kristin Hull, Nia Capital / Paul Wythes, Oakdell Capital / Scott Saslow, ONE WORLD / Angie Mertens, ONE WORLD / Bonnie Coberly, ONE WORLD / Sri Artham, ONE WORLD / Chuck Brown, Orion Advising / Prashanthi Ravanavarapu, PayPal / Donna Sky, Project Equity / Alec Wagner, Purple Maiʻa Foundation /Jordan Hammond, Relab Bay Area / Robert Fishkin, Reframe It / Joel Solomon, Renewal Funds / Shrina Kurani, Republic / Jill Lindenbaum, Roomily / Siggy Rubinson, Roomily / Brendan Rawson, San Jose Jazz / Wisa Uemura, San Jose Taiko / Courtenay Carr Heuer, Scientific Adventures for Girls / Tanal Basma, sFoundation / Valerie Red-Horse Mohl, Social Venture Circle / Ha Nguyen, Spero Ventures / Bulbul Gupta, Socos LLC / Naomi Baer, Stanford / Sarah Burgaud, StartOut/ Marie Bernard, Sunnyvale Community Services / Aarti Chandna, SV2 / Carmen Munoz, SV2 / Grace Mah, SV2 / Linda Lazor, SV2 / Lucinda Brommersma, SV2 / Nancy Heinen, SV2 / Brad Johnston, Tanoshi / Anwar McQueen, TEAMinc / Ken Tsunoda, TechSoup / Michelle Glauser, Techtonica / Stephen Dinan, The Shift Network / Eric Quick, The Town Kitchen / Xavier Duboisevox, television network / Rafael Saavedra, Trace.Global/Trace.Coffee / John Fohr, TrustLayer / Eric Boyer, UBS / Poonam Narula, UC Davis / Miriam Rivera, Ulu Ventures / Julie Lein, Urban Innovation Fund / Katie Powers, WeFunder / Cory Smith, Wisdom Labs / Colleen Kavanagh Puknys, Zegos Foods /
ONE WORLD Training, PBC is a facilitator bringing together investors and early stage companies. ONE WORLD Training, PBC is not affiliated with the presenting companies and does not endorse or recommend any of the companies (or the securities of such companies) that may seek funding at an event organized by ONE WORLD Training, PBC such as the Impact Summit. Any offers to, or investments made, by an individual who attends the Impact Summit will be to or in his, her or its individual capacity. Consequently, investors conduct their own due diligence in connection with any investment in companies, including but not limited to legal, tax, and investment advice.