Description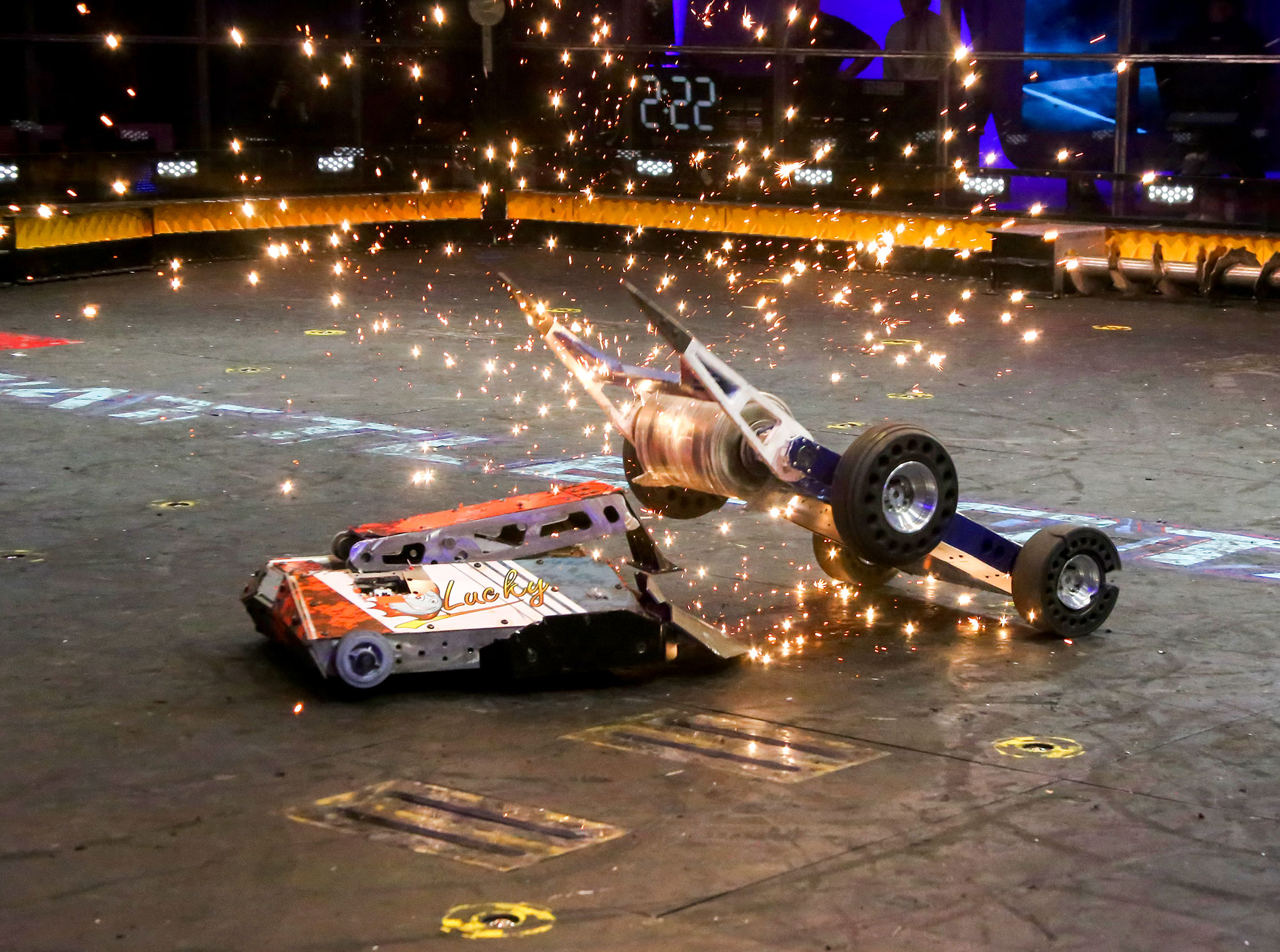 BattleBots 2018 Live MegaEvent!
All new format - All new show!
Live Robot Combat like never before.
Tickets on Sale Now! (Limited Seats!)
The hit show BattleBots is back, this time with an all new, totally revised fight format! We're moving to a fight card system where every live event session promises metal-munching, head-to-head, monster matchups that fans have always dreamt of. Each live session will feature one-of-a-kind fight cards containing multiple main events between legendary BattleBots All-Stars; Undercard fights from incredible newcomers; and jaw-dropping exhibition matches. Bounty fights, robot rumbles, tag teams and grudge rematches will all be on display during the 2018 event.
All of this will be filmed for our new, 20-episode series premiering this Spring on Discovery and The Science Channel, and YOU can be part of the live audience. Not only will you witness the awesome spectacle of robot-on-robot, gear-grinding mayhem, but you might be seen on the new TV show!
So get your tickets now! Space is limited! Bring your friends, bring your family, have a great time and experience the robot fighting awesome saucesomeness that is BattleBots!
SIX SIMPLE RULES:
Be On Time: Please show up for your chosen session on-time, latecomers will have their seats given to stand-by patrons and will not be granted access. Tickets are non-refundable.

Be Strong: Please plan on staying for the entire duration of your ticketed event. A typical session can last between 3-4 hours, and we will need you pumped and excited for all the incredible robot fights. We are counting on you to be part of our great TV audience. Please commit to staying for ALL the matches during your session(s) as leaving will not be permitted except in extraordinary circumstances.

Be Cool: NO spoilers, NO photos, NO videos. You must keep what you see at the event private and don't spoil it for the TV viewers. You will have to sign a waiver and confidentiality form at the event.

Be Stylish: You might be seen on TV so look good! Dress sharp, dress cool, dress in full-fan-regalia. Show the world how great BattleBots fans are. Please no logo wear (shirts, hats, etc.). If you wear logo'd apparel (with the exception of BattleBots apparel), we will ask you to remove it or cover it up.

Be Parentally Guided: Kids under 16 must be accompanied by an adult.

Be Awesome: This is a TV taping for a show that will be seen around the world—so bring your energy and enthusiasm, make signs, dress up, go crazy!
MORE ON THE NEW FORMAT:
Past BattleBots events were all about the single-elimination tournament: Who is advancing, who is going to make it into the finals, etc. The new format is all about the fights, and creating fight cards with the most incredible match-ups ever. Ticketed sessions will feature head-to-head match-ups, rumbles and other events that fans have always dreamt of. As the fights progress, results will be tallied to determined the top 16 bots, and those 16 will fight for the Giant Nut trophy on the last two days of the event. But no matter which session you purchase tickets for, each promises to be an amazing display of robot combat glory!
IMPORTANT NOTE:
This is a TV taping so expect delays. We'll do our best to bring the fights out as quickly as possible but we need to capture all the required shots for the TV show (some of which might include you!). Your patience is greatly appreciated. That said, bring a small cushion, some water (no glass bottles) and settle in for a fantastic spectacle you'll never forget.
TIP!
Insiders know the early days of the event include some of the best fights. Come early and you can see the bots brand spanking new before the battle scars set in.
PARKING:
Parking is available on site at parking lot 8 (we'll have signs out to direct you):
2401 E Wardlow Rd
Parking Lot 8
Long Beach, CA 90807
FOOD AND MERCH:
Food and cool BattleBots merchandise will be available for purchase.