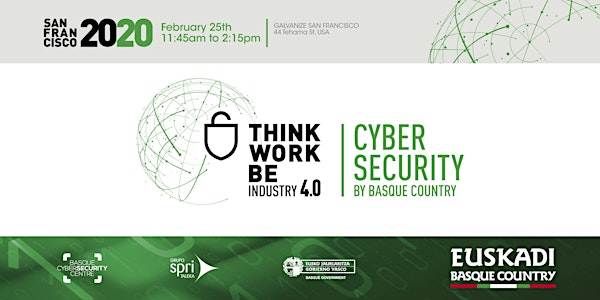 Basque Cybersecurity Center RSA Program
When and where
Location
Galvanize 44 Tehama San Francisco, CA 94113
Description
Angel Launch is pleased to partner with the Basque Country to produce this informative free program during RSA for cybersecurity professionals, CISOs, investors, corporate executives, consulting firms and government agencies.

PLEASE NOTE FIRST COME FIRST SERVED SEATING:
Once you are approved to attend, please arrive by 11:45 for program and lunch. Since tickets are free and we had a huge response, we will seat everyone on a first come, first served basis until we are full. We have a great lineup of speakers and attendees you will meet, including CISO's and senior corporate security executives who are attending. So please come by 11:45 to grab your seat since we will close doors when we are full.

ABOUT THIS EVENT:
Join our delicious complimentary lunch to learn about their unique expertise, network with global cyber security experts, meet other professionals, and discover new cybersecurity solutions. You can register for more than one person, but each person needs their own unique name and email address. Your registration request will be reviewed and approved in writing if you are accepted.
Hear strategies and insights from internationally recognized security experts sharing their insights on global security risks.

Discover business-driven security strategies for small and large corporations

Learn about unique digital security solutions from innovative Basque Country startups and investment opportunities.

Enjoy conversations with your peers over lunch and drinks
What Is Unique about the Basque Country Cybersecurity Solutions:
The Basque Country is an open, cosmopolitan land, supported by a powerful business network and led by the digital world together with innovation applied to Industry 4.0. The Country boasts one of the highest concentrations of Cybersecurity companies in Europe. This event is supported by the forward thinking leadership of BCSC, Basque CyberSecurity Centre, representing the most advanced cybersecurity ecosystem in Southern Europe, located in a country ready to boost your business or cybersecurity investment. Because we think digital trust is a must for every company in a connected world.

AGENDA
11:45 Registration and welcoming

12:05 Opening remarks
Javier Diéguez, Director of the BCS

12:10 Introduction panel: Cybersecurity – Priority in Industry
Patrick Miller, Infrastructure & Industrial Security Advisor

Arantxa Tapia, Minister of Economic Development and Infrastructures, Basque Government

Lisa Carrington, Director , IT Planning & Governance at Arizona Public Service

Del Rodillas, ICS/OT Industries Product Marketing Director, Palo Alto Networks
12:30 Panel: Basque Cyber bridge to the US
Gorka Sadowski, Sr. Director Analyst, Gartner

Daniel Brett, CSO and Founder, CounterCraft

Toby Weir-Jones, Chief Product Officer, Bayshore Networks Inc.

Roberto Velasco, CEO, Hidv Security
12:45 Emerging disruptive Basque cyber companies
Iñaki Eguia, CTIO, RKL Integral

Darragh Kelly, Director GTM & Strategic Alliances, OpenCloud Factory

José F. Gómez, CEO, Ironchip

Gabriele Cagliani, Communications Director, GlobalCybcar
1:05 Lunch and networking

2:15 End of session