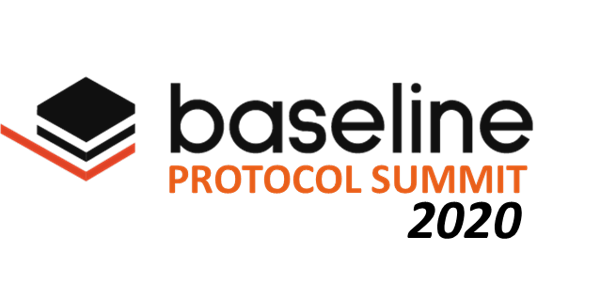 Baseline Protocol Summit 2020
No charge to attend. Deadline to register is Tuesday, 10 November.
About this event
Welcome to the Baseline Protocol Summit 2020!
View message from the Summit Chair here.
This multi-session technical working conference is intended to help bring together the community in order to further the technical implementation of the Baseline Protocol, while providing those new to the community with an update on the latest developments.
Sessions have been identified and selected by the Baseline Technical Steering Committee with an eye toward tackling many of the most urgent technical challenges faced by the team.
Output of these sessions will be used to further the development of the Baseline Protocol Standard along with identifying potential projects to be included in the forthcoming Gitcoin December Hackathon.
Please note that due to the decentralized and distributed nature of conference participants, it will help us improve your experience by answering a few questions during registration about those sessions of interest and your availability. Every effort will be made to formally schedule sessions to allow the highest levels of participation.
Agenda Topics
Experiencing the Baseline Protocol — Explore the Baseline Protocol with working demonstrations to better understand how the components work together and give context to other summit sessions.
Core Interfaces: Persistence, Message Formats, ZK Circuit Improvements, and New Features — High-priority new Interfaces in the /core library of the baseline protocol that we will focus on in the Maintainer team from the November Summit through 1Q 2021. Read more on GitHub.
The Global Phone Book Project — Work involved in research and implementation of a production registry of entities that are equipped to baseline with (and who wish to be discoverable). Read more on GitHub.
The Baseline Protocol Product Cookbook — Any product, from an ERP system to a CRM system to an accounting package, will require some set of UI and logic features to fully take advantage of being baselined. Brainstorm on what a product cookbook could look like and what its initial "recipes" ought to be. Read more on GitHub.
Scaling Baseline Workstep Throughput — Work on the topic of increasing the throughput of baseline Worksteps and reducing on-chain fees without sacrificing sequencing control or other essential baseline capabilities. Read more on GitHub.
Tokenization & Digital Assets —Tokenized digital assets (invoices, purchase orders, bills of lading, etc.) are considered by many to be key enablers for allowing baselined objects the ability to work within the broader ecosystem to take advantage of Defi, Invoice Collateralization, etc. This session will discuss issues related to tokenizing digital assets, sharing them across blockchains, etc. Read more on GitHub.
Oracles and External Events — This session will discuss the requirements, methods, and approaches for projects involved in the integration of external data (data which is not coming from the baselined system/record) and events into baselined Workflows. Read more on GitHub.
Blockchain Client Support for Baselining — Explore issues and projects involved in adding more blockchain clients and virtual machines that can support baselining. Read more on GitHub.
Thank you for your support of the Baseline Protocol and your participation in this inaugural event!
________________________________________________________________________________________________
About Online Platform for Summit: QiqoChat
QiqoChat (Qiqo) provides a social wrapper around Zoom meetings so that participants can move themselves in and out of different Zoom breakout spaces. This creates a vibrant & empowering online event/conference experience that replicates the freedom of movement that participants have at in-person events. Participants can make choices in real time about which breakout, panel, or workshop they wish to attend.
All registered attendees will receive an email from QiqoChat with a personal link for the event. Contact events@oasis-open.org on Tuesday, 10 November, if you haven't received your confirmation link.