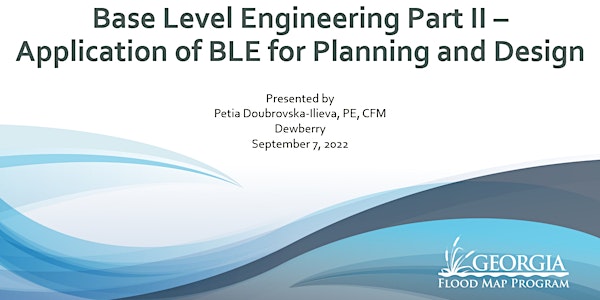 Base Level Engineering Part II - Application of BLE for Planning and Design
Learn how Base Level Engineering datasets are used to help make more informed decisions on planning, engineering and design projects.
About this event
Base Level Engineering (BLE) is watershed-wide floodplain analysis using high resolution LiDAR topographic data. It is used to develop large scale hydrologic and hydraulic modeling and visualize the existing flood hazard in the watershed. The BLE flood hazards datasets and modeling can support local community officials, engineers and developers taking more informed decisions on various planning, engineering and design projects.
This month's webinar continues the discussion on the uses of BLE with a focus on planning, engineering and design.
One Continuing Education Credit (CEC) is available for Certified Floodplain Managers who attend the entire webinar and participate in polls.
Register (below) soon because space is limited.
We hope you're able to join us!
Emily Wingo
Floodplain Unit