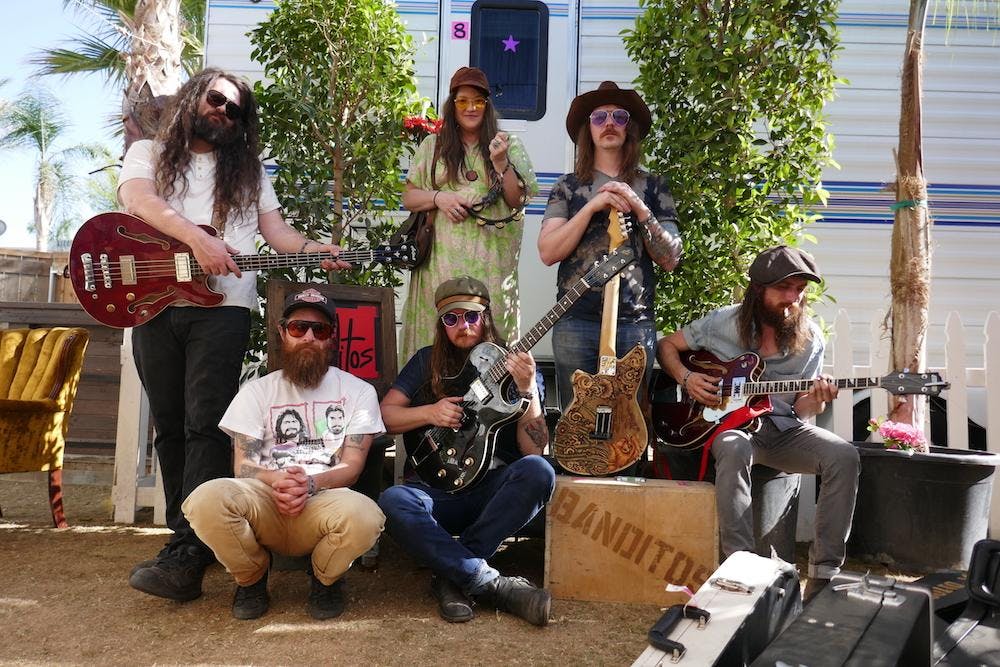 About this Event
$12 // 21+
----------
Originally hailing from the b-e-a-utiful pastures of Birmingham, Alabama, BANDITOS is a group – more like a gang, actually – of six 20 somethings, nowadays operating out of Nashville. With the rugged power of a flashy Super Chief locomotive, the BANDITOS' self-titled debut album bodaciously appropriates elements of '60s blues-fused acid rock, and ZZ Top's jangly boogie. From backwoods bluegrass, to slinky nods to Muscle Shoals soul and unexpected bits of doo-wop sweetness, the BANDITOS recall many, but sound like no one but themselves.
Over the past few years, FLESH PANTHERS have headlined Glitter Creeps, opened for NICK WATERHOUSE after Do Division, kicked off the HoZac Blackout Fest at the Virgin Hotel and last year shared our stage with BANDITOS and SAINT PE -- we even rocked out with em on a dang boat for one of our Chicago Reader Booze Cruises! Needless to say, these boys are the go-to party rockers that Chicago deserves. The leather and denim-clad mad daddies always leave our stage in shambles when they hit us over the head with their infectious, punk-tinged rock & slop.
Wanderlust, whiskey, and wild times characterize the sizzling country karizma of DAVID QUINN. He's been connected with icons like Andrija Tokic (Alabama Shakes), Luke Bell, and The Deslondes. During the creation of his just-released album 'Wandering Fool,' The cosmic cowboy joined forces with Dave Roe, Johnny Cash's bassist, Jimmy Lester, drummer for Billy Joe Shaver, and Micah Hulscher, keyboardist for Margo Price, down in Nashville to create a twangy masterpiece.