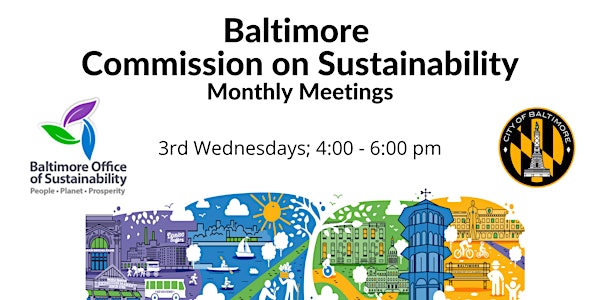 Baltimore City Commission on Sustainability Monthly Meeting
Baltimore City Monthly Commission on Sustainability Meetings
About this event
Join the Commission on Sustainability each month to learn about initiatives, projects and programs intended to make the city more sustainable, more equitable and more climate resilient. Each month we will explore strategies and action items outlined in the 2019 Baltimore Sustainability Plan, highlighting local partners supporting these efforts. Meetings will also include important updates from the staff at the Office of Sustainability on topics ranging from urban agriculture to waste reduction to transportation.
To join the meeting, please follow the instructions below.
Joining on your computer or mobile device:
STEP 1: Click the meeting link or copy and paste it into your browser.
Meeting Link: https://bmore.webex.com/bmore/j.php?MTID=m0be747a511f48aa0e91cf2d1d925b1e1
STEP 2: If prompted, enter the meeting number: 179 867 0534
Step 3: When prompted, enter the password: Livegreen (case sensitive)
Step 4: Wait for the host to admit you to the meeting
Joining by Phone Only:
To join by phone, follow the instructions below:
STEP 1: Dial (408)418-9388 OR (646) 992-2010
STEP 2: Enter access code: 179 867 0534
STEP 3: Then wait to be admitted to the meeting.