Bacon & Barrels San Diego 2016 with The Spazmatics

Saturday, May 21, 2016 from 1:00 PM to 5:00 PM (PDT)
Event Details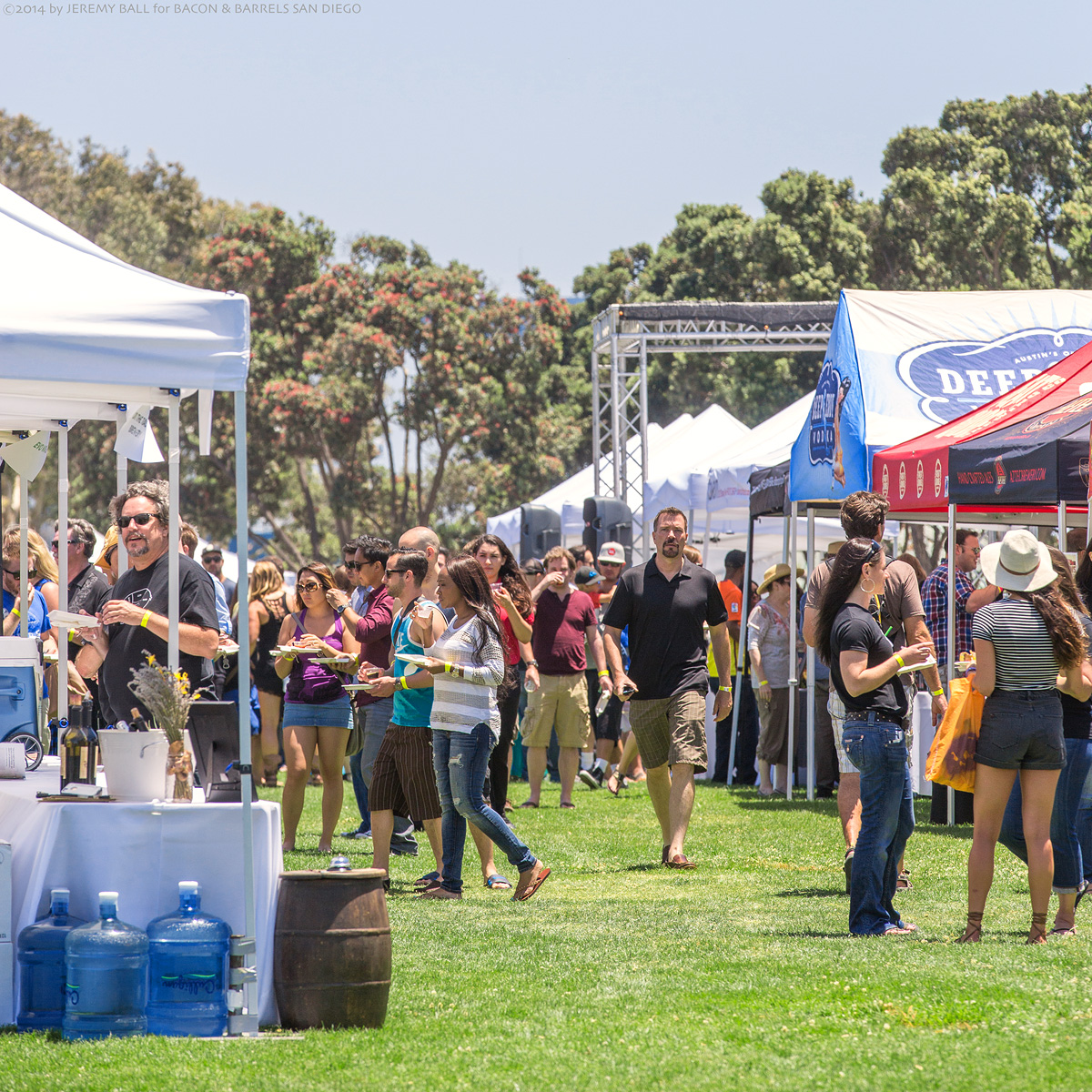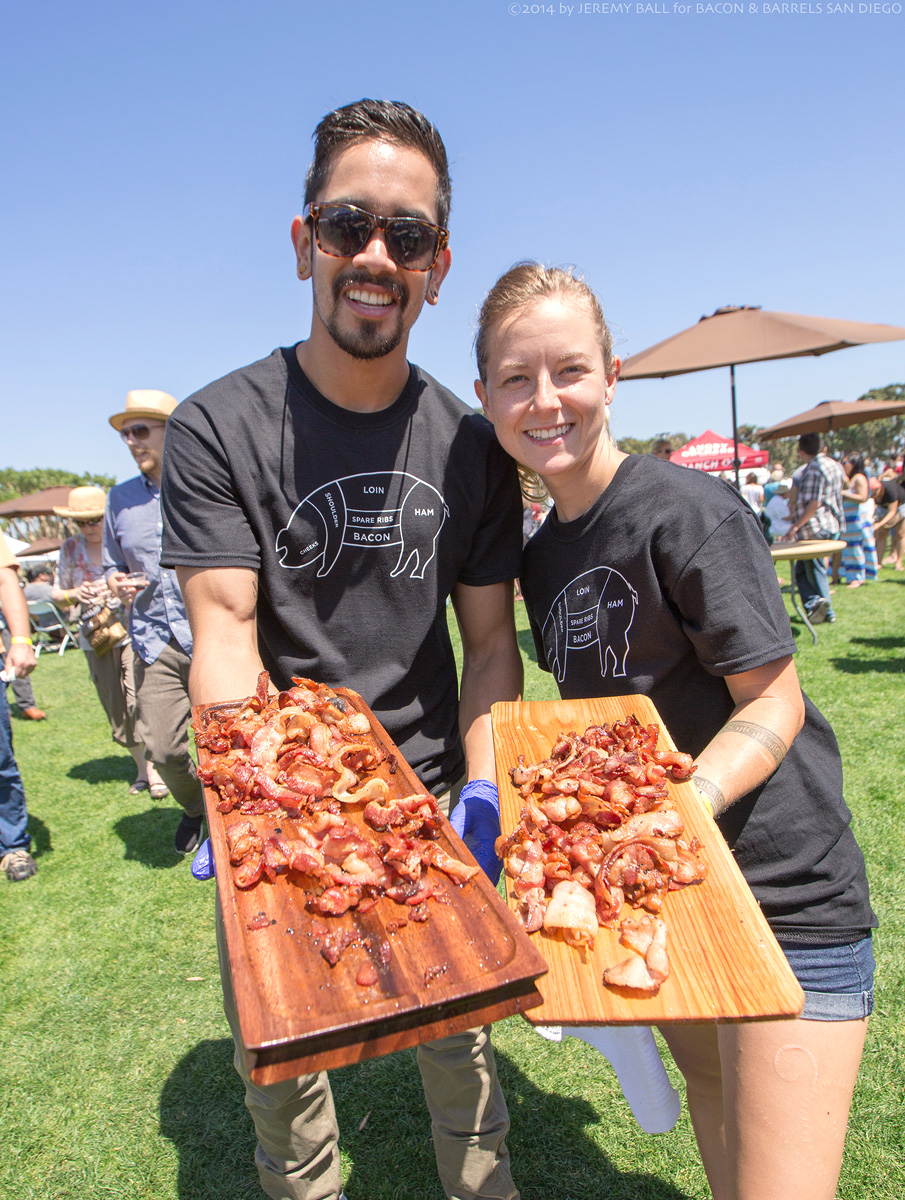 Enjoy a fun-filled day featuring creative bacon dishes from the best chefs in San Diego, and sample from barrels of the best in wine, bourbon, and craft beer. On Saturday May 21st, the hottest chefs from the finest local restaurants will prepare and serve small plates starring bacon in it's most inventive forms. The best mixologists, brewers, and wineries will quench your thirst with refreshing bacon-based and bacon-inspired cocktails and brews. Bacon Heaven will include artisan and local vendors, music by The Spazmatics and more! 
To celebrate special achievement in the bacon arts, one Chef and one Mixologist will be named the 2016 Jefe del Porko. It's pretty much our Bacon Oscars, and not one to be missed!
VIP/Early Entry: 12:00PM - 5:00PM
General Admission/Designated Piggy: 1:00PM - 5:00PM
We're sorry, there are no refunds for this event.  **This is a 21 and Over Event Only**
Tickets Available For this Event:
VIP Tickets (12-5 PM).........$90.00 (Includes Early Festival Admission at 12pm, Cup, all samples, access to live music and chef/mixology demos, and Exclusive VIP Shaded Lounge Access during Saturday's Event) ***Very Limited****
General Admission (1-5PM) (21 and up)...........$50 (Includes Festival Admission from 1-5pm, Cup, all samples, access to live music and chef/mixology demos)
Early Bird General Admission (12-5 PM)  (21 and Up).......$70 (Includes all the cool stuff you get with General Admission- but you get in a WHOLE HOUR EARLY with the VIPs!) **Extremely Limited**
General Admission/Non-Drinker (1-5PM) (21 and Up)........$20 (Includes Festival Admission and food samples. Does NOT include libation sampling)
***FAQs***
When & Where is Bacon & Barrels?
The all-day, all-inclusive festival featuring unlimited bacon-inspired samples and libation booths, will be held Saturday, May 21st, 2016 at the Embarcadero Marina Park South. The event begins at 12:00pm for VIP and Early Entry and 1:00pm for General Admission. Event ends at 5:00pm. Venue Address: 200 Marina Park Way, San Diego, CA 92101.
What is Bacon & Barrels San Diego?
Bacon & Barrels is the definitive outdoor festival for the bacon obsessed foodies and those who prefer their drinks from a barrel. San Diego's best chefs serve up creative bacon dishes to passionate bacon lovers.  The all-day event challenges participating chefs to create their most imaginative, fresh recipes incorporating bacon, and highlights the best artisan and craft barrel beverages such as bourbon, beer, wine, and scotch. Celebrity Judges will award the Jefe de Porko award to the top Chef and Mixologist.  Your vote matters! We will be polling everyone at Bacon & Barrels to ask them which restaurant and mixologist they loved the most. The winner will be presented with the coveted People's Choice Award. Using iPads at the INFO booth, you can vote for your favorite restaurant or mixologist, see the schedule of events, get information about all event participants and sponsors, and see event photos of #baconandbarrels. Plus live music this year by The Spazmatics!
What are the schedule of activities at Bacon & Barrels?
There's LOTS going on at Bacon & Barrels, and yes, it's all included! We'll have live music by The Spazmatics, games, and live chef and mixology demos. The Schedule of Events will be up soon!
Who is coming to Bacon & Barrels?
Bacon & Barrels proudly brings together creative bacon dishes and special barrel beverages by California's best! See who's bringing the bacon here and who's bringing the barrels here!
Does Bacon & Barrels San Diego give back?
Absolutely! Bacon & Barrels supports the Create Community Foundation which provides grants and assistance to organizations that serve Youth-at-Risk.  Bacon & Barrels will also incorporate its proprietary Environmental Event process, with a goal of 95% of all event trash diverted from the Landfill. Our cutlery, napkins and cups are biodegradable, compostable. 
Are there volunteer opportunities?
Yes! Volunteering at Bacon & Barrels Festival is a cool way to give back, since a portion of the proceeds supports the Create Community Foundation and also a cool way to get perks and free access to the festival. Individual volunteer positions will be assigned based on festival needs and you must be at least 21. You can apply here!
How much are tickets? How can I get them?!
Tickets prices vary and are available for purchase here. Tickets are non-refundable.
What if I don't drink?
We have a special ticket for the designated drivers. Enjoy the festival, and the many fun times offered!  Water will be provided for free at the event. This is a 21 and over event. Must bring valid ID.
What can I / can't I bring?
Allowed: You're welcome to bring sealed water bottles, sealed snacks, empty refillable water bottles, beach blankets/chairs.  
Must Bring: Valid ID. This is a 21 and over event.
Not Allowed: Do NOT bring strollers, children under 21 (see below), any open containers, any alcohol, animals (Documented Service animals only allowed).
What Should I Wear to Bacon & Barrels?
Bacon & Barrels in San Diego is held at the Marina Park South, a beautiful grass park right next to the water. Casual wear is totally acceptable and recommended. We also recommend layers, and for the ladies, sandals or wedges. Heels get caught in the grass and is no fun after a while. 
Are kids allowed?
We hate to discriminate against the next generation of Bacon-lovers, but this is a 21 and over only event. Infants carried in baby packs only are allowed. NO strollers please.
Need a ride?
Event parking is extremely limited at the park so we've teamed up with Uber to hook you up with a free designated driver to Bacon & Barrels San Diego! To get a free roundtrip up to $20 each way, sign up at www.uber.com/GO/BACONBARRELS, or download the app, and enter the promo code BACONBARRELS (new users only).  
What is the refund policy?
Sorry, there are no refunds for this event.
Is my ticket transferable?
Yes. If you can't make it to the event, you may gift your ticket to someone else. They must be 21 and over. Tickets already scanned will not be admitted.
For more information, or to be a vendor at Bacon & Barrels please email info@createpromotions.com
When & Where

Embarcadero Marina Park South
200 Marina Park Way
San Diego, CA 92101


Saturday, May 21, 2016 from 1:00 PM to 5:00 PM (PDT)
Add to my calendar
Bacon & Barrels San Diego 2016 with The Spazmatics