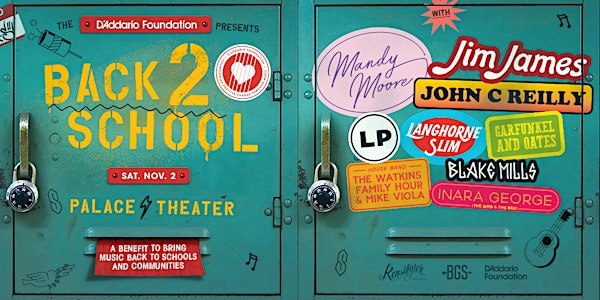 Back 2 School Benefit
Ages 18+
The D'Addario Foundation + BGS + Kensington Presents
An all-star variety benefit featuring Jim James, Mandy Moore, John C. Reilly, LP, Langhorne Slim, Inara George, Garfunkel and Oates and more
When and where
Location
Palace Theatre 630 S Broadway Los Angeles, CA
Performers
Jim James
Mandy Moore
John C. Reilly
LP
Blake Mills
Langhorne Slim
Inara George
Garfunkel and Oates
About this event
A benefit to bring music back to schools and communities.
An amazing array of musicians and comedians (and some comedy-musicians!) come together for one night at downtown LA's historic Palace Theatre to support bringing music to the communities and students that need it most. Lead by house band The Watkins Family Hour & producer Mike Viola, guests include Mandy Moore, Jim James (My Morning Jacket), John C Reilly, LP, Langhorne Slim, Inara George (The Bird & The Bee), Garfunkel & Oates, and more to be announced.
A percentage of tickets are tax deductible.
Gold Circle VIP Reserved: $250 (includes premium seating, drink ticket, event poster, VIP laminate, and VIP entrance)
VIP Reserved: $150 (includes premium seating, VIP laminate, and VIP entrance)
Reserved 3: $99
Reserved 4: $75
Reserved 5: $50
100% of proceeds from the event will benefit the 501c3 non-profit D'Addario Foundation.
This show is all ages, though it contains adult themes.
Seat Map best viewed on mobile
Tickets will be sent electronically.
Printed and mobile tickets will be accepted.
About the D'Addario Foundation:
The overarching goal at the 501c3 non-profit D'Addario Foundation is to improve lives. Each year financial and product support (in the form of instrument equipment) is provided to over 200 grassroots non-profit programs spread out over 40 states in over 141 cities bringing music-making back to a child's education. These dynamic, free programs are available as frequently as possible for as long as possible in a child's education so participants may reap all the benefits that studying music can offer. Because studies and data has shown conclusively that immersive music education programs could be the single, most effective way to engage students, build self-confidence and create community. So, in addition to catching once-in-a-lifetime performances and collaborations amongst world-class musicians, Back 2 School attendees will be contributing directly to The D'Addario Foundation's mission to put music education back in the forefront and into the lives of those who otherwise might not have these opportunities.
SPECIAL THANKS TO OUR SPONSORS: