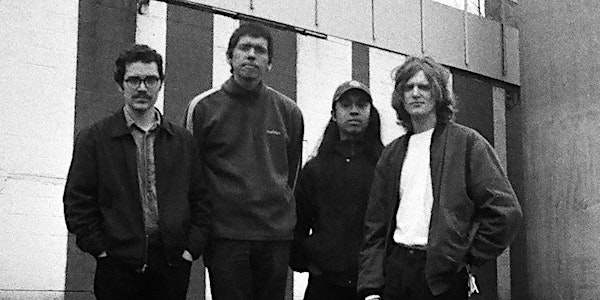 BABY TV Presents: HYPOLUXO with SMUT
Location
Baby's All Right
146 Broadway
Brooklyn, NY 11211
Streamed live from Baby's All Right
About this event
Hypoluxo almost didn't make it. Members of the Brooklyn-based quartet have been playing together in some form since their teens but their experience with the music industry could have broken a less tenacious group. Young and impressionable they signed an opaque deal that left them at the whim of a label with no interest in transparency or care for their releases. Many bands have broken up, fallen apart and moved on from lesser struggles but the frustration born from this experience crystallized into an aggressive and urgent album of power-pop inflected post-punk on Hypoluxo's LP3.
On LP3 the band have crafted their most polished, unmediated and rousing songs to date. Eschewing the dream pop of their previous work LP3 hits immediately with lead guitarist Cameron Riordan's angular post-punk lines whirling over the unrelenting rhythm section of drummer Marco Ocampo and bassist Eric Jaso while lead singer Samuel Cogen's emotion packed vocals, replete with distinct yelps and near-screams grab you by the collar and refuse to let go. With help from San Fermin's Allen Tate, who produced LP3, these songs exude a charismatic charm that belies the surreptitious despondency that runs through Hypoluxo's new album.
Hypoluxo take no time launching into their entrancing brand of intricate post-punk on first single, "Ridden", which delves into the band's near dissolution, while their jaded lyrics are cut by Riordan's fluttering guitar work through the chorus while Ocampo's frenetic beats are perfectly complemented by Jaso's driving bass line. It's not all doom, though, as "Ridden" concludes and Cogen leaves a glimmer of hope with the repetition of "I feel Im stronger than that / I feel Im better than that". "Nimbus" is a derisive takedown of weathermen, written during Cogen's time working delivery on his bike in NYC and the mercurial nature of the job. "Shock" opens with shimmering guitar work and allows the rhythm section to shine on the most aughts indie rock influenced song on LP3, with these big building verses and Kristina Moore's sweetly sung backing vocals that belie the quarantine-induced insomnia, sleep deprivation and feeling of being trapped that spawned the song. While on "Nightlife", with it's wildly vacillating rhythms, Hypoluxo recalls the feeling of moving to the city, finding your footing, or not, and the hedonistic lifestyle that's much too easy to fall into. Throughout the ten songs on LP3 the band traces their own growth from teenagers on their 2016 debut If Language, the eagerness and enthusiasm that was dashed by the onslaught of adult life and the exploitation that is rife in the music industry. There are glimmers of hope and a deep sense of resiliency in these vignettes of growing up, finding yourself and your confidence in a world that wants nothing more than to beat you down. On LP3 Hypoluxo are resolute in their refusal to be taken advantage of anymore and the results are an album that is urgent in it's convictions. Maybe a bit of a "fuck you" as well.
bandcamp | instagram | spotify
~+_+~
Uniting crunchy guitars with swirling synths, Smut embrace a liminality and experimentation that pushes the boundaries of pop music. The Cincinnati formed, Chicago-based four-piece blend melody and moodiness to yield to a droney and percussive pop. As of late their influences stem from shoegaze, 90s hip hop, and trip-hop. Bell Cenower's biting bass lines creep below the surface as Andrew Min's & Sam Ruschman's distorted guitar melodies lift the band to explosive heights. Hovering over her bandmate's wall of sound, Tay Roebuck's caustically sung, meditations on grief, guilt, and growing into oneself make us nostalgic for shoegaze bands past.
Smut have conquered national tours with acts like Nothing, Swirlies, and Bully. Previously working as an actor, Roebuck's performance is uninhibited, reflective of the stage presence of Blur's Damon Albarn. During moments of extended instrumental sludge, Roebuck will step off to the side to take in the expansive whirlwind her bandmates have created.
On their upcoming EP, Power Fantasy we find Smut in a state of transition. Opening track 'Fan Age' begins in a dreamscape of guitar chords as Roebuck sings of climbing the backs of giants. About a minute and a half in, Smut has their feet firmly planted as 'Fan Age' transforms into an infectious, self-assured anthem-- "I don't feel bad, I hold no guilt." The EP's title track finds Roebuck assuming the role of the underdog, hyping herself up to save the world, only to realize that no one person can save everyone. The band's trip-hop influences show their teeth in the slow building, strong closer, 'Perfect Dark', inspired by the N64 game of the same name. Power Fantasy demonstrates a new direction for the indie outfit, one characterized by continued self-reflection and sonic renewal.
bandcamp | instagram | spotify
~+_+~
About BABY TV :: Tickets are on a sliding scale and all grant you access to the same show. Proceeds from each livestream will be split between the artists playing, the staff at Baby's All Right ineligible for government aid during our closure, a wonderful community organization called Make The Road NY, and The Audre Lorde Project.
Ticket holders will receive a link and password 30 minutes before the start of the show. Check your spam folder if you don't see it! Anyone purchasing tickets the 30 minutes leading up to a performance will receive their info in their order confirmation email.