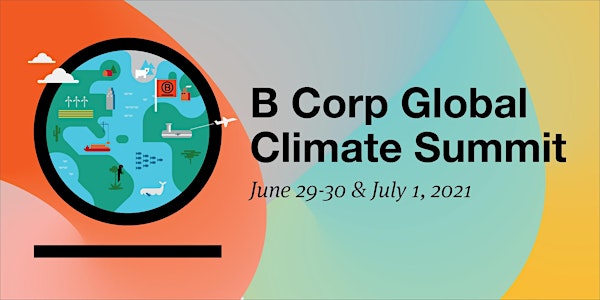 B Corp Global Climate Summit
The B Lab and Sistema B Global Network and the B Corp Climate Collective invite you to the first annual B Corp Global Climate Summit!
About this event
Join the global community of B Corps as we gather for an inspirational three-day virtual summit to take collective climate action centered in people and justice.
We're bringing together the global B Corp Climate Collective community to learn, advance, and accelerate our calls to action to address the climate emergency. This regionally inclusive and accessible Summit will feature global climate leaders and special guests from the front lines of change.
Language & translation note: Need this registration in a different language? Select your language at checkout and/or use your browser to translate. Registro Sistema B: español y portugués. Please contact climate@bcorporation.net with any language questions.
View the full Summit agenda at https://bcorpglobalclimatesummit.sched.com/
All attendees MUST register on Eventbrite in order to access the Summit sessions!
Summit Objectives
This three-day virtual Summit will:
Center Climate Justice - We'll evolve our collective understanding and practice of Climate Justice, and inspire all B Corps to commit to human-centered, justice-driven approaches to climate action.
Build Trust & Community - We'll advance the work of BCCC Action Groups and enable regional B Corp Climate Collectives to connect with context and connection to the global community.
Catalyze Action & Build on Momentum - We'll challenge attendees to go to their edge — equipping attendees for a collective journey to a zero carbon future.
Equip ALL B Corps for Journey to Net Zero with justice at the center - We'll inspire more B Corps to commit to Net Zero by 2030 ahead of COP26, anchored in Climate Justice.
Schedule Overview
Access the full agenda at https://bcorpglobalclimatesummit.sched.com - all attendees MUST register on Eventbrite to access the Summit.
Day 1 - June 29th: Unified Global Summit Programming
We'll offer two 2-hour webinars (webinar times are 2pm UTC June 29 & 12am UTC June 30) with similar content delivered to be accessible to different Global Partner regions, languages, and time zones. This day will also include breakouts and networking opportunities, and be focused on global context-setting, inspiration and engagement. You'll hear from featured speakers on Net Zero by 2030, Climate Justice and a panel of speakers with lived expertise in Climate Justice.
Day 2 - June 30th: Regional Programming
Regionally-focused programming throughout the day with a wide range of lengths, styles, sessions, topics, and networking events for attendees to choose from in order to deepen their climate action and climate justice work. Sessions planned and hosted by B Lab Global Partners will include: B Lab Africa, B Lab Asia, B Lab Europe, Sistema B, B Lab UK, B Lab Australia & New Zealand, B Lab U.S. & Canada.
Day 3 - July 1st: The Forum
A day of sessions hosted by companies and organizations throughout the global B Corp network who have come forward to share their work and expertise. Attendees will be able to choose from a wide range of content (e.g. panels, workshops, film screenings, etc.) to deepen your climate knowledge and practice, drawing on the deep knowledge within our own community.
Who Should Attend?
The Summit is FREE and open to ALL (B Corps and non-B Corps), no matter where you are on your climate journey!
The only requirement is that you are a member of the B Corp Climate Collective. Not a member of the B Corp Climate Collective yet? SIGN UP NOW!
Who is Speaking?
The Summit will feature climate leaders from around the world, including many climate justice advocates with profound lived experiences who will inform the dialogues.
Gonzalo Muñoz Abogabir - UN High Level Champion for Climate Action at COP25; B Lab Global Board Member; Co-Founder of Sistema B Internacional
Mitzi Jonelle Tan - Youth Climate Activist based in Manila, Phillippines
Dr. Ellonda Williams - Director of Justice, Equity, Diversity & Inclusion, B Lab
Raj Aggarwal - President, Provoc (a Certified B Corp); Co-Founder, B Corp Climate Collective; Chair, Climate Justice Task Force of B Corp Climate Collective
TiQuoria Jackson - Environmental and Climate Justice Co-Chair, Howard County NAACP
Mark Cook - Education Committee Co-Chair, Elders Climate Action
David Chen - COO & Co-Founder, Golden Sunland
Gladys Kivati - Founder & Senior Consultant, Sustainable Business Consulting (Nairobi, Kenya)
Fátima González-Torres - Video Strategist and Regional Director, Ecosia
Marita Davies - Storyteller & Author, (Melbourne, Australia)
René Calpanchay - CEO Pueblos Originales SAS
Dan Egol - Executive Director, Inclusion NextWork
Justin Wright - CEO, Habitus (a Certified B Corp); Co-Founder, B Corp Climate Collective
Dan Osusky - Global Head of Standards & Insights, B Lab; Member, B Global Climate Task Force
Kim Coupounas - Co-Chair, B Global Climate Task Force; Global Ambassador, B Lab
Charmian Love - Co-Chair, B Global Climate Task Force; Co-Founder & Activist in Resident, B Lab UK
And more! Stay tuned for additional speakers as they confirm in the weeks ahead.
About the Host - B Corp Climate Collective
The B Corp Climate Collective is a global and local community of shared trust and learning that is open to ALL, including current B Corp employees, current B Lab and Sistema B partners and allies, prospective B Corps who are in process to become a Certified B Corp as well as ANY mission-driven company, B Movement Builder, and other interested individuals and organizations.
Thank you to our sponsors for making this event possible!