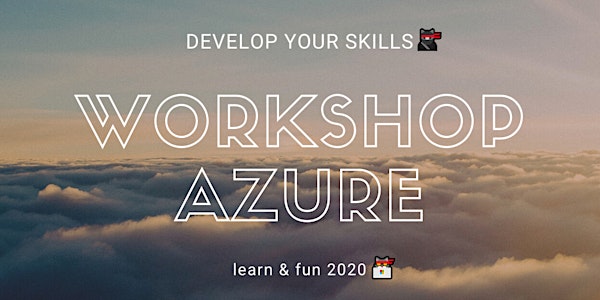 Azure Workshop Wrocław #9 - Robert Przybylski [Microsoft Azure WVD]
During this workshop, we will touch base on how to build WVD (including related services). After this workshop, you will know how to deploy
About this event
Azure - learn & fun 2020
General information:
We would like to invite you to participate in the series of Azure DevOps Workshops. It is a cycle dedicated to people who want to train in solutions based on Microsoft Azure, Azure DevOps for Developers, and Administrators, aka Ops.
The workshop hasn't any limitation of participants and you can choose a platform for using Microsoft Teams or Youtube (Live Stream). Therefore own equipment is required (PC / Notebook, headphones, microphone, camera)
Labolatorum level: 200/300 (scale: min. 100, max 400)
Time for laboratories: 180 minutes.
Language: EN
Please remember!
If you are unable to attend, please let us know if cancellation, waiting people will have a chance to attend.
Link for the online event (Microsoft Teams) we will send to you before the event.
Workshop description:
Topic: Implementing Windows Virtual Desktop in Microsoft Azure.
During this workshop, we will touch base on how to build WVD  (including related services). After this workshop, you will know how to deploy infrastructure for WVD use,  how to create a golden image and deploy the WVD components.
During three hours-long meetings, we are going to walk through the WVD deployment process.
The meeting will focus on the core infrastructure resources deployment, including:
Authentication using Azure AD DS
Virtual networks
Golden image creation, including optimization for WVD, line of business installation. The image will be stored on the Shared Image Gallery
Workspace deployment
Host pool deployment, registration key creation, and remote connection configuration
Application group deployment including access assignment
Session host deployment using Shared Image Gallery
Environment monitoring using Log Analytics
Session hosts maintenance
Workshop prerequisites:
Azure Subscription (min. level access Contributor - for creating resources. Please be aware of the minimum budget for spending on this workshop it is around $50 - if you can't meet with requirements, feel free to join by watching the workshop on YouTube Live Stream)
Basic knowledge of Azure
Deployed Azure AD DS (Azure Active Directory Domain Services - https://www.azureblog.pl/2020/11/14/deploying-azure-ad-domain-services/ (IMPORTANT!)
Class leader:
Robert Przybylski (Predica) - Currently working as a Team Leader at Predica. On a daily basis, working with technologies related to the on-premises/cloud/security delivering projects across multiple continents (EU, MEA, APAC, AMER).
Event owners
Piotr Rogala (Nordcloud) - Piotr currently works at Nordcloud, where he deals with cloud solutions based on Microsoft Azure solutions. He is the leader of the Wroclaw Azure team and supports clients in digital transformation to the cloud for increasing their business potential. At the universities of WSB, WSH, and WSIZ Copernicus, he conducts postgraduate copyright classes, sharing the practical knowledge he has acquired throughout his career. For the last three years in a row, he has been awarded the MVP - Most Valuable Professional award by Microsoft. He is a certified trainer confirmed by MCT - Microsoft Certified Trainer award. In his free time, in his free time, he organizes and participates in many workshops, often as a key speaker. He is also the organizer of the Microsoft Azure User Group Poland group in Wrocław. His portfolio includes projects related to the automation of the launch of complex environments on-demand in the clouds of various suppliers. He also built an automation process for the application of a leading American ERP software provider and service for universities around the world.
Linkedin | Twitter | Github | Blog
Michał Jankowski (Objectivity) - Michal – Microsoft MVP AI & Azure, a solution architect, designer, low-code practice leader, and trainer. He began programming in the early '90s from Basic and Assembler for 8-bit computers. During most of his career, he was delivering a .NET platform targeted application for the world's largest companies. Currently, he is specializing in the development of web applications and the Azure environment.
A great enthusiast of software craftsmanship, unit testing, software design, and other topics related to software development.
In his free time, when he is not playing with the code, he likes travelling, photography, and writing a technical blog (www.jankowskimichal.pl).
Thanks for:
Big thanks to our companies which support us in organizing events like that!