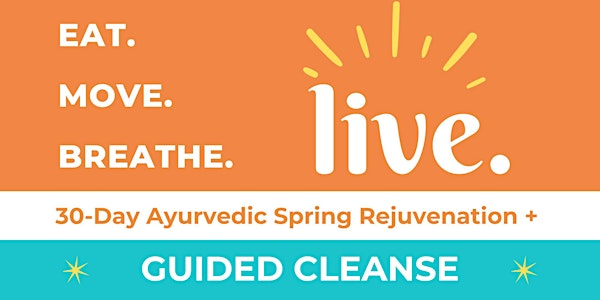 Multiple dates
Ayurvedic Spring Rejuvenation Program + Guided Cleanse
Feel lighter and brighter this spring: 5 weeks | 5 workshops | Recipes | Yoga | Ayurvedic Cooking Demo | Guided 7-day cleanse
By Mollee Sheehan @ Brilliance: Wholebeing Wellbeing
Date and time
March 9 · 4pm - April 6 · 5:30pm PST
About this event
Ayurveda, the "Science of Life", is an ancient health and healing system that encourages us to live in harmony with nature's rhythms. In spring, this means connecting with our body's natural desire to purify and renew — to move out the old and inspire new growth.
Learn about Ayurveda's elements-based approach to wellness and how to align your choices to be in sync with the nature of spring.
EAT: Learn which food choices best support your body, mind and mood.
MOVE: Learn what physical activity works with the revitalizing qualities of spring, including a home yoga sequence.
BREATHE: Learn breath practices that improve circulation and move stagnant energy.
LIVE: Learn daily self-care practices that you can incorporate into your existing routines to support a lighter, brighter, more balanced you.
THE CLEANSE
Unlike modern "cleanses", the ancient wisdom of Ayurveda honors the body's intelligence and offers practices that nourish while gently releasing impurities. The third week of our program we'll shift into an optional 7-day Ayurvedic cleanse to:
• Create balance in your internal systems
• Reset and rekindle digestion
• Move accumulated stagnant energy
• Build resilience while cultivating renewal of body, mind and spirit
• Learn which foods and daily choices balance your individual constitution
• Take a step back from habits and learn new habits that create wellness and ease
No previous yoga or Ayurveda experience necessary
WHAT'S INCLUDED
Live 90-minute workshop each week for 4 weeks + bonus yoga nidra class to close the series.
Week 1: Ayurveda 101 + Seasonal Self-Care Workshop
Week 2: Ayurvedic Cleansing Workshop: Awareness + Transition
Week 3: Cooking Workshop + Cleanse Support
Week 4: Ayurvedic Lifestyle: Integration + Rejuvenation
BONUS: Guided Yoga Nidra for Deep Rest + Renewal
PLUS:
-Personal dosha assessment
-Guided meditation
-Private Facebook group for coaching + connection
-Ayurvedic Spring Rejuvenation + Cleansing Guide, including:
-Morning + Evening Rituals
-Breathing Practices
-Yoga Postures
-Mindfulness Practices
-Ayurvedic Recipes (breakfast, lunch, dinner, tonics + treats)
-Seasonal Food Lists
-30-day Tracker/Journal
DATES
Workshops will begin the week of March 9 through the week of April 6.
-Online live workshops will be Thursdays from 6 - 7:30pm CST, on March 9, 16, 23, 30, and Yoga Nidra on April 6.
Investment
$125
Email mollee@thisbrilliance.com with questions.