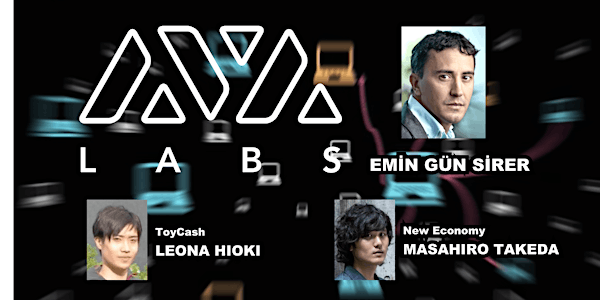 AVA Labs Future of Blockchain
Let's talk about the future of Blockchain with Emin Gun Sirer
When and where
Location
PINEBROOKLYN-パインブルックリン- 1-2-35 Fukushima -ku Fukushima Osaka-shi, Osaka 553-0003 Japan
About this event
Overview
AVA Labs led by Emin Gun Sirer introduces its evolutional blockchain and invites young Japanese blockchain engineers and entrepreneurs to discuss about the future of blockchain.
Timetable
18:30 - 19:00 Open
19:00 - 19:10 Opening talk
19:10 - 19:50 Presentation of Ava Labs
19:50 - 20:10 Break
20:10 - 20:40 Talk session with Leona Hioki of CoFounder of ToyCash ,Inc and Masahiro Takeda of Editor from New Economy
20:40 - 21:30 Networking
Cancel
It's appreciated to cancel from this page if you will find you cannot attend this event.
Target Audience
Engineer
Business person in blockchain industry
Media
About AVA Labs
At AVA Labs, we are leveraging Avalanche consensus to build a flexible platform-of-platforms, enabling the ability to deploy any subnetwork for all types of digital assets and applications. The platform is built with a universal language, network, and marketplace for the creation, discovery, trading, and storage of assets. Ultimately, it will enable 3rd party sellers to interact in a unified platform, which allows them to lower their costs while benefiting from compounding network effects. By building the AVA platform, we are altering the way assets are deployed, exchanged, and stored, which will have an impact on the future of finance and money.
About Emin Gun Sirer CEO and Cofounder of Ava Labs
CEO and Cofounder of Ava Labs. He is a professor of Computer Science at Cornell University, founder of Ava Labs, and co-director of the Initiative for Cryptocurrencies and Smart Contracts (IC3). Among other endeavors, Sirer is known for having implemented the first currency that used proof of work to mint coins, for selfish mining, for characterizing the scale and centralization of existing cryptocurrencies, as well as having proposed the leading protocols for on-chain and off-chain scaling.
About Leona Hioki / CoFounder of ToyCash ,Inc
CoFounder of ToyCash .Inc since 2018. Contributing to authentication systems with NFT. Activities are coding & design & proposals. Currenty focusing on DEX and Atomic Swap
About Masahiro Takeda of Editor New Economy
He launched a blockchain media called 'New Economy' in 2018 after his experience as a journalist in blockchain industry over 3 years. New Economy is backed by one of the most successful publishers in Japan and collaborates with The Block as a partner in Japan. He have interviewed the key-persons over 100 people so far including Jack Dorsey, Founder of Twitter, Zooko, Founder of Zcash and Zac, Founder of Blockfi.
Website: https://www.neweconomy.jp/