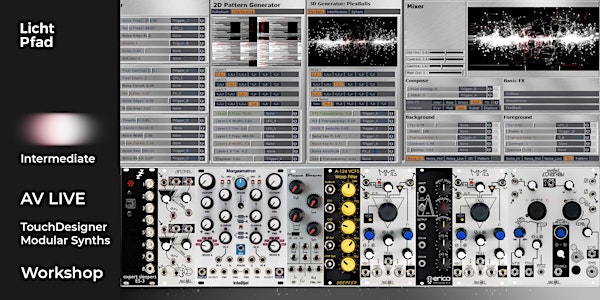 AV using TouchDesigner Ableton Live and Modular Synths
Workshop about usage of TouchDesigner in Combination with Modular Synths & Ableton for creating stunning AV Shows and Installat
Refund Policy
Contact the organizer to request a refund.
About this event
Online Workshop
3 days online Workshop oriented to Musicians who want to extend their experience and creative possibilities to produce well synchronized Audio-Visual Performances as well as for the Visual Artists who want to add the sound part to their work.
60% Visuals Topics + 40% Music Topics based on experience of producing AV performances with Ableton and Modular Synthesizers as well as producing UI Environment for synchronizing visuals with incoming audio signal
We have 3 Online Sessions and Chat room. After the session videorecordings and Project files will be uploaded for the students.
Approaches for creating Live AV Performance:
Using TD for Visuals with another Musician
Using TD for Visuals for you own AV Live with Ableton / Synths
Using TD with Ableton for AV Installations
Animation vs Generative
Hardware/Software Setup:
MIDI vs OSC
TDAbleton, LiveGrabber
Virtual Sound Cards, ASIO4ALL
DC and AC Coupled Sound Cards
Setup windows and OSX computer to send midi data over ethernet and localhost
Basic of Modulars - Sound and CV - CHOP
Output CHOP to CV
Intro to Modular Synths
Oscillators, Filters, VCA
Synchronisation
LFO, Envelope Generators, Sequencers, Clock Dividers
Arturia BeatStep Pro
Oscilloscope in TD
Complex Oscillators
Effect Modules
How to collect your Modular
How to Play Live with Modular
TouchDesigner as Visual Tool
AV LIVE: USING TD with ABLETON
TD Ableton for control Touch From Ableton
MIDI for Control Touch From Ableton
Max4Live Devices to Send Data between Ableton and TouchDesigner
TouchDesigner Setup for Live Performance
Structure of AV project for your own AV performance
Structure of UI for AV performance with another Musician
Easy Control your videos using EDL
Modular Setup Principle: Sound Analysis and Routing
Optimisation

SCENARIO: TD as Generative Tool for ABLETON
Map Clip play from TD
Map Ableton parameters from TD
Ableton as Timeline Tool for TD
TouchDesigner as a Tool for Music
TD as a Sound Generation tool
TD as a Control Data Tool
Presets for Modular Synth in TouchDesigner
Building CV Utilities in TouchDesigner
Recording MIDI and CV Data
Additonal Offer:
If you have not enough TouchDesigner expirience, we offer you the our TouchDesigner Basic Videocourse downloable now for the reduced price ( 235 Euro instead of 330/ +19% Tax) which you can learn yourself before the AV workshop starts.
Course include 7 Parts ~4 Hours each:
Part I - Basic Concept
Part II - Sound Reactivity and Basics of UI
Part III - Movie Playback and Animation
Part IV & V- Geometry & Procedural Modeling
Part VI - Rendering
Part VII - Interactivity and Interoperability
Full program: