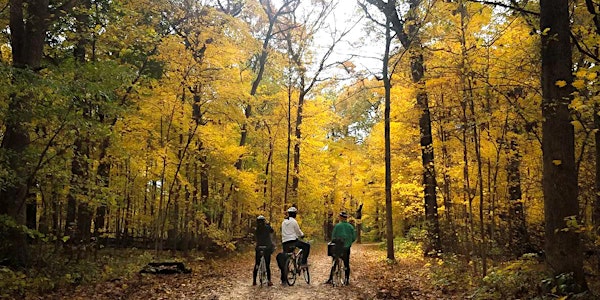 Autumn Sun Harvest Bike Tour to Illinois Beach State Park 2022
Fall Color Tour | A Weekend Bike Camping Adventure From Chicago to Illinois Beach State Park and Back
When and where
Location
Cog Cycles 3217 W Bryn Mawr Ave Chicago, IL 60605
About this event
EVENT DETAILS
Pace: Casual. 12-15mph. Intermediate level.
Trail/Route: Paved road with minimal gravel incorporated.
Lodging: Tent (camping gear not provided). We will stay at Illinois Beach State Park (IL DNR) located at 1 Lake Front Dr, Zion, IL 60099 (map).
Itinerary:
Day 1: 40 miles | Day 2: 55 miles, or 2 miles with return on Metra
Support:Self-supported. Not vehicle support.
COVID-19/Vaccine Policy: All riders will be required to fill out a COVID questionnaire the week before the ride and proof of vaccine is required to ride.
TRIP DESCRIPTION
Get ready for crisp cool air mornings and the smell of autumn, as we tour the forests of Northeastern Illinois.
A seasonal landscape, where vast tracks of color flush red, yellow and autumn bronze, in the valley of the DesPlaines. A regional ride through the woods and prairies that lie beyond Chicago. But before we get there… house pumpkins, gourds, and cider fill the north shore communities, as we travel north and feast our eyes upon architectural masterpieces.
Learn about the towns, the lay of the land, and the unique ecosystems along the way, as we drop knowledge on top of your noggins at each breakpoint.
We'll ride to and camp on the youngest land in the state at Illinois Beach State Park, discover the Dead River, go on a guided nature walk, and learn what the Chicago area looked like before European settlement. And what better way to end our first day of riding than to relax around a campfire, on a cool night with warm apple cider on the shores of Lake Michigan.
Day two, you can choose to do the 55 mile return along the Desplaines River Trail, or just hop on the Metra train just outside of the campground. Gather some friends, check out the itinerary, and let's have a good time.
WHAT IS INCLUDED
Campground fees (sites, firewood, etc.)
Food for Day 1 dinner and Day 2 breakfast.
Education about our local history and nature
Really nice and supportive guides
WHAT IS NOT INCLUDED
Food for Day 1 lunch and Day 2 lunch (we will stop at designated restaurants, but the guides will not pay for these meals).
Snacks
WHAT TO BRING
Required Items:
Your bike!
Helmet - encouraged but not required
Tent & Camping Gear
Head Lamp
Cash/Debit/Credit Card for your food and your drinks
Photo I.D. and Emergency Contact Info
Two spare inner tubes and tools to replace a flat (guides will be able to assist)
At least 2 water bottles
Bike lights, front and rear
Lock for your bike
High energy snacks
Change of clothes, including swimsuit and/or rain gear!
Phone battery pack
Camp mug, plate/bowl, eating utensils
Welcoming, adventurous, can-do attitude
ABOUT THE GUIDES
Our guides are part of a community of volunteers that believe in adventure and helping others find adventure right out our front door. They exude a welcoming, supportive, and inclusive spirit which are foundational values at OOFD. They have love and appreciation for their home and like sharing knowledge about that home with others, thus helping the riders to develop a stronger sense of gratitude for our local history and nature.
The guides will be set with the route and an extensive script about the area you'll be riding through (a script they may have researched, written, and developed themselves)! They have set up multiple breakpoints along the way to ensure you can go the distance. So if this is your first time out on a long ride, you'll be surprised by how far you can actually go. They will stick with you and if for any reason you must end the ride early, they will help direct you to the nearest train and way to return to the city.
They will have the tools necessary for most maintenance issues that might arise on a weekend bike camping trip. Our guides will help you with any needed repairs. *If you have your own tools or supplies, especially any that are very unique to your bike, please bring them along. Though guides will have extra tubes and patches, you most definitely should bring at least 2 extra tubes for your bike.
TIPS FOR THE RIDE
Keep it light and keep it tight!
Secure your belongings and keep highly used items like snacks, rain gear and extra layers accessible when packing. Keeping it light usually makes for a more enjoyable ride; So leave the kitchen sink at home. Avoid dangling straps, they can get entangled in the wheels and cause an accident; Be smart and think about your safety.
Other Stuff To Bring
You might want to bring ibuprofen, comfortable cycling gloves, sunglasses, sunscreen, lip balm and cool information you would like to share.
Clothing
Dress for the season and in layers. In the spring and fall, outside temperatures at times may be great to wear a T-shirt but when biking, the wind can make your chest, hands, and fingers cold and the weather may change without notice. Bring a pair of gloves and a sweater/windbreaker if need be. If a little rain is in the forecast, bring a rain jacket. Don't be afraid of the rain!!! Some of the best views are when a storm is on the horizon. If it gets intense, there are shelters along the way to wait it out.
FREQUENTLY ASKED QUESTIONS
What kind of bike do I need?
All bikes are welcome! On most rides, the routes are mixed terrain ranging from paved road to limestone and gravel; super skinny tires aren't ideal but we've seen them work. A bike rack or other systems to keep your gear off of your back/shoulder is a great idea, though if that is how you roll, no worries, though we strongly advocate riding without a backpack, at least on our longer rides.
Do you rent bicycles out to the public?
We do not.
What if I get tired?
We champion perseverance. Our guides will support and encourage you to push on because the reward of completion is great. In the event of injury, major bike failure or just not being able to push on, the guides will help direct you to the easiest way to return home (usually via Metra or other forms of public trans). Very few of our rides provide van support and if the ride does provide it, it will be explicitly mentioned in the ride description. However, this vehicle should not be relied upon for mere fatigue. There are limited seats.
What happens if it rains? Is the event cancelled?
No, we ride rain or shine. Some of the best views are after a rainstorm. Your safety is our top priority, so if there is severe weather we will break and seek appropriate shelter along the route, then continue on to our destination.
How fast do you ride?
General rule of thumb is a steady 12 miles per hour, though some of our advanced longer distance rides the pace will vary from 12 to 18 mph. On shorter beginner rides, as well as Family and Youth rides, the pace can be as low as 8-10 mph.
What happens if I'm too slow or too fast?
On most rides, we do our best to ride together as a group. Separation in the group can occur, but we do not leave anybody behind. A guide will always be riding at the back and at the front (and usually at least one floating in the middle). This is not a race, so everyone will do their best to keep the pace of the lead guide and should not plan to ride faster than the lead guide. In the case that a rider is consistently falling significantly behind the rest of the group, a guide may consult with that participant and advise on an alternate method to reach camp or home. This is always a last resort, and rarely happens, but if that participant and their accompanying guide are likely to arrive at camp hours after the rest of the group, those suggestions may arise.
What happens if my bike breaks?
First, always bring two spare inner tubes. Our Guides carry extra tools and supplies, are always ready to help and are trained for emergency repairs. We are usually too far from a bike shop in case anything major happens. Although, if a roadside repair is not possible, then a trek to the nearest Metra Station or best mode of public transportation may be the best option (we've even had folks call a friend or an Uber).
REFUND/CANCELLATION POLICY:
Individual/Participant Cancellations: No Refunds. No Transfers. | We are a small organization and due to the small group size of our rides, a ticket cancellation/no show has a real impact on the planning of the tour and as such, we cannot provide any refunds for a participants cancellation. By registering, you acknowledge and agree there will not be a refund if you cancel or do not show up for the event. Tickets are non-transferable and can not be resold. Please contact the ride organizer if you are no longer able to attend.
Organizer Cancellation: Full Refund | Nobody wants an event to be canceled. But in the very rare case the organizer does cancel the event at their discretion due to unforeseen circumstances, then registered participants will receive a full refund. To date this organizer has never canceled an event.
Weather and Rain: We do not cancel an event for rain or a storm. We ride rain or shine. Understand that Chicago weather is typically passing, if it gets intense we will wait it out in a provided shelter then continue biking. FYI-Some of the best views and greenery are after a rainstorm.
Inclusivity and Non-Discrimination Statement (included in the Waiver)
We at Out Our Front Door believe in the radical inclusion of all people on our bike camping trips. Regardless of your race, gender identity, sexual orientation, economic status, or even the types of bikes you ride, we want you rollin' with us. We want everyone to feel welcome. As a participant of an Out Our Front Door event, you are inherently agreeing to Ride and Let Ride.
If you exhibit any micro-aggressions observed by leaders, such as being judgmental of another's bike, touring experience/skill, mansplaining, or generally being unfriendly you will be politely yet firmly corrected by OOFD leaders. If you commit any serious offense such as repeated unwanted flirtation, sexual harassment, overt racism, etc., you will be asked to leave the tour without a refund and will no longer be welcomed on future rides.
If you feel you are a victim of any of the above or have observed it, please raise the issue with one of our ride leaders, and they will handle the issue accordingly and with appropriate discretion.
We have this policy in place because we want everyone to feel safe and welcome. Out Our Front Door is an open community of bike campers, and we will forever work to bring all sorts of folks into the fold. Thank you for being a positive contributor to that community.
ABOUT US
We're the Out Our Front Door Organization. A bike camping community for Chicagoland.
See Our Full Schedule Of Events Here
As a community organization, Out Our Front Door's mission is to immerse, educate, and preserve the history, culture, trails, and native habitats of the Lower Lake Michigan Basin Area through exploratory adventures. Established in 2015 with the North Loop Ride, we now have many different resources, events, and programs ​we offer the public.
Drop us a friendly visit at: ​ Facebook | Instagram | Twitter | https://www.oofd.org/