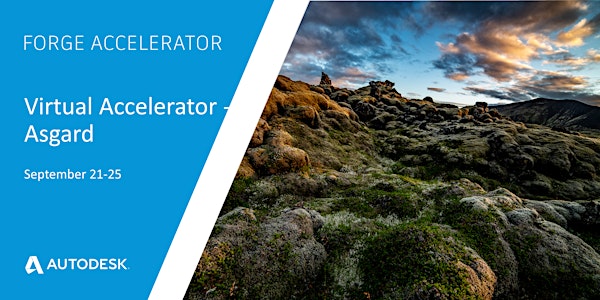 Autodesk Virtual Forge Accelerator, Asgard (September 21st-25th, 2020)
Description
With travel restricted in much of the world, we have decided to run a "Virtual Forge Accelerator". The strength of Autodesk Forge Accelerators has been enabling you to have both immediate help and guidance with your Forge powered projects in "real time", and to develop personal relationships with Autodesk engineers that you can reach out to in the future should you get "in a pinch". We plan to deliver both of these – real time expert help dramatically shortening your learning and dev time – and create trusting relationships with Forge experts at Autodesk – as part of the upcoming Virtual Forge Accelerator, called Asgard.
The Autodesk Forge Accelerator is designed to help creative developers leverage Autodesk Forge Cloud APIs - https://forge.autodesk.com


How to Apply
Simply click 'Register' button above, fill in the fields and submit your application. Please note: your application is not automatically accepted. We will review it and contact you to confirm if you are accepted.
You will need to fill in the following information:
1. Company (Name & Address)
2. Attendees – the names and email addresses of the one or two people who will attend the accelerator
3. Autodesk APIs to be used – such as...
Viewer API
Design Automation API (for Revit, Inventor, AutoCAD, 3ds Max)
BIM 360 API
Data Management API
Model Derivative API
Reality Capture API


4. Your proposal – explain in 2000 words or less, why you should be a participant.
You can also include a link to an image (jpg, png, pdf) to support your proposal.
In your proposal, make sure you include the following information:
Mention how you intend to use the Autodesk Forge APIs to fulfill a compelling user need

Describe what you are going to code and prototype during the Accelerator.

Will you present a 'demo' on the presentation day (last day) ?

Strong development skills

High motivation
For more details about this and other Forge Accelerator events: https://forge.autodesk.com/accelerator-program