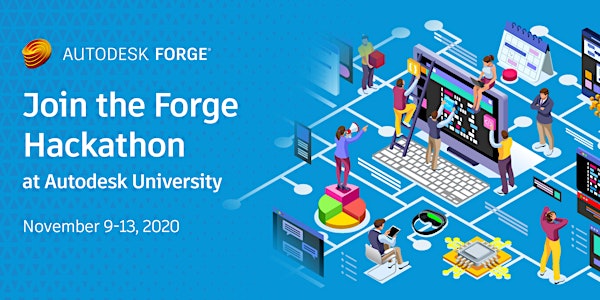 Autodesk University - Forge Hackathon
Forge Hackathon Pre AU 2020 event! Join the upcoming Hackathon to a chance to win prizes and develop amazing apps with Autodesk Forge!
When and where
Date and time
November 8, 2020 · 10pm - November 13, 2020 · 3pm PST
About this event
2020 Autodesk Forge Hackathon (Nov 8th – Nov 13th)
Get your creative juices flowing! Grab a team of up to 4 and come ready to code the Forge project you've been dying to develop. More details (such as prizes and judges) will be provided closer to the Hackathon.
The first 100 participants will receive some exclusive swag. So join early!
The challenges are:
Best data visualization application - How easy is it to understand your CAD data visually? High performers in this category should showcase a clean, simple solution that makes it easy to bring forward the most valuable data at the right time.
Most innovative Digital Twin application - How smart is your digital twin? Is it something we've never seen before? Does it offer best-in-class monitoring and analysis?
Best workflow automation application - How many tedious, manual processes can be automated? The Forge Design Automation APIs offer many services to help you automate repetitive tasks, freeing up time and energy to focus on more complex workflows.
Thinking outside the box with a BIM application - We're looking for the most creative ways to interact with a BIM model, while adding significant value to the user workflow. Think about your BIM manager - what would they love to be able to do, but never in a million years think was possible?
Best 3D game application - This is your chance to get creative with the three.js library. Ever wanted to play Space Invaders in your Forge Viewer? How about PacMan in your 2D drawings? Have fun with this one!
You can choose to build an application that encompasses one challenge or up to 2 different ones. In addition to each of the 5 categories, there will also be a prize awarded to the best overall Forge application. It is possible to win one of the categories as well as the best overall application prize; it is also possible to not win one of the 5 challenges but still be awarded for creating the best of the best Forge application.
Applications will be judged on:
Innovation - Show us an application that does something no one has seen before! The more creative, the more points you get.
Elegance - How easy is it to use your app? Is it intuitive? Does it offer a stellar user experience?
Business problem solved - Does your solution have real world benefits? Can you deploy it live for people to use and solve their real world business problems?
Progress made during the week - The more you can accomplish during the actual week of Nov 8-13, the higher you score with the judges.
Depth of Forge use - How many Forge APIs and services were you able to leverage? The more you combine, and the more advanced use of the platform the more points you can score here.
Wow factor - Is your app jaw-dropping?
The Hackathon will end on November 13th in a Demo Day, where each team will present their solution in the context of these 5 challenges. The judges will choose the finalists, and winners will be announced at the Hackathon showcase during Autodesk University.
Hackathon Showcase – Nov 18th
The winners of the Hackathon challenges will be announced during a showcase during Autodesk University.
The winning solutions will be demonstrated, and prizes will be awarded to the winning teams. Register for AU 2020 and tune in November 18, 8 AM PST for the showcase.
Keep an eye on this page for updates.
About the organizer
Jaime Rosales is a Senior Developer Advocate since August 2018 for the Autodesk Developer Network and Forge Development Partner Program. He joined Autodesk in 2011 through the acquisition of Horizontal Systems: the company that developed the cloud-based collaboration systems—now known as BIM 360 Glue (the Glue). He was responsible for developing all the add-ins for BIM 360 Glue, using the API's of various AEC desktop products.
He is currently empowering customers with the use of Autodesk Forge platform, through the world with hosted events such as Cloud Accelerators, AEC Hackathons, VR & AR Hackathons.. He spends part of his time presenting in different parts of the US, Europe and Latin America about the implementation of 3D content for web applications through the JS and NodeJS communities.