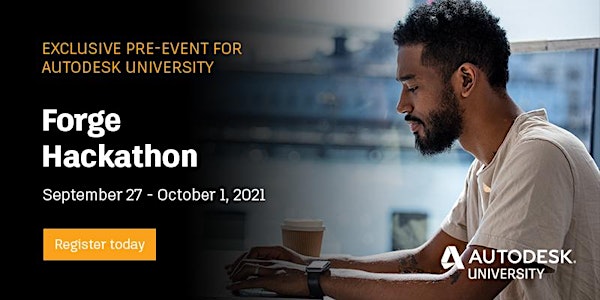 Autodesk University 2021 - Forge Hackathon
Pre AU 2021 event! Join the upcoming Hackathon to a chance to win prizes and develop amazing apps with Autodesk Forge!
About this event
2021 Autodesk Forge Hackathon (Sept. 27th – Oct. 1st)
The Forge Hackathon is back for our second year of exciting challenges, innovative solutions, and awesome prizes! This year's hackathon will take place the week before Autodesk University's Americas event, so join the Forge team from September 27 - October 1 to "hack" together some incredible Forge solutions. The top 5 teams will be showcased during Autodesk University 2021, so bring your A game and come ready to code the Forge project you've been dying to make.
The Challenges
Last year we offered 5 challenges to leverage your knowledge of Forge and push your creative boundaries. This year, expect to do the same! Though the challenges may be a bit different. Your team can choose to build an application that solves up to two of these challenges, though if you want to focus on just one that's perfectly fine too. The best application in each category gets to walk away with a pretty cool prize, so give it your best shot!
Most creative Digital Twin application
How smart or innovative is your digital twin? Is it something no one has ever seen before? Bonus points will be awarded for using the Data Visualization extensions for the Forge Viewer, and for making sure your digital twin is as environmentally friendly and sustainable as possible.
Playing around with XR
Why stick to the physical world when you can play around with multiple realities? Now, reality can be whatever you want it to be—augmented, virtual, or mixed. Come with your favorite headset and earn bonus points for using Forge servers to prep your data, as well as for using GLTF.
Thinking outside the box with Autodesk Construction Cloud
Autodesk Construction Cloud connects workflows, teams, and data at every stage of construction to reduce risk, maximize efficiency, and increase profits. If you're tackling this challenge, you'll get to take full advantage of the team that brought you ACC. Bonus points will be awarded for creating a sustainable solution.
Most innovative task automation app
How many tedious, manual processes can be automated? Use the Forge Design Automation APIs to help you automate repetitive tasks, freeing up time and energy to focus on more complex workflows.
Best 3D game application
We loved your submissions so much last year, this year we want to see more! Get creative with the three.js library and build a fun game we'll never want to put down. Bonus points will be awarded for using the Forge Viewer.
What can you expect?
Sign up with your team, or join one before the hackathon. Be ready to start coding from day one! Teams can be made up of up to 4 people, and you can only participate on one team. Make the most of this week and come ready to showcase what you've built on Demo Day, October 1!
Timeline
Pitch Day: September 24
We want to hear what you're thinking about making, so come tell us on Pitch Day! You can get feedback on your ideas, share your expertise, or find a team that you want to join.
Coding Support Period: September 27 - October 1
During the week of the hackathon, you will have unlimited access to multiple Autodesk Forge support resources, including:
• The Forge platform and documentation
• The Autodesk engineering teams
• Forge Advocates
And, of course, 24x5 support hours. Whether you're an early bird or a night owl, someone will be online to guide you and answer any questions you may have.
Demo Day: October 1
Each team will submit a video showcasing the app they built for our judges. Live viewing of those videos will take place on October 1 according to each team's region.
Winner Selection: October 3
Winners of each challenge will be informed of their victory by October 3. The team must then submit a video outlining who they are, the application they built, and which challenge it addresses by October 4, to be included in the Hackathon Showcase on October 5.
Hackathon Showcase at Autodesk University 2021
The winners of the hackathon challenges will be announced during the showcase at AU, on October 5. The winning solutions will be demonstrated and prizes will be awarded to the winning teams. Register for Autodesk University and tune in October 5, 10 AM PST for the showcase.
Judging Criteria
If you participated in last year's hackathon, we will follow the same judging criteria below.
Innovation
Show us an application that does something no one has seen before! The more creative, the more points you get.
Elegance
How easy is it to use your app? Is it intuitive? Does it offer a stellar user experience?
Business problem solved
Does your solution have real world benefits? Can you deploy it live for people to use and solve their real world business problems?
Progress made during the week
The more you can accomplish during the actual week of Sept 27th-Oct 1st, the higher you score with the judges.
Depth of Forge use
How many Forge APIs and services were you able to leverage? The more you combine, and the more advanced use of the platform the more points you can score here.
Wow factor
Is your app jaw-dropping?
Why should you join?
Besides the chance to gain prestige in your industry and win the respect and admiration of your peers, winners will receive some incredible prizes!
But don't lose heart - even if you don't win, you will get some great Forge swag to show off. And if you're one of the first 100 participants, you will get a very exclusive gift. So sign up today!
Shipping may be slightly delayed based on your location and any current restrictions. But please be patient with us - you will get your rewards!