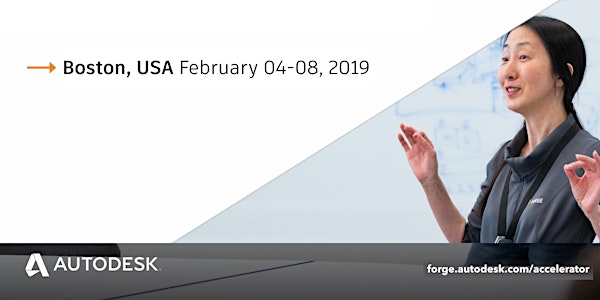 Autodesk Forge Accelerator - Boston, MA (February 4th-8th, 2019)
When and where
Date and time
February 4, 2019 · 9am - February 8, 2019 · 5pm EST
Location
Autodesk Inc. 23 Drydock Avenue, Suite 610E Boston, MA 02210
Description
This special 'Accelerator', will be focused on Design Automation for Revit (beta).
Develop for the "Design Automation for Revit" API in Boston, MA this February 4-8, 2019.
"Autodesk Forge Accelerator" is an opportunity to work intensively on a chosen project with help, support and training from Autodesk Cloud Engineering teams, in Boston, MA.
The Autodesk Forge Accelerator is designed to help creative developers leverage Autodesk Forge Cloud APIs - https://developer.autodesk.com
Applications are now accepted for the currently scheduled 2019 Forge Accelerator in Boston, MA in February 2019. Space is limited.


How to Apply
Simply click 'Register' button above, fill in the fields and we will contact you if you are accepted.
You will need to fill in the following information:
1. Company (Name & Address)
2. Attendees – the names and email addresses of the one or two people who will attend the Accelerator
3. Autodesk APIs to be used – such as...
Design Automation API (Revit I/O beta), BIM 360 API, Data Management API, Viewer & Model Derivative API
4. Your proposal – explain in 2000 words or less, why you should be a participant.
You can also include a link to an image (jpg, png, pdf) to support your proposal.
In your proposal, make sure you include the following information
Use of Autodesk Forge API's to fill a compelling customer need. (Design Automation API (Revit I/O beta), BIM 360 API, Data Management API, Viewer & Model Derivative API).

Likelihood of having a demonstrable prototype by the end of the Accelerator.

Strong development skills.

High motivation.
For more details about this and other Forge Accelerator events: http://autodeskcloudaccelerator.com/forge-accelerator/
FAQs
What can I bring into the event?
You'll need to bring your own laptop. We provide wifi, power and presentation equipment, if you want to present your work on the 'demo' day (last day).
Is it ok if the name on my ticket or registration doesn't match the person who attends?
Yes. You can update the attendees at any time.

Is there a ShortenURL?
Yes, https://autode.sk/2S5JoXb
About the organizer
Mikako Harada works as an AEC technical lead and Americas manager for the Developer Technical Services (DevTech) team at Autodesk. She provides API (Application Programming Interface) technical support to the members of Autodesk Developer Network worldwide for AEC products.
Prior to joining Autodesk, she worked as a researcher for the Swiss Federal Institute of Technology (ETH) in Zurich. While at ETH, she worked with projects involving the development of web-based collaborative environment with the Swiss building industry and web-based visualization projects for business data archive systems, aiming to enlarge our knowledge by providing a means of visualizing a large amount of information. She was also a researcher at Engineering Design Research Center in Carnegie Mellon University (CMU), Dr. Scott Fahlman's lab (who is known as the father of Common LISP and the person who first sent the smiley face on the Internet), and Artificial Intelligence Cognitive Systems group at General Motors Technical Center. Her interests is in the areas of interactive techniques, optimization and layout synthesis.
Mikako also has her own personal blog and writes about BIM 360 API and other cloud-based technologies for AEC industory.