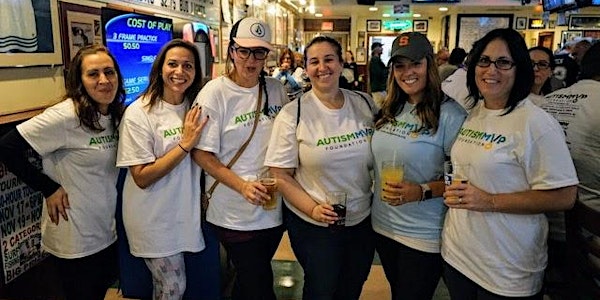 Autism MVP Foundation's 5th Annual Walk Event
When and where
Location
Leggett's Sand Bar & Manasquan Boardwalk 217 1st Avenue Manasquan, NJ 08736
Description
Is there a better way to spend a fall day than going for a beautiful walk along the beach then getting together with family, friends and members of the community for food, fun and football... and all for a great cause?
This is what our annual Walk Event is all about, and a Walk t-shirt and free lunch buffet are included in your ticket price of only $35!
**Please note, you must register by Tuesday, October 29 in order to guarantee your t-shirt size).**
Our 5th annual Walk event and post-event celebration at Leggett's is just around the corner! For the third straight year, we are holding our registration (starting at 11:00 a.m.) and post-event celebration at Leggett's Sand Bar in Manasquan, NJ! Tickets are only $35 ($20 for students, $10 for kids 12 and under), so please join us for this fun, family-friendly event as we raise money for the Autism Program Improvement Project and our Scholarship Program for students enrolled in Monmouth University's Department of Education who are pursing a career to work with those on the autism spectrum.
So come out and join us as we Walk on the Boardwalk and have a post-event celebration of fun, family, friends, food and football!
Can't make the event? Please consider making a donation in any amount via our website.
Many thanks to our sponsors Circle Hyundai, Circle BMW, Monmouth University, WRAT 95.9 FM The Rat Hackensack Meridian Health and Leggett's Sand Bar.
FAQs
Where is the walk and how long is it?
The walk will take place on the Manasquan Boardwalk and will start just down the street from Leggett's. It's a no-pressue, 1-mile walk. Walk as far or as short as you'd like!
What are my parking options for getting to and from the event?
There is plenty of on-street parking and a parking lot behind the venue.
What is included in the post-event buffet?
The hot food buffet is complimentary but soft drinks and alcoholic beverages are available for purchase.
I work for a company that is interested in sponsoring the event. Who should I contact?
Please contact Keith Green via kgreen @ autismmvp.org or at 732-870-7977.