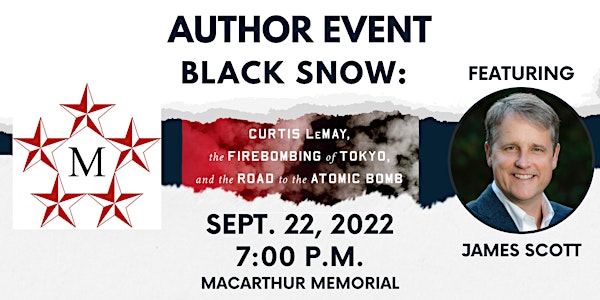 Author Event: Black Snow with James Scott
Join acclaimed historian James M. Scott at the MacArthur Memorial for a presentation about his latest book: BLACK SNOW.
When and where
Location
The MacArthur Memorial 198 Bank St Norfolk, VA 23510
About this event
Just after midnight on March 10, 1945, nearly three hundred American B-29s rained incendiary bombs down on the Japanese capital of Tokyo. The bombs created a nearly 2,800-degree inferno that killed more than 100,000 people and left a part of the city about the size of Manhattan nothing but ash. The attack was so horrifyingly effective that Major General Curtis LeMay, who directed the mission, said, "If we lose, we'll be tried as war criminals."
Join celebrated historian and Pulitzer Prize finalist James M. Scott for a presentation and book signing for his latest book: BLACK SNOW: Curtis LeMay, the Firebombing of Tokyo, and the Road to the Atomic Bomb. BLACK SNOW tells the complete story of the Tokyo firebombing. Drawing extensively on first-person interviews in the United States and with survivors in Japan, air force archives, and oral histories never before published in English (including the 5,000-page Japanese collection known as the Tokyo Air Raid Damage Records), Scott re-creates the bombing and what led to it, bringing to life the military, political, and moral debates that convinced American forces to shift from a policy of daylight precision bombing to low-altitude incendiary raids – a process that helped create the moral and strategic framework for the eventual use of the atomic bomb on Hiroshima and Nagasaki.
FREE – registration is requested.
***This event is at the MacArthur Memorial - it is not a virtual event!***