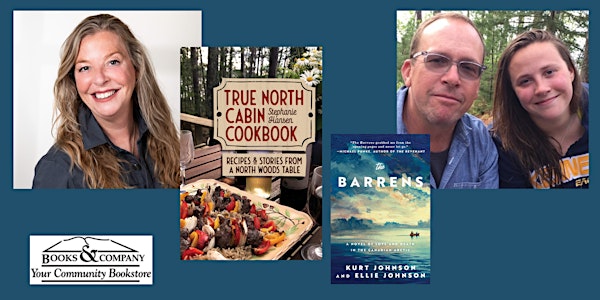 Author Conversation-Stephanie Hansen w/ Kurt Johnson-A Cookbook & A Novel
Stephanie Hansen, author of True North Cabin Cookbook, with Kurt Johnson, co-author of The Barrens in conversation.
When and where
Location
Books & Company 1039 Summit Avenue Oconomowoc, WI 53066
About this event
Books & Company is excited to host Stephanie Hansen in conversation with Kurt Johnson. They will be talking about writing, traveling, and cooking. A book signing will follow the conversation.
Full of stories and remembrances of time spent at the cabin with family and friends, Stephanie Hansen has created a gem of a book with True North Cabin Cookbook. A perfect gift for cabin dwellers, as well as cooks and gardeners preparing delicious food from the summer's harvest. Hansen's straightforward, creative, tasty dishes will nourish those who gather at your table--whether at the cabin or at home. True North Cabin Cookbook offers ample opportunity to savor north woods living at its very best.
Purchase a copy of True North Cabin Cookbook from Books & Company:
https://www.booksco.com/book/9781681342351
Stephanie Hansen is the co-host of Weekly Dish radio show and podcast, producer and host for Makers of Minnesota podcast, and talks deep and wide about food on her podcast Dishing with Stephainie's Dish. She loves to travel, whether it is by boat or van! Ely, Minnesota is home during the summer months and Minneapolis remains home base.
In The Barrens, two young women attending college decide to have a summer adventure canoeing the rapids-strewn Thelon River that runs 450 miles through the uninhabited Barren Lands of subarctic Canada. In their relationship, Holly and Lee had always told each other stories; Lee had called Holly a "storyist." Storytelling helps Lee endure the rigors of her journey and engage her grief as she explores her relationship with Holly while chronicling her own coming-of-age off the grid in Nebraska with her estranged eco-anarchist father, who is now serving time in prison.
Purchase a copy of The Barrens from Books & Company :
https://www.booksco.com/book/9781950994489
Kurt Johnson spent his summers on a remote island near the Boundary Waters Canoe Area, first with his parents and later with his wife, Stephanie, and then their daughter, Ellie. He lives in Minneapolis.
Ellie Johnson paddled the 450-mile Thelon River with three other women at the age of seventeen. The novel is based in part on that canoe trip as well as her real-life experiences growing up as a gay woman. Ellie is a recent graduate of the University of Minnesota and lives in St. Paul.