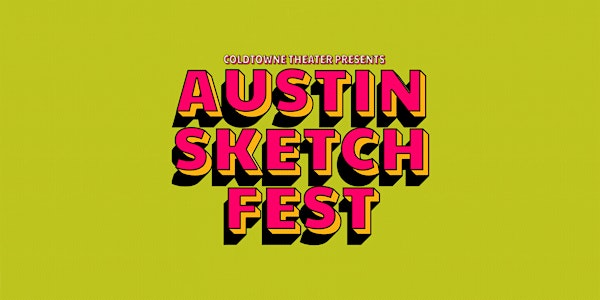 Austin Sketch Fest 2021 Submissions!
Submissions for our VIRTUAL 2021 Austin Sketch Fest (April 23rd - 25th) are now open!
About this event
SUBMISSION INFORMATION
Regular Bird Submission (January 15th - February 15th): $20
Late Bird Submission (February 15th - March 15th): $25
SUBMISSION FAQS
Is this festival in-person?
No! Austin Sketch Fest is entirely online this year. So that means you can submit and not have to worry about traveling! Pretty cool!
What are you looking for? 
Any kind of show that works in the streaming format, as long as it's at least partially scripted. Sketch groups, script readings, podcasts, storytelling shows, weird conceptual game shows, character-based stand-up shows...pitch it to us!
What materials do I need to include in my submission?
You can upload anything that you feel demonstrates your ability to perform a show in a streaming format. That could be: a recording of a previously streamed show, a live version of a show you plan to adapt for streaming, a script you'd like to perform on stream, etc. The jury just needs to know you have some understanding of how to produce a live streamed show.
STILL HAVE QUESTIONS?
If you have any questions or comments about the festival, you can contact the producers at info@atxsketchfest.com.
ABOUT AUSTIN SKETCH FEST
Austin Sketch Fest is produced, booked, and organized by ColdTowne Theater. Previous festivals have featured Superego, Reductress Live, Paul F. Tompkins, Latino Comedy Project, James Adomian, Ego Nwodim, Amber Ruffin, Jamie Loftus, and many more groups from NYC, Chicago, LA, Seattle, Portland, Dallas and Austin (of course). Austin Sketch Fest will occur online on ColdTowne TV's Twitch stream the weekend of April 23rd through 25th.
This project is supported in part by the Cultural Arts Division of the City of Austin Economic Development Department and the Austin Creative Alliance.
ABOUT COLDTOWNE THEATER
ColdTowne Theater is Austin's main stage for alternative comedy, with improv, sketch and stand-up shows seven days a week, featuring the smartest, brightest, and hardest-working comedians in Central Texas.