Description

The 3rd annual Austin International Drag Festival will take place November 9-12, 2017.
We're back and bringing on the FIERCE!

Check out our growing schedule here: https://austindragfest2017.sched.com
Once again, Austin, Texas becomes the center of the Drag Universe as hundreds of Drag Artists from all over the world decend upon our fair city to entertain thousands of Drag fans and each other. This is the crème de la crème of the Drag world. Each artist will be displaying their greatest talents for your education and entertainment.

CLOSE TO 400 PERFORMANCES ALL WEEKEND! Including the following Headliners (AND your festival pass allows you to MEET ALL HEADLINERS FOR FREE!)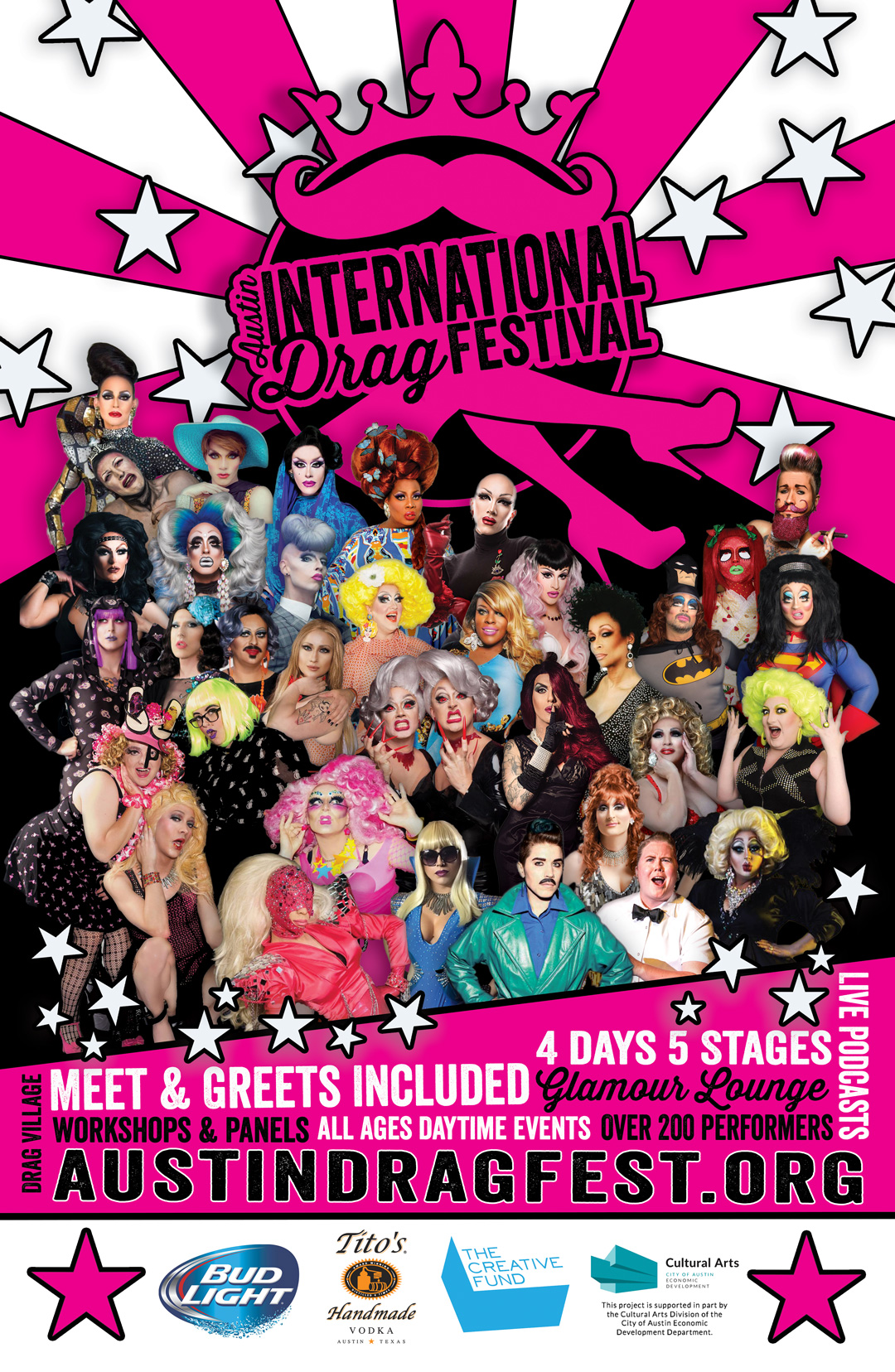 SASHA VELOUR, LATRICE ROYALE, BOULET BROTHERS, CYNTHIA LEE FONTAINE, LORIS, KAREN FROM FINANCE, LAILA MCQUEEN, MYSTIQUE SUMMERS, VERANDA L'NI, CHEDDAR GORGEOUS, FEAST OF FUN, DIS CHARGE, E, ALTHEA TRIX, TOMMIE ROSS, AURORA SAVAGE, CRIMSON KITTY, IVANAHA FUSIONN, ERIKA KLASH, ALEXIS NICOLE WHITNEY, DUSTY MOOREHEAD-MALLETTI, EATON JOHNSON, POO POO PLATTER, SPIKEY VAN DYKEY, SHYANNE O'SHEA, MUFFY FISHBASKET, MACI SUMCOX, GOLDIE PEACOCK, JIZZA BELLA, SABEL SCITIES, and hundreds more!!!
In the daytime, visit the Drag Village located in our host hotel where you will be treated to Drag showcases, a Drag Market, Meet & Greets, Panels, Workshops, Podcasts, Game Shows, a Photography Studio, a Glamour Lounge, a Welcome Dinner, our famous Bye Felicia Brunch, after hours events and much more.
In the evenings catch our Drag Shuttle to the Red River Cultural District in downtown Austin to witness even more of the best Drag artists from around the world in multiple venues just feet from each other!
This is an ALL AGES festival. The nightly Drag showcases are limited to ages 18+.
This is a 100% volunteer run nonprofit event produced by Austin International Drag Foundation Inc., a 501c3 nonprofit dedicated to the education, support and advancement of Drag Artists everywhere.
******************************************************************************************************************
THE FINE PRINT (PLEASE READ)
All ticket/package sales are final. NO REFUNDS, EXCHANGES OR TRANSFERS.
Drag Village (DAY) Events are All Ages. Nightly showcases at Elysium and The Sidewinder are ages 18+ and Beerland is 21+.
We cannot guarantee entry into all events, dinners, brunches, parties, panels, workshops, showcases, etc., due to capacity limitations so we encourage you to arrive early to whichever events you wish to attend.
All sales are final. There are absolutely no refunds or exchanges. Schedule and performer lineups are subject to change without notice.
All announced events, panels, workshops, parties, headliners, performers, speakers, webcasts, podcasts, meet & greets, breakfasts, photographers, makeup artists, hair stylists, panelists, instructors, and everything else that has something to do with the festival is subject to change without notice.
*******************************************************************************************************************
Date and Time
Location
Drag Village at Holiday Inn & Downtown Austin
6000 Middle Fiskville Road
Austin, TX 78752