You are invited to discuss the strategic perspectives for the future transformation of the industrial districts in relation to the city…
About this event
International Symposium
"Industry | Spatial Planning | Design for the Productive Space"
20 November 2021 / Saturday / 05.15-12.00 AM (EST)
3 sessions, 2 keynotes, 12 speakers
You are invited to discuss the strategic perspectives for the future transformation of the industrial districts in relation to the city…
AURA Symposium is organized with the contributions of Industrial Urbanism_Turkey, which designed as a multidisciplinary platform in cooperation with the METU Master of Urban Design, Master of Architectural Design Programs and the Policy Analysis Laboratory (PAL) with a reference to the "Industrial Urbanism" group created by the cooperation of MIT and Tel Aviv University.
The symposium will take place with the participation of academicians, researchers and strategists from the fields of architecture, planning and economics.
The titles of the three sessions will be as follows:
Session 01: Towards an Industrial Urbanism
Session 02: Planning and Design: A Multi-Scalar Perspective
Session 03: Designing for Industrial Urbanism
The symposium will be held in English, and simultaneous Turkish translation will be provided. Attendance is free of charge with the registration at Eventbrite. Zoom session link will be sent to the participants via e-mail.
Uluslararası Sempozyum
"Üretken Mekanlar için: Endüstri | Mekansal Planlama | Tasarım"
20 Kasım 2021/ Cumartesi / 13.15-20.00 (GMT+3)
3 oturum, 2 keynote, 12 konuşmacı
Endüstri bölgelerinin kentle ilişkili olarak gelecek dönüşümlerine yönelik bütüncül bir stratejik perspektif ile yenilikçi çözüm önerilerinin ele alınacağı uluslararası sempozyuma davetlisiniz…
AURA Sempozyum; MIT ve Tel Aviv Üniversitesi işbirliği ile oluşturulmuş "Endüstri Şehirciliği" grubuna referansla ortaya çıkmış olan, ODTÜ Kentsel Tasarım ve Mimari Tasarım Yüksek Lisans Programları ile Politika Analiz Laboratuvarı (PAL) işbirliğinde çok disiplinli bir platform olarak tasarlanan "Endüstri Şehirciliği_Türkiye" platformunun katkıları ile düzenleniyor.
Sempozyumda, mimarlık, planlama ve iktisat alanlarından akademisyen, araştırmacı ve strateji uzmanları konuşmacı olarak yer alıyor.
Düzenlenecek üç oturumun başlıkları şu şekilde olacak:
Oturum 01: Endüstriyel Şehirciliğe Doğru
Oturum 02: Planlama ve Tasarım: Çoklu Ölçekli Bakış Açısı
Oturum 03: Endüstriyel Şehirciliğe Yönelik Tasarım
Etkinliğe katılım herkese açık ve ücretsiz olacak. Söyleşi dilinin İngilizce olduğu etkinlikte Türkçe simultane çeviri de mevcut olacak. Eventbrite üzerinden kayıt olan katılımcılara Zoom oturum linki e-posta yoluyla iletilecek.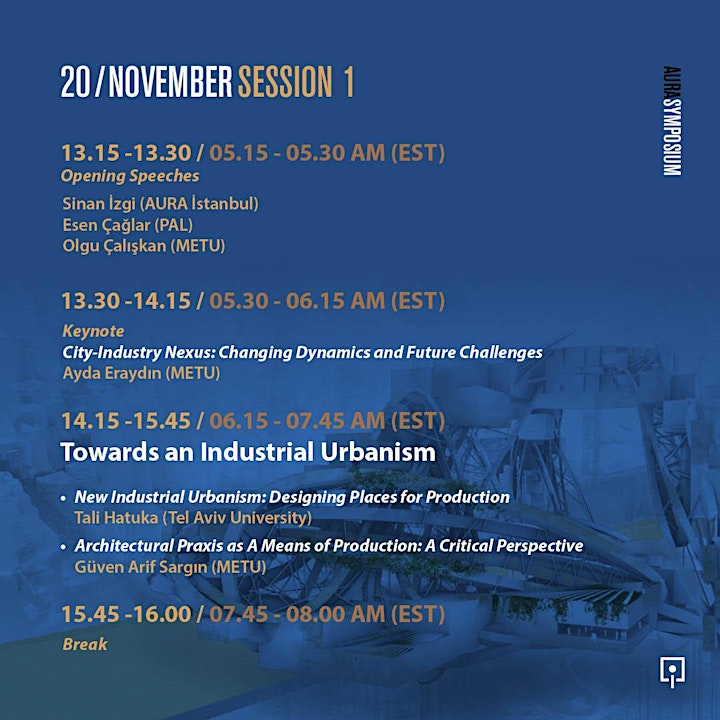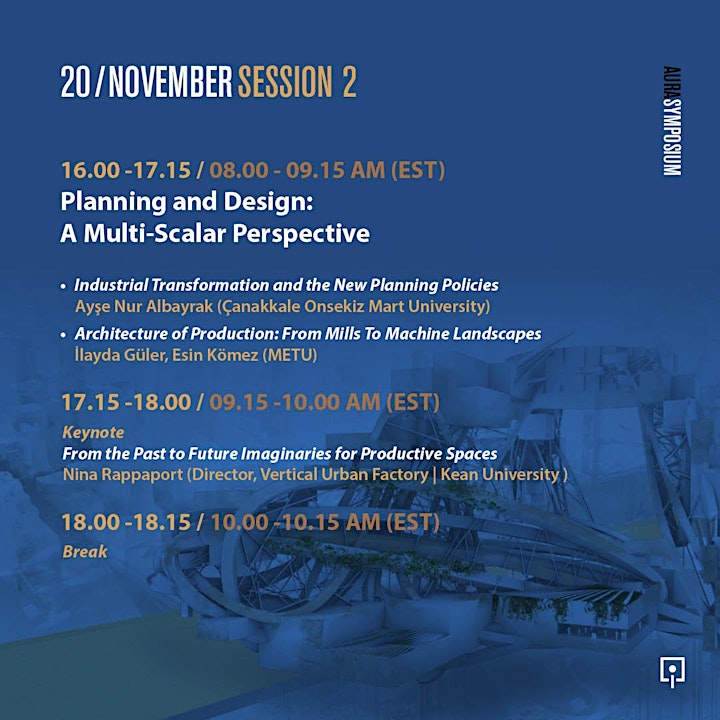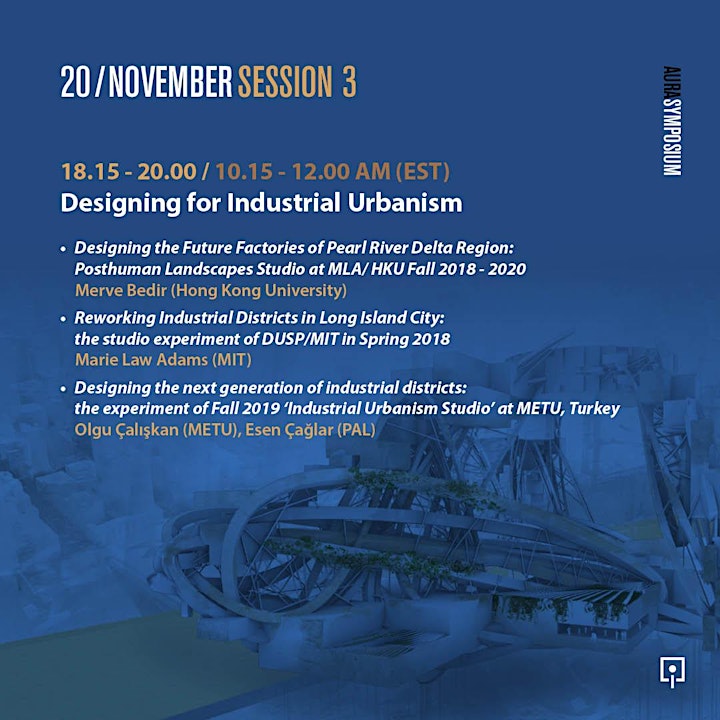 Organizer of AURA Symposium "Industry | Spatial Planning | Design for Productive Spaces"
İstanbul Mimarlık ve Şehircilik Araştırmaları Akademisi, dünya kentlerinde ve özellikle İstanbul üzerinde çağın getirdiği çeşitli küresel ve karmaşık sorunların ağır baskı yaptığını gözlemektedir. AURA-İstanbul, bu çağdaş sorunları anlamak ve başa çıkabilmek için çeşitli uzmanlık alanlarının birlikte çözüm üretmeleri gerektiğine inanır. AURA-İstanbul, bu işbirliğini sağlayabilmek amacıyla uluslararası düzeyde faaliyet göstermek üzere yapılanmış kâr amacı gütmeyen bir kuruluştur. 
***

Istanbul Architecture and Urbanism Research Academy, is aware of the complex global problems creating stress over cities worldwide and especially over Istanbul. To understand and alleviate these problems, AURA-İstanbul believes different disciplines need to work together. To ensure this much-needed cooperation, AURA-Istanbul Academy was established as a non-profit organization to operate on a global scale. One of its major goals is to prepare graduates of related fields for their academic and professional careers through its certification program. The other objective is to contribute to a future Istanbul database through research and design projects created at the Academy.