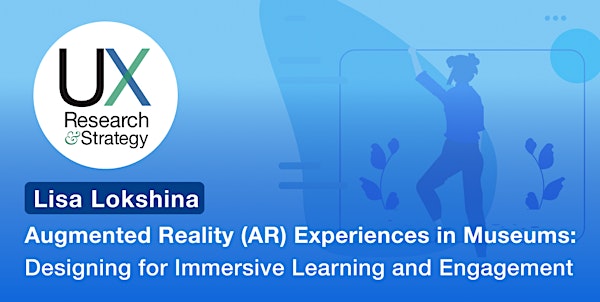 Augmented Reality (AR) Experiences in Museums: Designing for Immersion
Learn about the opportunities and challenges of designing AR experiences for museums - from valuable UX insights gathered while designing
By UX Research and Strategy
Date and time
Wednesday, July 26 · 3 - 5pm PDT
About this event
Augmented reality can transform how we experience and learn about art history. When designed with thought and intention, it can foster rich and meaningful engagements with art, improve the visitor experience, and increase knowledge retention.
In this session, attendees will learn about the opportunities and challenges of designing AR experiences for museums. Lisa Lokshina will share valuable UX insights gathered while designing location-based AR experiences for world-renowned art institutions and discuss what it means to design active visitor engagements using immersive technology.
The session will showcase its findings through a series of compelling case studies, including "A Victorious Athlete in Augmented Reality," a location-based AR app that reveals the long-lost history of one of the Getty Villa's most-prized statues from antiquity. Attendees will gain a deeper understanding of the potential of AR, practical knowledge of crafting immersive location-based experiences, and strategies for designing educational and compelling visitor engagements.
Networking
UXRS strives to create a community where people can make meaningful connections with others in the UX field. Come for the presentation, stay for the UX networking.
We'll end the night with our usual "happy hour" open forum of questions and answers.
Topic 1
What was your biggest take away from tonight' topic?
Topic 2
How might technologies like Lisa talked about be used in other industries?
Agenda
5:00 p.m. - 5:10 p.m. (Central time, similar to Chicago and Dallas, USA) - Introduction and announcements for UX Research and Strategy
5:10 p.m. - 6:10p.m. (Central time) - Presentation + Q&A
6:10 p.m. - 7:00 p.m. (Central time) - Networking
Presenter
Lisa Lokshina is the co-founder and Director of User Experience at L3A UX Studio, where she leads the UX design efforts for immersive tech experiences. She works with some of the world's leading brands and organizations, from creative agencies, Fortune 20/50/100 companies, to small shops and research facilities. She's designed signature projects for Mattel, Xbox, Estee Lauder Companies, Walmart, Pollock & Krasner House, Netflix, and more.
Her recent work includes XR experiences at world-renowned museums, interactive video narratives, VR simulations for healthcare workers, educational apps for kids with autism, and service design for the medical cannabis community. Lisa's work helps clients impart thought and meaning into their tech initiatives, championing user-focused experiences regardless of novelty or medium.
This event is limited to the first 1,000 who enter the Zoom meeting.
We know this speaker is going to be awesome and high demand. So please consider whether you will actually be able to attend to make room for those who are eager to be there.
Please note
For your safety and security, we have created an event that requires you to register with Zoom and create an an account. Please make sure you create a Zoom account (which is free) before joining the event.
** Please Consider Donating **
A Donation Ticket to this webinar is the same as a regular admission ticket to the event. Plus, you are helping keep this event FREE for attendees around the world. Please consider getting a donation ticket as your admission ticket to help UX Research and Strategy provide events like this to the UX community. If you prefer to donate to us directly, and bypass Eventbrite fees, donate now through PayPal.
Host: UX Research and Strategy
UX Research and Strategy is a registered 501c3 group devoted to teaching and exploring topics related to User Experience Research and Strategy. Started by three very talented ladies, Jen Blatz, Lorie Whitaker, and Lauren Singer, who saw the need to address the gap in these topics in the local UX community. The hope for this group is to enrich and complement the UX Design community through knowledge sharing and partnership.
Whether you are a researcher, designer, product owner, strategist, content creator, project manager, developer, technologist, marketer, customer experience pro or any other discipline, please join us.
For more information:
Please note that by attending our events, you are granting us permission to potentially use a photograph including you on our social media channels and website. Don't worry, we will try our best to make you look good.
For online events, and for your privacy, if you do not want your name or image potentially appearing on a Zoom screen, please anonymize your name in Zoom and hide your video.
Please note, we are unable to refund donations.
A Zoom link to the webinar will be provided in your confirmation ticket. Scroll down through the email and you will see the zoom link to join.
UXRS code of conduct. By getting a free or donation ticket to our events, you agree to read and abide by the conditions of this code of conduct. Failing to do so will result in immediate removal from our events and any social media channels. We expect you to be respectful of everyone in our UXRS community.
Thank you for your support!
About the organizer
UX Research and Strategy is a registered 501c3 organization, and was founded by three former co-workers who saw a gap in the user experience meetup market. Based on community feedback, we formed a group that is dedicated to teaching topics in UX research and strategy.
Our goal is to make these topics both approachable and actionable by ensuring our attendees come away with concrete examples of how to confidently implement user experience research and strategy methods in their day-to-day projects and work.