Description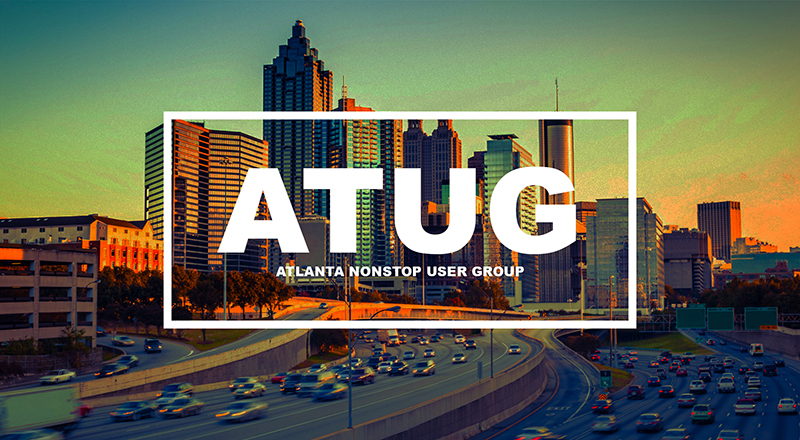 ATUG (Atlanta NonStop User Group) was originally established in the 80's and was reformed in 2016 with a new purpose. We are located in Atlanta, GA and have the support of the local HPE team and strong Partners. ATUG is comprised of members from HPE, Partners, Users and Vendors from around the world. We formed to meet others, exchange ideas, and learn from others experiences. These are exciting times and we have a well-rounded group of attendees. ATUG meeting attendees are considered HPE NonStop Users and anyone with interest in the NonStop platform.
Share some time with top industry specialists and vendors,
and hear from users about their experiences.
HPE Product Update
Hear a high level overview of the HPE Virtualized NonStop and enjoy an open discussion about current customer private cloud solutions.
New to ATUG?
Read about last year's ATUG Chapter meeting.
Stone Soup – ATUG 2.0
Agenda
---
8:00 - 8:45
Registration and Breakfast - Sponsored by CSP
---
8:45 - 9:00
Opening Remarks – Dale Van Stratten
---
9:00 - 10:00
HPE
Speaker: Keith Moore; Master Solutions Architect; HPE NonStop Engineering
Presentation Title: HPE Update
NonStop Roadmap (Itanium and x86)
VNonStop
R3 Corda update
Capacity on demand
Current Projects and Future Vision (Cloud, Hyper-Converged NonStop, etc.)


---
10:00 - 10:30
Morning Coffee Break - Sponsored by OmniPayments
---
10:30 - 11:00
TSYS Customer Testimonial
Speaker: John Bresnahan – Programmer Analyst Lead, IT Authorizations – Compliance Delivery
Presentation Title: Compliance & the evolving payments landscape
Abstract:
Credit Cards 101 from the merchant acquirer to the payment card processor
The Associations
Regulation and card associations rules – Compliance
Some previous mandates include:

RTC (Real Time Clearing) gas pump authorizations
OCT (original credit transfers)
Incremental Authorizations
Tokenization – What's in your 'Digital' Wallet

---
11:00 - 11:30
NuWave
Speaker: Ernie Guerrera, CRO, NuWave Technologies
Presentation Title: "Open Up Your NonStop Using REST Services"
Abstract: REST APIs are ubiquitous—everyone is using them. Learn how easy it is to integrate NonStop applications with applications and services on any platform, including IoT devices. This presentation will provide an overview of NuWave's REST-based middleware products, use cases, and live demos to show how ​easy it is for your NonStop applications ​to provide and consume REST services​​.
LightWave Server allows you to expose your existing NSK or Pathway servers as REST services. Using JSON messaging, these services can then be accessed by REST clients running on virtually any computing platform, including IoT devices belonging to a customer or partner. LightWave Client allows NonStop applications to securely access REST Web services anywhere, on any platform or operating system through the NSK interprocess message (IPM) system.
---
11:30 - 12:00
XYPRO Technology
Speaker: Jay Price; Sr. Solutions Architect
Presentation Title: Real Time Suspicious Activity Monitoring
Abstract: Proactive control and visibility into your NonStop environment is the ideal way to protect your company's assets and reduce the risk of loss through insider threats, misuse, non-compliance and security breaches. XYGATE SecurityOne provided the intelligence and security analytics for your NonStop environment allowing you to defend, detect, respond and remediate incidents quickly and effectively.
---
12:00 - 1:00
Lunch - Sponsored by XYPRO Technology
---
1:00 - 1:30
Comforte
Speaker: Steve Kubick – Vice President Sales
Presentation title: "Obscurity"
Abstract: Over the past two years, Steve has woven Pirates of the Caribbean, Taylor Swift, a tug boat operator, a radio, and a tobacco class action lawsuit into unforgettable presentations on data security. Steve continues the tradition, this year weaving a child prodigy, a convenience store and one of the FBI's most costliest cases to illustrate the critical necessity to eliminate attack vectors on your mission critical systems. You won't want to miss it!
---
1:30 - 2:00
Idelji
Speaker: Khody Khodayari
Presentation Title: Modern Operation & Performance Management – Eliminate system and application downtime
Abstract: Learn from the past, and know what's ahead. Employ internal or public cloud to automate analytics, with no impact to your active operation & business. Use Web ViewPoint Plus and Remote Analyst to help you achieve all of this.
---
2:00 - 2:30
Tributary
Speaker: Matt Allen
Presentation Title: Cloud Backup and Object Storage for HP NonStop
Abstract: Object storage is the future of backup/restore and archive. This is why all public cloud providers such as AWS and MS Azure offer object storage via the S3 protocol. This presentation will outline the high performance data backup/restore and archive options for HP NonStop customers and describe the cost, scalability, security and performance benefits of Tributary's cloud backup offerings over traditional, legacy storage technologies such as dedup disk and other NAS storage products such as EMC Data Domain widely in use today.
---
2:30 - 3:00
Afternoon Coffee Break - Sponsored by Ascert
---
3:00 - 3:30
CSP
Speaker Name: Henry Fonseca
Presentation Title: Compliance Can Be Fun (No, Really!)
Presentation Abstract: Compliance made easy – that has been CSP's mandate when developing its latest solutions. For the past 3 decades, CSP has been an innovator in the field of NonStop security. However, the challenges now facing the NonStop platform in this area have become increasingly complex. CSP has developed a series of easy-to-use solutions that will keep your system secure, ensure you remain compliant, and best of all, provide the flexibility that a changing NonStop landscape demands.
---
3:30 - 4:00
OmniPayments
Speaker: Jessica Nieves – Vice President, Client Services
Presentation Title: OmniCloudX on NonStop X: Impressive – and Affordable – Together!
Abstract: OmniCloudX on NonStop X hosts numerous instances of the OmniPayments Financial Transaction Switch at pay-for-use prices so affordable that mid-size retailers and financial institutions now can operate own their high-capacity transaction switches. It's the world's first cloud built on NonStop X. The OmniCloudX solution is continuously available with automatic failover to other NonStop X systems. Also supplied are complete security functions for every transaction handled. www.omnipayments.com
---
4:00 - 4:30
Gravic
Speaker: Paul J. Holenstein
Presentation Title: HPE Shadowbase Synchronous Replication Feature Rollout
Abstract: HPE Shadowbase Zero Data Loss (ZDL) is here! With this new release, data loss as a result of unplanned outage is a thing of the past. We discuss these major new HPE Shadowbase features, including: the pros and cons of asynchronous vs synchronous replication, feature rollout sequence, architectural flow, and what to consider when using synchronous replication. Don't be left behind and learn how zero data loss can benefit you!
---
4:30 - 5:00
Drawings and Closing Remarks
---
5:00 - 6:30
Wine and Beer Reception - Sponsored by TIC Software | Tributary Systems | Gravic Inc. | NuWave Technologies