Attend an Eighth Grade Q&A Screening on Fri 1/11/19 @ 7:30 PM @ AFI

Friday, January 11, 2019 at 7:30 PM (PST)
Event Details
You and a guest are cordially invited to attend a screening
of the critically hailed and WGA nominated film 
—Eighth Grade—followed by a Q&A with writer-director 
Bo Burnham!!!
   ***Please Note New Location @ AFI !!!!***
      **As a courtesy to our guests, we ask that you stay for the Q&A.*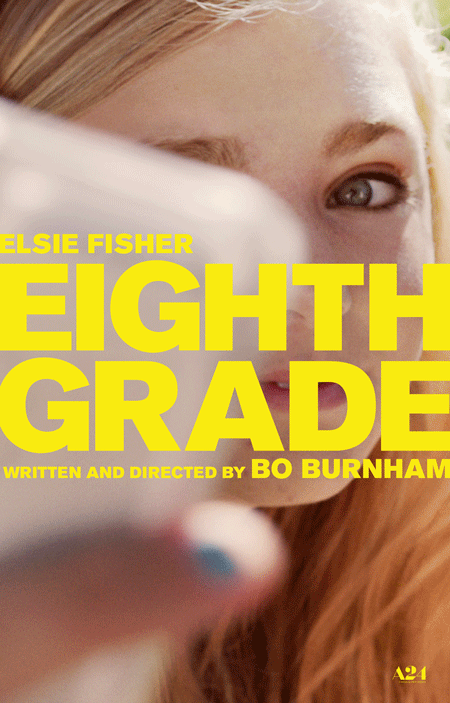 Watch a trailer

Runtime: 93 Minutes

Rating: R for language and some sexual material.

Synopsis:
Thirteen-year-old Kayla endures the tidal wave of contemporary suburban adolescence as she makes her way through the last week of middle school—the end of her thus far disastrous eighth grade year—before she begins high school.

***NOTE:  NEW LOCATION at AFI ***
***Please see sidebars to the right for the event date, time and venue address.
***Parking is Free at this event on a first come, first served basis
RSVP INSTRUCTIONS:
1) Please click the "Register" button above.
2) You will be taken to the event page - please Enter your first and last name, email address and click the "Complete Registration" Button.
3) You will know your RSVP is confirmed if you are emailed one ticket.
4) Please PRINT this ticket, it will be needed for entry for you and your guest. If you do not wish to print this ticket you can save & display it on your phone!
5) This ticket does NOT guarantee you or your guest entry. The event will be overbooked to ensure a full house for the Q&A and seating will be on a first-come, first served basis. Consideration will be given to prevent massive overbookings, but please note, some ticketed attendees could still be turned away.
6) It is recommended for you and your guest to enter together using your ticket, but you or your guest may enter at separate times if needed. The person who has RSVP'd will have their name on a list. You may email your guest your ticket which they can also print or show on their phone to enter.
7) ***NEW***If you have special needs and are unable to stand in line, please contact us before the screening about having one person sit inside, while the other person waits in line outside. When the person outside in line, has been checked in then both people may enter.
8) ***NEW***There is no audio or video recording of any kind allowed at this event. There is also no permission granted for the posting of any audio or video content recorded at this event online in any capacity.
9) This is a private event and as such, seating is at the sole discretion of the organizer, who reserves the right to refuse to seat anyone.
10) In the case of a sold out event, you may try the wait-list. To join the wait-list, just show up to the event and stand in the separate wait-list line. If there is room at the event, after the main list and VIPs are seated, you and your guest will be seated. Please note there is a chance you will NOT be seated, thus only try the wait-list if it is a convenient risk for you to do so. Driving a long distance is not recommended.
PARKING: Is free, on a first come first served basis, both in front of and behind the library building. If parking on the street please read all signs.

When & Where

American Film Institute
Mark Goodson Screening Room
2021 N. Western Ave.
Los Angeles, CA 90027


Friday, January 11, 2019 at 7:30 PM (PST)
Add to my calendar