Attend a Q&A screening of The Edge of Seventeen!!!

Monday, November 7, 2016 at 7:30 PM (PST)
Event Details
You and a guest are cordially invited to attend a screening of
the savvy coming of age tale—The Edge of Seventeen—
followed by a Q&A with writer-director Kelly Fremon Craig!!!
      **As a courtesy to our guest, we ask that you stay for the Q&A.**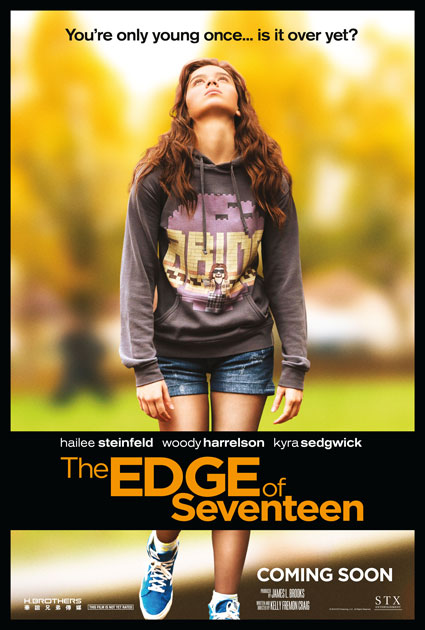 To view a trailer of the film or click here  
Runtime: 102 minutes 
Rating:  Rated R for sexual content, language and some drinking - all involving teens.
 Synopsis:
The Edge of Seventeen is a new coming-of-age movie in the vein of Sixteen Candles and The Breakfast Club – an honest, candid, often hilarious look at what it's like to grow up as a young woman in today's modern world.
Everyone knows that growing up is hard, and life is no easier for high school junior Nadine (Hailee Steinfeld), who is already at peak awkwardness when her all-star older brother Darian (Blake Jenner) starts dating her best friend Krista (Haley Lu Richardson).
All at once, Nadine feels more alone than ever, until the unexpected friendship of a thoughtful boy (Hayden Szeto) gives her a glimmer of hope that things just might not be so terrible after all.
The film also stars Kyra Sedgwick as Nadine's well-meaning but completely ineffective mother, and Woody Harrelson as Nadine's History teacher, mentor and reluctant sounding board. 
The Edge of Seventeen marks the feature directorial debut of writer-director Kelly Fremon Craig, and is produced by Academy Award® winner James L. Brooks – the filmmaker behind big-screen, character-driven classics such as Terms of Endearment, Broadcast News, Big, Say Anything, The Simpsons, Jerry Maguire and As Good as It Gets.  
***Please see sidebars to the right for the event date, time and venue address.
***VIPs must be seated by 7:15 pm - the film starts at 7:30 p.m.!!!
RSVP INSTRUCTIONS:
1) Please click the "Register" button above.
2) You will be taken to the event page - please Enter your first and last name, email address and click the "Complete Registration" Button.
3) You will know your RSVP is confirmed if you are emailed one ticket.
4) Please PRINT this ticket, it will be needed for entry for you and your guest. If you do not wish to print this ticket you can save & display it on your phone!
5) This ticket does NOT guarantee you or your guest entry. The event will be overbooked to ensure a full house for the Q&A and seating will be on a first-come, first served basis. Consideration will be given to prevent massive overbookings, but please note, some ticketed attendees could still be turned away.
6) It is recommended for you and your guest to enter together using your ticket, but you or your guest may enter at separate times if needed. The person who has RSVP'd will have their name on a list. You may email your guest your ticket which they can also print or show on their phone to enter.
7) ***NEW***If you have special needs and are unable to stand in line, please contact us before the screening about having one person sit inside, while the other person waits in line outside. When the person outside in line, has been checked in then both people may enter.
8) ***NEW***There is no audio or video recording of any kind allowed at this event. There is also no permission granted for the posting of any audio or video content recorded at this event online in any capacity.
9) This is a private event and as such, seating is at the sole discretion of the organizer, who reserves the right to refuse to seat anyone.
10) In the case of a sold out event, you may try the wait-list. To join the wait-list, just show up to the event and stand in the separate wait-list line. If there is room at the event, after the main list and VIPs are seated, you and your guest will be seated. Please note there is a chance you will NOT be seated, thus only try the wait-list if it is a convenient risk for you to do so. Driving a long distance is not recommended.
PARKING:  in the structure next to the LA Film School on Ivar is free on a first come, first served basis. If that lot is full you can park up the street on Ivar at the school's other lot, right before Selma—you'll notice a hill going up and that is the school's second lot (also east side of Ivar). Please remember to tell the parking attendant you're there for the screening. If parking on the street, please read all signs in order to avoid a parking ticket.
When & Where

The Los Angeles Film Schools
6363 Sunset Blvd.
Los Angeles, CA 90028


Monday, November 7, 2016 at 7:30 PM (PST)
Add to my calendar
Organizer
Unlikely Films Inc. and Jeff Goldsmith