Attend a Q&A screening of Moana!!!

Thursday, December 8, 2016 at 7:00 PM (PST)
Event Details
On behalf of Walt Disney Animation Studios,

You and a guest are cordially invited to attend a screening of
The critically hailed, smartly written and directed adventure film—
Moana—followed by a Q&A with directors Ron Clements, John
Musker and screenwriter Jared Bush!!!
                          ***Please Note: Early Start Time of 7pm***
      **As a courtesy to our guests, we ask that you stay for the Q&A.**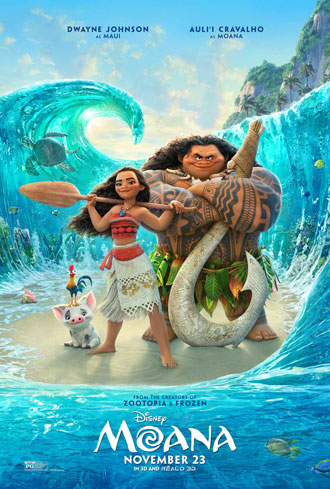 To view a trailer of the film or click here  
Runtime: 103 minutes 
Rating:  Rated PG-13 for peril, some scary images and brief thematic elements.
Synopsis:
For centuries, the greatest sailors in the world masterfully navigated the vast Pacific, discovering the many islands of Oceania. But then, 3,000 years ago, their voyages stopped for a millennium – and no one knows exactly why.

From Walt Disney Animation Studios comes "Moana," a sweeping, CG-animated feature film about an adventurous teenager who is inspired to leave the safety and security of her island on a daring journey to save her people.

Inexplicably drawn to the ocean, Moana (voice of Auliʻi Cravalho) convinces the mighty demigod Maui (voice of Dwayne Johnson) to join her mission, and he reluctantly helps her become a wayfinder like her ancestors who sailed before her.

Together, they voyage across the open ocean on an action-packed adventure, encountering enormous monsters and impossible odds, and along the way, Moana fulfills her quest and discovers the one thing she's always sought: her own identity.

Directed by the renowned filmmaking team of Ron Clements and John Musker ("The Little Mermaid," "Aladdin," "The Princess & the Frog"), produced by Osnat Shurer ("Lifted," "One Man Band"), and featuring music by Lin-Manuel Miranda, Mark Mancina and Opetaia Foa'i.

***Please see sidebars to the right for the event date, time and venue address.
***Please note early start time of 7pm***

***Parking is Free at this event on a first come, first served basis
RSVP INSTRUCTIONS:
1) Please click the "Register" button above.
2) You will be taken to the event page - please Enter your first and last name, email address and click the "Complete Registration" Button.
3) You will know your RSVP is confirmed if you are emailed one ticket.
4) Please PRINT this ticket, it will be needed for entry for you and your guest. If you do not wish to print this ticket you can save & display it on your phone!
5) This ticket does NOT guarantee you or your guest entry. The event will be overbooked to ensure a full house for the Q&A and seating will be on a first-come, first served basis. Consideration will be given to prevent massive overbookings, but please note, some ticketed attendees could still be turned away.
6) It is recommended for you and your guest to enter together using your ticket, but you or your guest may enter at separate times if needed. The person who has RSVP'd will have their name on a list. You may email your guest your ticket which they can also print or show on their phone to enter.
7) ***NEW***If you have special needs and are unable to stand in line, please contact us before the screening about having one person sit inside, while the other person waits in line outside. When the person outside in line, has been checked in then both people may enter.
8) ***NEW***There is no audio or video recording of any kind allowed at this event. There is also no permission granted for the posting of any audio or video content recorded at this event online in any capacity.
9) This is a private event and as such, seating is at the sole discretion of the organizer, who reserves the right to refuse to seat anyone.
10) In the case of a sold out event, you may try the wait-list. To join the wait-list, just show up to the event and stand in the separate wait-list line. If there is room at the event, after the main list and VIPs are seated, you and your guest will be seated. Please note there is a chance you will NOT be seated, thus only try the wait-list if it is a convenient risk for you to do so. Driving a long distance is not recommended.
PARKING:  in the structure next to the LA Film School on Ivar is free on a first come, first served basis. If that lot is full you can park up the street on Ivar at the school's other lot, right before Selma—you'll notice a hill going up and that is the school's second lot (also east side of Ivar). Please remember to tell the parking attendant you're there for the screening. If parking on the street, please read all signs in order to avoid a parking ticket.
When & Where

The Los Angeles Film Schools
6363 Sunset Blvd.
Los Angeles, CA 90028


Thursday, December 8, 2016 at 7:00 PM (PST)
Add to my calendar
Organizer
Unlikely Films Inc. and Jeff Goldsmith