Description
Atlanta has become ground zero for talented hip-hop artists, and A3C has been breaking talent since 2005. ATL's Own presented by A3C & Schweinbeck is a showcase series for some of the most promising artists
in Atlanta.
2 Artists will be picked to perform on the official ATL's Own stage at #A3C17 during the 13th annual A3C Festival & Conference in Atlanta between October 4-8.
A3C & Schweinbeck LLC presents ATL's Own
327 Edgewood Ave
Free w/ RSVP, $10 at door

21+
Sounds by DJ Brannew
Hosted by WizKidMont
Performances By
Ami
Havi
Talea
Brinks Life
Michael Aristole
Jonah Cruzz
Daywlk (SonicBids Selection)
Phonic (SonicBids Selection)


Judges
Diana Schweinbeck
Marcus Griffin (A3C)
Jason Riddick (ASCAP)
Submit to Perform on ATL's Own and A3C17: http://www.a3cfestival.com/perform
The A3C Festival is a 2-day outdoor hip-hop festival in the heart of downtown Atlanta. Thousands of hip-hop fans, artists and creatives from around the world gather to enjoy hip-hop music and culture outside the Georgia Freight Depot on Sat, Oct 7 and Sun, Oct 8.
Sat, Oct 7 = Fools Gold DAY OFF presents A-Trak, DJ Drama & Don Cannon, Zaytoven, Smino, Kodie Shane, Maxo Kream, Wifisfuneral, Hoodrich Pablo Juan, ManMan Savage, Nick Catchdubs, Kittens, Madeaux and special guests.
Sun, Oct 8 = Nas, Ghostface Killah, Just Blaze, Joyner Lucas, SABA, Kirk Knight, Jay IDK and special guests.
The A3C Conference brings together artists, creatives and entrepreneurs in the music industry to connect, learn and create. The 3-day conference aims to empower and educate those that shape hip-hop music and culture.
Speakers Include: Steve Rifkind, MC Lyte, A-Trak, DJ Drama, Don Cannon, Sonny Digital, Fadia Kader, Amber Grimes, Honorable C.N.O.T.E, Zaytoven, Bangladesh, Combat Jack and hundreds more.
Featured Tracks:
The Creator Complex will provide hip-hop artists and producers the space and resources necessary to collaborate and create with professional audio engineers, photographers, videographers, graphic designers and creatives.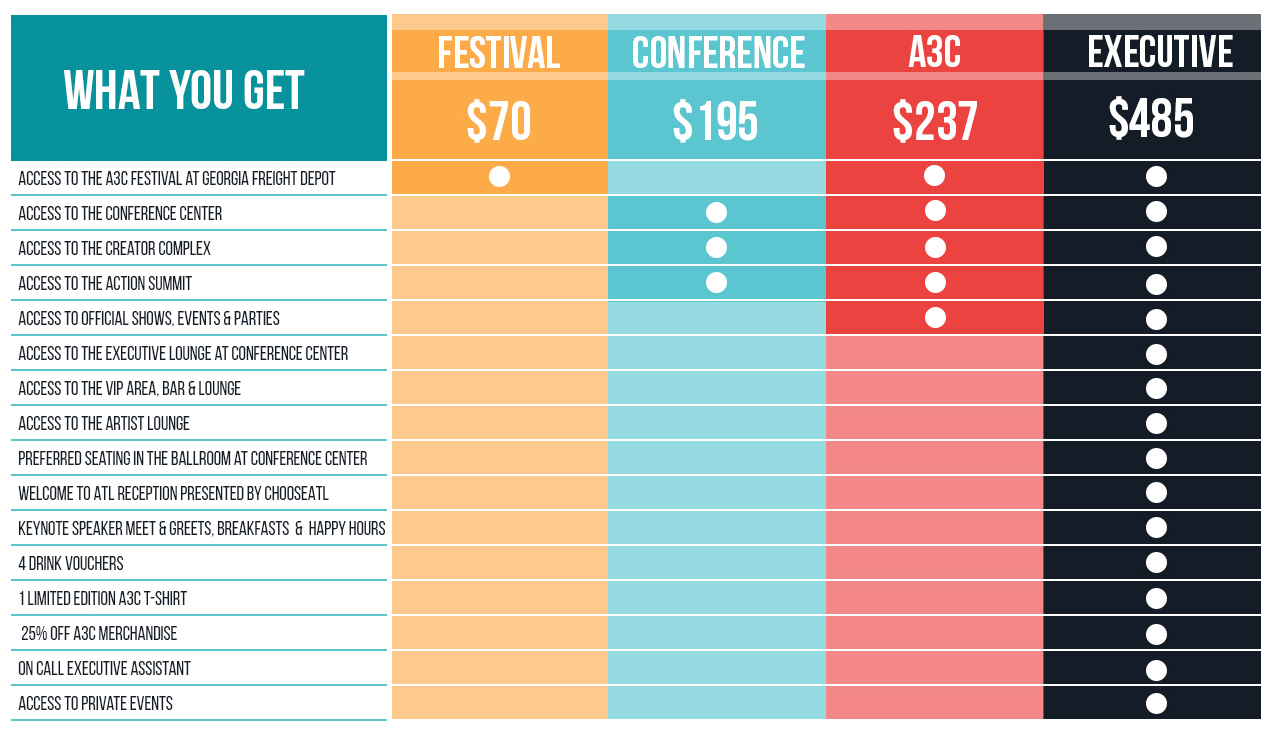 Buy Passes: http://www.a3cfestival.com/attend