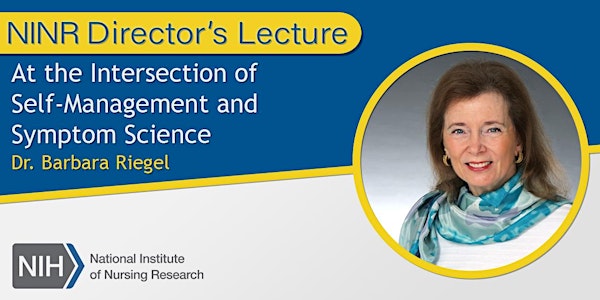 At the Intersection of Self-Management and Symptom Science
NINR Director's Lecture
About this event
To limit spread of the COVID-19 virus, NIH has urged staff to postpone, cancel, or convert upcoming meetings to virtual events. Based on this guidance, the next NINR Director's Lecture will be held virtually via videocast.
Dr. Barbara Riegel will present "At the Intersection of Self-Management and Symptom Science." This lecture will be broadcast live and archived at: http://videocast.nih.gov.
The NINR Director's Lecture Series is designed to bring the nation's top nurse scientists to the NIH campus to share their work and interests with a transdisciplinary audience. For more information, visit the event page.
About the Speaker
Barbara Riegel, PhD, RN, FPCNA, FHFSA, FAHA, FAAN is a professor of gerontology at the University of Pennsylvania School of Nursing and co-director of the International Center for Self-Care Research.
Dr. Riegel's research interests are in self-care, which includes treatment adherence, condition monitoring, and self-management of symptoms. Dr. Riegel began studying these issues early in her career while a clinical researcher in an acute care setting when hospitals were just beginning to recognize that heart failure was a primary reason for hospital readmissions. She has developed theory and self-report measures of self-care that are used worldwide.
Dr. Riegel has received numerous honors and awards including the Distinguished Scientist Award from the American Heart Association, Sigma Theta Tau International Nurse Researcher Hall of Fame, and the Barbara J. Lowery Award from the Doctoral Student Organization at the University of Pennsylvania.
To request reasonable accommodations, please contact nathan.brown2@nih.gov at least five days before the event. Real-time captioning will be available via videocast by pressing the CC icon on the video player.