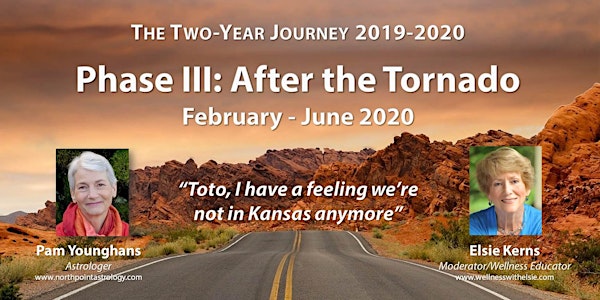 Astrological Guidance February-June 2020 with Pam Younghans!
When and where
Location
Online Event Online Event Marlton, NJ 08053
Refund Policy
Refunds up to 1 day before event
Description

Astrological guidance Feb.-June 2020 with Pam Younghans
"After the Tornado" ~ Airing Live and Recorded for Replay
Thursday, January 30, 2020
4 pm PST | 5 pm MST | 6 pm CST | 7 pm EST | 12 midnight GMT
AS THE FILM "The Wizard of Oz" begins, the world is in black and white. Life is burdensome for our main characters, and they are essentially disconnected from each other. Our protagonist is alternately hopeful and fearful, feeling estranged from the love and support she craves, and experiencing oppression from the powers that be.
A tornado arrives, upending Dorothy's world. When she awakens, she is in a land of vibrant color. It is not a paradise without its problems, but it is a realm where beings work together toward common goals, where there are clear roads to follow. She finds a connection with other like-minded souls, and together they journey forward.
HUMANITY LIKEWISE has been traversing a black-and-white land, with deep divides between our peoples. The political partisanship, while concerning, is merely the easily-seen tip of the iceberg. We seem to be in need of a tornado, to turn us upside down, to reconnect us with each other, and to help us find new common ground, quite literally.
We've been talking for months about the astrological tornado of January 2020. During a single week, from January 8 to 15, an amazing number of significant planetary events occur, clustered around a powerful Lunar Eclipse and the alignment between Saturn and Pluto.
IN THIS 90-MINUTE WEBINAR, entitled "After the Tornado," I will first talk about how our individual and collective experiences in January relating to these astrological events. This review is important to undertake because our path through the rest of 2020 directly relates to events in January.
From there, we'll "ease on down the road" and explore in more depth the primary opportunities and obstacles we'll encounter in the first half of 2020. Highlights include:
• Jupiter's alignments with Pluto, when we could have spin-off tornados, and how they relate to events in January
• Saturn's entry into Aquarius and return to Capricorn, demanding progress and requiring completion of the old
• The shift of the nodal axis into Gemini/Sagittarius, adding another level of karmic completion and evolutionary growth into the dynamic
• The alignments of Pallas Athena with Jupiter and Pluto, inspiring new solutions and the empowerment of the feminine
Before the class airs, you'll receive calendars of January through June, which you can use for note-taking. During the last half of class, we'll move week-by-week through each monthly calendar, noting when there are important developments. As always, I will do my best to "bring the stars down to Earth," explaining in practical terms what the planets are doing, how they are likely to affect us, and how we can best navigate these momentous times by focusing on higher purposes and our own capacity for spiritual maturity.
I hope you can join us! If you can't attend live on January 30, the class is recorded for replay at your convenience. All registrants will receive an email afterward with a link to the replay, audio replay, and PDF slideshow.
TO REGISTER: Visit https://pamfeb-june2020.eventbrite.com. Once you register, you will receive confirmation and follow-up emails from @eventbrite.com.
The class fee is $33. Payment options and registration may be handled online via PayPal or by check made out to Elsie Kerns, 2007 Rabbit Run Rd., Marlton, NJ 08053.
Questions about registering or payment? Please don't hesitate to contact Elsie at elsie@wellnesswithelsie.com or 856.988.7426 (EST)