Is your child between the ages of 1 month to 5 1/2 years of age?
About this event
You and your child are invited to join us for a FREE Virtual Developmental Screening!
Learn how to track your child's developmental milestones! Learn how your child grows, talks, plays, learns, and interacts with their world.
All Families receive a FREE Developmental Tool Kit!
For all Morris County families of children birth to five years of age!
Join us on June 10, 2021 between 2:00 P.M - 5:00 P.M. for your FREE Virtual Developmental Screening. Once you have registered for the event , you will be contacted by the Family Engagement Special, Susan Callirgos , for the timing of your scheduled 30 minute session.
If you have any questions, please email Susan Callirgos at scallirgos@cfrmorris.org.
Sponsored by: Child & Family Resources
This initiative is a partnership of the New Jersey Department of Children and Families.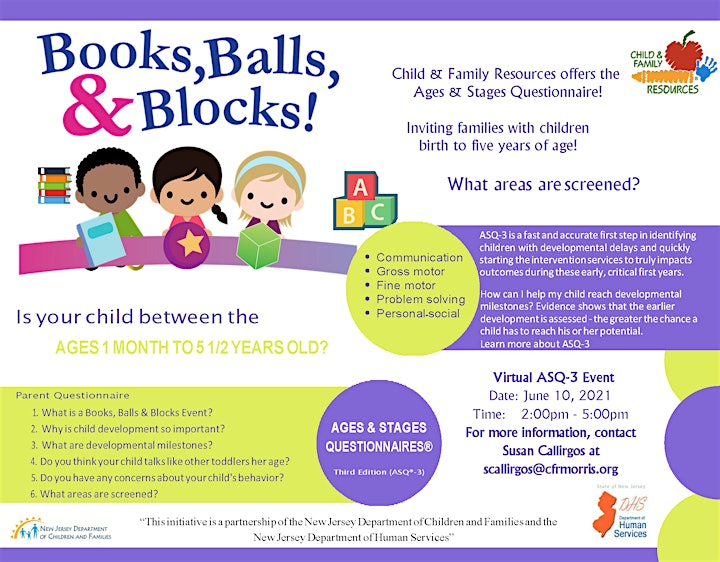 Organizer of ASQ - 3 Virtual Event/ Books, Balls & Blocks!
Child & Family Resources (CFR) focuses on children. We create and implement programs and services that support the development of children and their families by engaging and partnering with the community in their efforts to enhance the lives of children. Our vision is a communal state which shares the burden of early care and education with families.