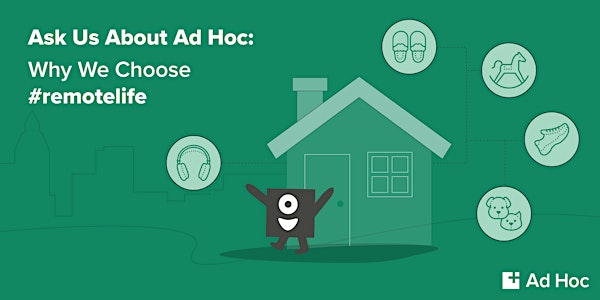 Ask Us About Ad Hoc: Why We Choose #remotelife
A diverse panel of remote employees will share their unique experiences working for Ad Hoc, a remote-first technology company.
About this event
For some, the benefits of working remotely seem obvious — less commute stress, customizable office, and the like. But how else can working remotely add value to your life?
Ad Hoc has been fully remote since 2014, well before the pandemic. Ad Hoc is a digital services company that helps the federal government better serve people. Its founders envisioned Ad Hoc as a remote company to bring the widest possible range of talented people into the world of government technology. Since then, they've built a company that trusts its team members and values the diverse experiences people bring to their work.
Beyond the benefits of flexibility, remote workplaces are a significant support for a variety of employees with various lifestyles. Hear from a diverse panel of Ad Hoc team members - from across America - as they share their unique, first-hand experiences and perspectives working for a remote-first tech company.
If you're open to remote work career opportunities, join this virtual discussion:
To learn about the considerations involved when deciding whether to work in a 100% remote role, and
To learn how to optimize this special professional opportunity.
Ad Hoc is hiring experienced Product professionals, Software Engineers, Researchers, and Designers! After the discussion enjoy a networking session with our Recruiters and HR team members.
Consent and Privacy
For online events, and for your privacy, if you do not want your name or image potentially appearing on a Zoom screen, please anonymize your name in Zoom and hide your video. Cameras are not required to be on to participate in this event. If you'd like to have your camera on, feel free to join in casual attire.
If you are registering to attend this event, we intend to keep you informed of our career opportunities at Ad Hoc with the data you've provided (unless you opt out). We will not sell your data or provide it to any entities outside of Ad Hoc.
We are committed to doing all that we can to keep your data secure. To prevent unauthorized access or disclosure we have put in place technical and organizational procedures to secure the data we collect about you. Please note that you can opt out at any time. Contact hello@adhoc.team for questions.
About Ad Hoc
Ad Hoc, born out of the rescue of HealthCare.gov, is a digital services company that helps the federal government better serve people. We bring technologists together to collaborate closely with government partners to solve the right problems and deliver software that works. We give agencies confidence that they have the right digital skills on board to meet the demands of their mission and the needs of their users.