Let's get the conversation started Columbus, Georgia. Ask Me What I Do!
About this event
My Networking Apparel presents...
Ask Me What I Do! Networking Event
Saturday, June 5th @ 2:00 PM - 6:00 PM
Location in Columbus, Georgia due to COVID-19 restrictions will be releasing the location with your RSVP confirmation.
If you're looking to expand your network and connect with like-minded individuals, business owners and millennials, this is an event for you!
Early Bird: FREE Entry
General Admission: $5
FREE Admission if you wear your Ask Me What I Do shirt
Reservation for admission is required. Please RSVP today!
Networking, Music, Good Vibes, Giveaways and Free Parking
This events gives each entrepreneur the opportunity to gain clients and expand on marketing and revenue.
Come check out our networking event with a pop-up shop ambience.
My Networking Apparel is a conversation starter clothing/apparel brand to create networking unapologetically. Get your signature "Ask Me What I Do" merch!
www.mynetworkingapparel.com | @mynetworkingapparel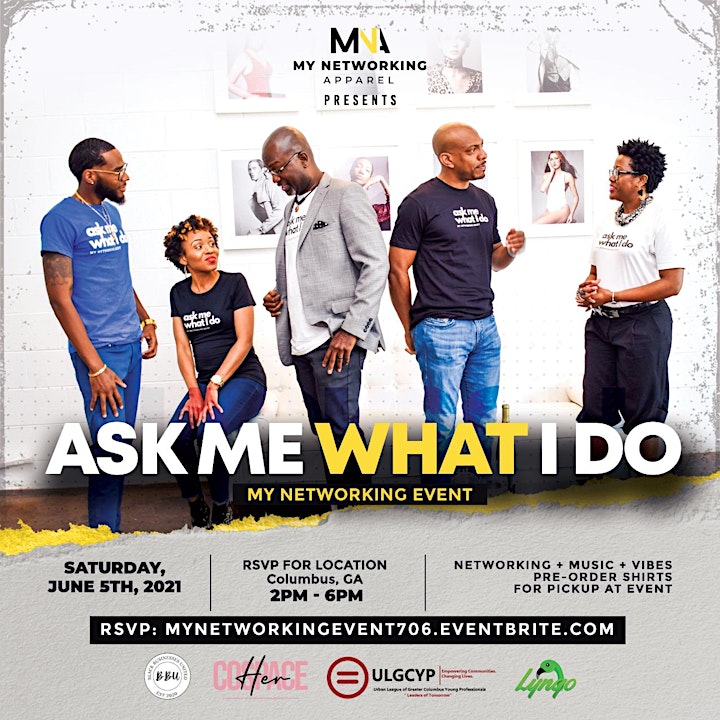 Organizer of Ask Me What I Do | My Networking Event
My Networking Apparel is a clothing line that get's the conversation started unapologetically about what people do to create a broader network.
We get the conversation started to connect, develop, and empower entrepreneurs by creating a culture of like-minded, ambitious, and diverse entrepreneurs that network, collaborate and interact with one another through activities that fulfills the need for success, personal and professional growth.