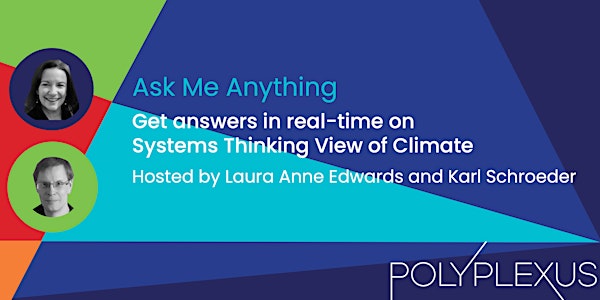 Ask Me Anything Part-1: The Art and Science of Systems Thinking
Hosted by Laura Anne Edwards with guest host, Karl Schroeder on Wednesday, September 23 from 12 pm to 1:30 pm ET only on Polyplexus.com
About this event
Join us on Wednesday, September 23, 2020, from 12 pm - 1:30 pm ET for an 'Ask Me Anything' with Laura Anne Edwards, Fellow at the Buckminster Fuller Design Science Studio with guest host, Karl Schroeder, Futurist and Chair of the Millennium Project. They will be live answering your questions about The Art & Science of Systems Thinking Incubator on Polyplexus.com.
_____
The Art & Science of Systems Thinking
How can Systems Thinking be refreshed with input from multiple disciplines so it can better address the unprecedented challenges we face?
In the wake of Covid-19, there is an appetite and perhaps a window in which we might consider and reimagine global systems from supply chain to public health. With this opportunity comes urgency to rigorously audit methodologies, appraise results and rethink the very nature of complex problem solving.
Can we move beyond enjoyable cross disciplinary conversations and "hackathons" to a whole new way of working? And if so, how do we get there from here?
_____
Three Easy Steps to Participate:
Sign up or sign in on polyplexus.com
Join us on September 23, 2020, 12 pm-1:30 pm ET
Go to the Discussion Tab of The Art & Science of Systems Thinking Incubator. Make sure you are logged in!