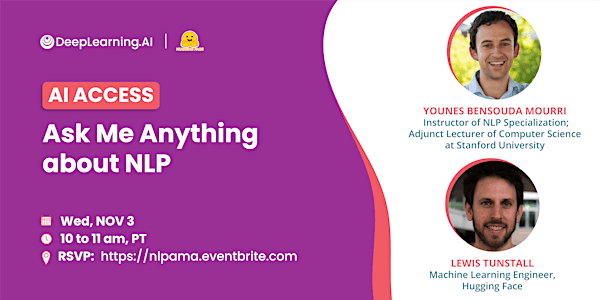 Ask Me Anything about Natural Language Processing
Ask Me Anything about NLP!
About this event
Join us on November 3 for "Ask Me Anything about NLP" - a live AMA session in our Discourse community with Younes Bensouda Mourri, the instructor for our NLP Specialization, and Lewis Tunstall, an MLE at Hugging Face, and get answers to all your NLP-related questions!
This event is in celebration of our NLP Specialization getting updated on October 27. The NLP specialization will be refreshed to include new and improved content and labs. In course 4, "Natural Language Processing with Attention Models," we've also partnered with Hugging Face to create lectures and labs to give you even more hands-on experience with Transformer model applications.
Whether you've already completed the Specialization or are interested in starting now, check it out on or after Oct 27 - there's something for everyone!
Special thanks to Hugging Face to co-host the event with us!
Event Agenda:*subject to change
20 mins: Why you should enroll in the NLP Specialization and what's new!
40 mins: Q&A on Discourse:

If you are a user on the DeepLearning.AI Discourse community, sign in and post your questions at the Ask Me Anything category
If you are not a user yet, sign up here first and open the Ask Me Anything page.
How to attend the event:
If you register, you will receive a livestream link via an email 3 days before the event.
Can't attend the live YouTube event? Don't worry. Register now to get the recorded session after.
About Younes Bensouda Mourri:
Younes completed his Bachelor's in Applied Math and CS and Master's in Statistics from Stanford University. He helped create 3 AI courses at Stanford - Applied Machine Learning, Deep Learning, and Teaching AI - and taught two for a few years. Currently, he is an adjunct lecturer of computer science at Stanford University.
About Lewis Tunstall:
Lewis Tunstall is a machine learning engineer at Hugging Face, focused on developing open-source tools and making them accessible to the wider community. A former theoretical physicist, he has over 10 years experience translating complex subject matter to lay audiences and has taught machine learning to university students at both the graduate and undergraduate levels.