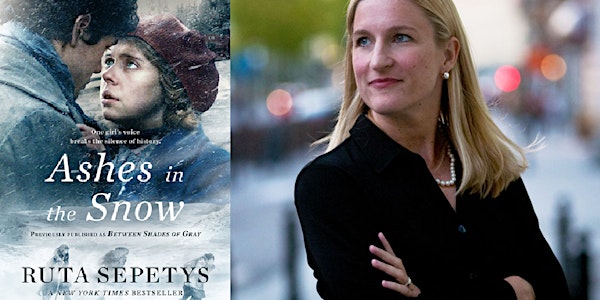 Ashes in the Snow Professional Development Workshop
When and where
Location
Nashville Public Library Main Library Auditorium 615 Church Street Nashville, TN 37219
Description
Join Metro Nashville Public Schools and Nashville Public Library for a FREE professional development opportunity.
The first 100 educators to register will receive a free copy of the new film edition paperback of Ashes in the Snow.
ASHES IN THE SNOW is the movie adaptation of the bestselling YA novel, BETWEEN SHADES OF GRAY by Ruta Sepetys, which won the 2013-2014 Volunteer State Book Award. The movie will be in select theaters this January! Movie trailer: https://www.youtube.com/watch?v=MShio5yeseA&feature=youtu.be
You are invited to a screening of the movie, a conversation with Ruta, and training on how you can use the movie and book with your students/community to illustrate the historical significance of the Lithuanian deportation during WWII and how it relates to current events.
The Victims of Communism Memorial Foundation is excited to partner with Ms. Ruta Sepetys and Mr. Marius Markevicius, director of Ashes in the Snow, as well as Penguin Young Readers to deliver a workshop to assist educators in teaching about the Baltic deportations through the incorporation of the novel and film.
Based on the successful approach of its National Seminar for Middle and High School Educators, the workshop provides content knowledge, pedagogic support, and peer-to-peer sharing to empower teachers in their classroom. Foundation faculty includes Dr. Murray Bessette, Director of Academic Programs.
The workshop agenda includes:
Welcome
Screening of Ashes in the Snow
Q&A with Ms. Sepetys
Workshop on Baltic Deportations led by Dr. Bessette (45 minutes)
Workshop on Between Shades of Gray and Ashes in the Snow as tools for teaching about the Deportations led by Dr. Bessette (45 minutes)
About Ruta Sepetys
Ruta Sepetys is an internationally acclaimed author of historical fiction published in over sixty countries. Sepetys is considered a "crossover" novelist as her books are read by both teens and adults worldwide. Her novels, Between Shades of Gray and Out of the Easy are both New York Times bestsellers and international bestsellers. Her books have won or been shortlisted for over forty book prizes, are included on state reading lists, and are currently in development for film and television.
Ruta is the daughter of a Lithuanian refugee. Born in Michigan, she was raised in a family of artists, readers, and music lovers. She was recently bestowed the Cross of the Knight of the Order by the President of Lithuania for her contributions to education and memory preservation. She is intensely proud to be Lithuanian, even if that means she has a name no one can pronounce.
About the Victims of Communism Memorial Foundation
The Victims of Communism Memorial Foundation is an educational and human rights nonprofit organization authorized by a unanimous Congressional Act, which was signed as Public Law 103-199 by President William J. Clinton on December 17, 1993. From 2003 to 2009, President George W. Bush was Honorary Chairman of the Foundation. On June 12, 2007, he dedicated the Victims of Communism Memorial in Washington, D.C.