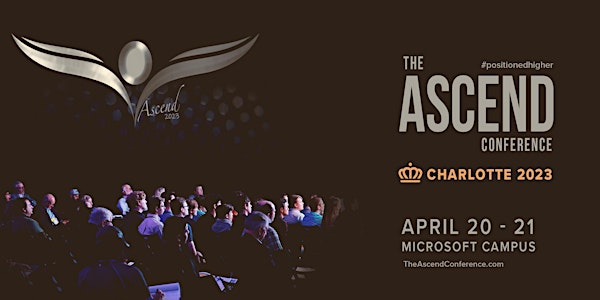 Ascend 2023 - Charlotte, NC
Positioned. Higher. Ascend. /əˈsend/ v. to go up or higher : to rise to a higher or more powerful position. The conference for leaders.
By The Alchemist Agency at Microsoft Charlotte Campus
Date and time
April 20 · 8:30am - April 21 · 6pm EDT
Location
Microsoft 8055 Microsoft Way Charlotte, NC 28273
About this event
1 day 9 hours

Mobile eTicket
Positioned. Higher.
Ascend. /əˈsend/ v. to go up or higher : to rise to a higher or more powerful position. 
Rising to higher positions, scaling your sphere of influence, developing your executive presence; these are not random consequences of unplanned actions. Join us as we explore the deliberate planning, communication, and execution required to ascend professionally. 
The Ascend 2023 - Charlotte conference will bring the leadership community together to exemplify how you can deliver excellence, raise resources, and scale while maintaining a healthy work-life balance.
The conference theme – Dynamic Excellence – will be supported through expert-led sessions offering key takeaways on personal and professional flow. Topics include executive presence, branding and communications, funding and capital, diversity, equity and inclusivity and maintaining personal wellness and more! Lessons learned will benefit your you, your team, company, clients, community and family.
Prepare to engage and invest with fellow leaders through access to two networking receptions, as well as two full days of inspiring and motivating sessions that will help develop your skills as a leader, entrepreneur, and motivator of your team.
Don't miss your opportunity to learn from and engage with these incredible professionals - here is just a sample: 
Innovation Leader and investment strategist Allen T. Lamb, who boasts extensive experience as an early/growth stage investor, media/tech/sports investment banker, operating executive, and digital entrepreneur. Allen has served as Brand Lead and COO for AFROPUNK Worldwide. The investment banker is Founding Head of U.S. Digital Investments & Partnerships for AMPLIFIER.
John Sporing, CEO of JohnSporing.com, LLC a boutique firm specializing in leadership development, mentoring, and honing your networking skills. John Is also CEO of A Life Well Drunk, a bespoke wine experience company which creates luxury wine experiences around the globe and hosts exclusive tasting and pouring events for corporate and private clients.
Attorney Karima Mariama-Arthur, Founder and Chief Executive Officer of WordSmithRapport™, a boutique consulting firm specializing in leadership development and organizational performance management.  As an expert advisor, she brings more than two decades of comprehensive, blue chip experience in law, business, and academia to the field of human capital asset growth and professional development.
Dr. Charryse Johnson, speaker, life coach, and Licensed Professional Counselor (LPC) who inspires people to "live well"  in mind, body, and spirit. For more than a decade, she has provided counsel, leadership, and training to individuals, families and teams throughout the U.S., France, Ecuador, and China.
Founder/Senior Consultant of One Eight Create Consulting, Donald Wood, who curated and leads a collective of systems change facilitators who excel at navigating complexity and co-creating ambitious yet attainable visions and roadmaps for equitable, inclusive organizational change and talent development.
CPA, Podcaster and author Nesha Pai, CEO and founder of PAI CPA. Nesha published her book "Overcoming Ordinary Obstacles", which won the award in the Multicultural Non-Fiction category by the American Book Fest.
Deputy Queens Borough President Ebony Young has spent over 20 years working in the Nonprofit sector as an Executive Leader at institutions like the Long Island City YMCA, TF Cornerstone, the Black Entrepreneur Initiative and the Ladies of Hope Ministries (LOHM). She has been charged with leading, organizing, facilitating and operating nonprofit organizations to the highest efficiency levels, specifically in the areas of youth development, healthy living and social justice reform.
Named as a Young Global Leader by the World Economic Forum, and recognized by President Obama as a CNN Hero, Alfa Melesse Demmellash co-founded Rising Tide Capital to empower underserved urban entrepreneurs in northern New Jersey to start and grow successful businesses. RTC's signature program is the nationally-recognized Community Business Academy – an intensive business training program coupled with year-round consulting and management support, which equips entrepreneurs to better operate their small businesses.
Latricia Clarissa Davis, CEO of EMERGE, a national event management and production company. Latricia is an author and sought-after personal development coach known as a Trainer of Champions.
With over 20 years of technology sales experience, and multiple awards, Rasuwl Walls has been working as a Sr. Account Executive at Microsoft since 2017, focused exclusively on various strategic digital transformation initiatives across the payor and provider spaces in the Healthcare vertical. Rasuwl builds relationships by establishing and cultivating trust with clients by gaining a deep understanding of their business needs and focusing on the outcomes they are looking for.
Career and Branding Consultant, Meredith Dean, is a Certified Multimedia Specialist Professional and Founder and CEO of The Dean's List - a Charlotte-based digital branding and career consulting agency focused on building a strong community of empowered individuals. Meredith has worked with a wide range of professionals including models, actors, journalists, athletes, musicians, producers, and with companies such as ESPN, Twitter, CBS, AT&T, NFL, Miss America Organization, and more.
TedX speaker and Founder/CEO of The Diversity Booth, Amber Booth-McCoy, Inclusive Thought-Leader. Truth-Seeker, and Space Holder. Amber is the co-author of STEM Like Me and served as an internal diversity, equity, and inclusion consultant for the largest academic research center in the State of Arkansas and has a decade of experience in higher education and healthcare.
Chief and Trauma Chaplain, Dr. Garney Davis, Jr., CEO and President of IMPACTING LOVE, INC. out of Buffalo, NY where he serves as Ecumenical Chair for National Black Leadership Commission on AIDS and as a Disaster Action Team Member (DAT) for the Greater Buffalo Red Cross.
Owner & Chief Advisor of Gibson Consulting & Solutions, Keesha Gibson has more than 25 years of business and fund development experience. She has raised and managed millions of dollars in funds for both the non-and for-profit sectors across the country through her "out of the box" ideas, strategic services and funding solutions.
Senior program manager at Microsoft, Chemere Davis, who is leading efforts to create an impactful employee experience for Charlotte based tech talent, building and fortifying talent pipelines for future engineering talent and leaning into the power of corporate community outreach. With a background in artificial intelligence and product management, Chemere is also a member of the executive team for Blacks at Microsoft, Women at Microsoft, and the co-chair for the Industry Advisory Board at the UNC Charlotte School of Data Science.
Investing in the VIP Experience includes a private sommelier designed wine and bourbon pairing, a professional headshot captured by a professional photographer, and a 30-minute scheduled professional coaching session. 
Continental breakfast and lunch provided.
Free Parking.