Event Information
Refund Policy
Refunds up to 7 days before event
Seismic and Surveying PE review course will be held virtually this season.
About this Event
Spring 2021 PE Review Course Information
Want to pass the Civil Engineering PE on the first try?
Wondering where to start and what to study?
Want a comprehensive course that offers instruction for the California-specific exams?
Want to learn study tips and tricks from experienced and licensed instructors?
Want to have a focused study schedule that is efficient and effective?
If you answered YES to any of these questions, you're in luck because ASCE OC YMF is hosting the Civil Engineering PE Exam Review Course for the Spring 2021. This review course will provide a guided supplement to your studying.
Learn from specialized PE instructors and experienced industry professionals that will cover Seismic Principles and Engineering Surveying of the Civil Engineering California PE exam. Course is offered at the following levels:
Seismic & Surveying Review Courses
Seismic Review Course only
Surveying Review Course only
Important Notice: Full Breadth Courses will not be available for Spring 2021.
COURSE DETAILS
Course Schedule:
Sessions are conveniently held virtually on Saturdays and/or Sundays from February 20th to March 6th, to accommodate working professionals and students. Since April 2018, the Seismic and Surveying exams have been administered on a continuous basis.
Spring 2021 PE Review Course Class Schedule:
Saturday, February 20, 2021 - Seismic Principles (Part 1)
Sunday, February 21, 2021 - Seismic Principles (Part 2)
Saturday, February 27, 2021 - Surveying (Part 1)
Saturday, March 6, 2021 - Surveying (Part 2)
Location: Virtual Classes via Zoom
Terms and Condition Policies:
Exam registration is not included. It is the student's responsibility to register for the PE exams. See NCEES and California Board websites for more information on exam registration.
The student must attend all classes during the registered season; no student may postpone any class for the following season. Classes may not be split over multiple seasons.
Valid government-issued ID is required when attending classes.
Please note: Spring 2021's virtual format is a special basis due to COVID-19. Classes are held live and will not be recorded.
Retake Policy:
No retake if PE exam is cancelled or postponed. Retakes are strictly for students who fail the PE exam. Email PE Review Chair within two weeks of receiving exam results from the Board. Course enrollee must show official proof of "no pass" of the respective exam from NCEES or state examination provider to the course administrator, and express your intent to retake the class. No new course materials will be provided for retakes. Retake is subject to seat availability. Valid government ID is required when attending classes.
​Refund Policy:
50% refund shall be issued if requested at least two weeks in advance of first applicable course date.
25% refund shall be issued if requested at least one week in advance of first applicable course date.
No refund shall be issued within one week before the first applicable course date.
MEET OUR INSTRUCTORS
Surveying Instructor - Ron Moreno, PE, PLS
Ron Moreno is a Senior Engineer and City Surveyor at City of Palm Desert. He is a registered Professional Engineer for the state of California and a licensed Professional Surveyor. Ron Moreno has 27 years of experience working in both private firms and public agencies. He has been an Adjunct Professor at Cal Poly Pomona for almost 12 years.
Seismic Principles - Josh Gebelein, M.S., S.E.
Mr. Gebelein is a practicing Structural Engineer at Parsons. He holds a Master of Science degree in Civil and Environmental Engineering from Stanford University and has more than 20 years of experience specializing in earthquake engineering, performance-based design, seismology and applied mathematics. His projects include many iconic structures of Southern California's landscape such as Wilshire Grand Tower, Metro Exposition Line and Purple Line, Universal Studios Starway Expansion, Disney California Adventure Cars Land Radiator Springs Racers, LAX Theme Building Retrofit, Burbank RITC, UC Irvine Medical Center, and many more. He is a member of ASCE, SEAOC, ACI, and AISC. Mr. Gebelein has been teaching PE Review classes for ASCE since 2007, and teaches Timber & Masonry Design at CSULA.
Course Enrollment Rates:
ASCE OC YMF is hosting the Annual PE Review Course to provide our members and local civil engineering community with quality instruction to help prepare for the PE exam. As a non-profit, we maintain our commitment to keep rates fair and highly competitive since all proceeds go towards funding scholarships, technical tours, seminars, meetings, K-12 outreach, university outreach, and community service events. Instructor notes will be provided a day prior to the first class.
PE Review Committee Co-Chairs:
Alexandra Dubrock, Gabriela Ruiz and Tyler Hodges
Email: asceocpereview@ymf-oc.org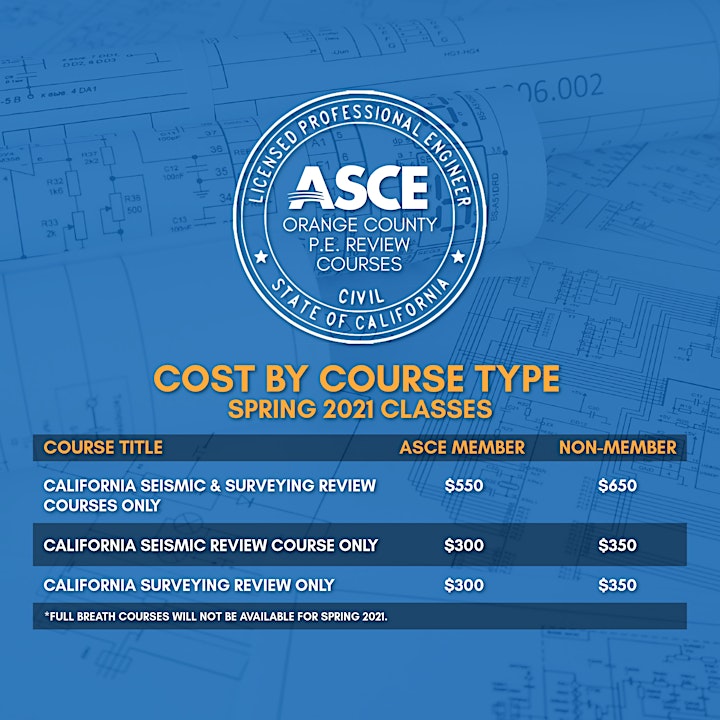 Date and Time
Location
Refund Policy
Refunds up to 7 days before event