ASCE OC YMF - Fall 2019 PE Review Course

Saturday, July 27, 2019 at 8:00 AM

-

Saturday, October 5, 2019 at 8:00 PM (PDT)
Event Details
FALL 2019 PE REVIEW COURSE INFORMATION
Want to pass the Civil Engineering PE on the first try?
Want a comprehensive course that offers instruction for the AM and PM modules, AND California-specific exams?
Want to learn study tips and tricks from experienced and licensed instructors?
Want to have a focused study schedule that is efficient and effective?
If you answered YES to any of these questions, you're in luck because ASCE OC YMF is hosting the Civil Engineering PE Exam Review Course for the October 2019 California PE exam. This review course will provide a guided supplement to your studying.
Learn from specialized PE instructors and experienced industry professionals that will cover all seven subjects of the Civil Engineering California PE exam: Water Resources, Structures, Transportation, Construction, Geotechnical, Seismic Principles, and Engineering Surveying. Course is offered at the following levels:
Comprehensive PE Review Course (All Breadth, 1 Depth, Seismic & Surveying)*

8-Hour National Exam Review Course (All Breadth, 1 Depth)*

Seismic & Surveying Review Course

Seismic Review Course only

Surveying Review Course only
*Course includes 8-HR NCEES Mock Test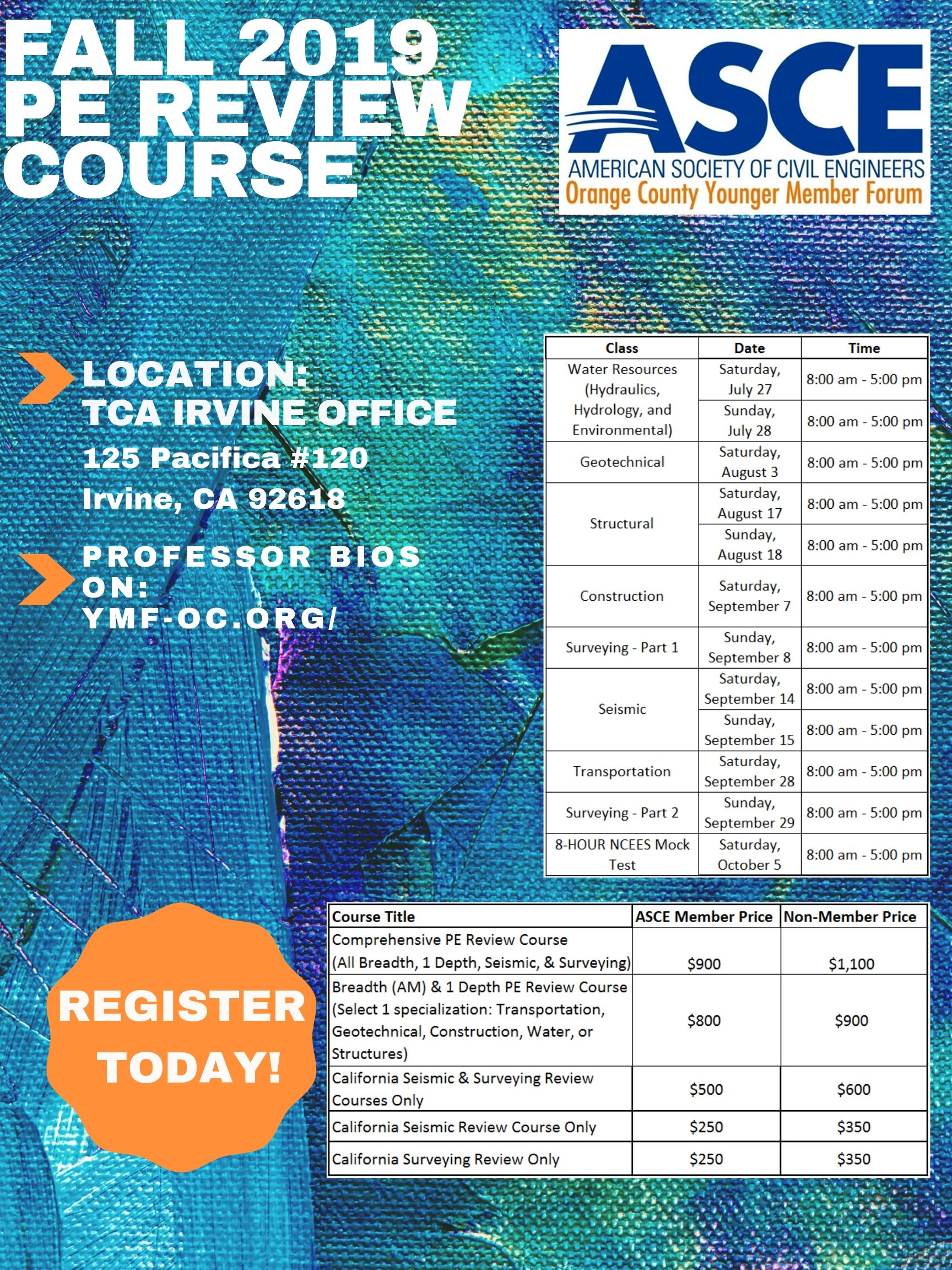 Course Details:
Instructor notes will be printed and provided at the beginning of every session.  
Course Schedule:
Sessions are conveniently held on Saturdays and/or Sundays from July to September to accommodate working professionals and students. A mock exam is scheduled for October 5th and  the 8-hour National Exam is on October 25, 2019. Since April 2018, the Seismic and Surveying exams have been administered on a continuous basis. Depth courses fit within the dates of that specific subject. For example, Water Resources is scheduled over the whole weekend so the breadth and depth will fit somewhere within that time period. How the breadth/depth portion of the class is organized is entirely up to the professor. Please note sometimes there is no separation between breadth and depth portions. You may need to attend both days. You may only attend 1 depth course which is chosen at the time of your purchase.
Mock Test Schedule:
8-Hour NCEES Mock Test Saturday, October 5, 2019 - 8:00 am - 5:00 pm
Course Location:
Transportation Corridor Agencies
125 Pacifica, Suite 120

Irvine, CA  92618
Course Enrollment Rates:
ASCE OC YMF is hosting the Annual PE Review Course to provide our members and local civil engineering community with quality instruction to help prepare for the PE exam. As a non-profit, we maintain our commitment to keep rates fair and highly competitive since all proceeds go towards funding scholarships, technical tours, seminars, meetings,  K-12 Outreach, university outreach, and community service events.
Retake Policy:
Guaranteed to pass or you can attend the next course for free. Restrictions apply. Free retake can only be taken within one year of paid course. Email PE Review Chair within two weeks of receiving exam results from the Board. You must show official proof of not passing the exam(s) initially paid for, and express your intent to retake the class. No new course materials will be provided. Change in depth subject during retake class is subject to additional costs. Retake is subject to seat availability, if the PE Review Chair has not been informed within two weeks of receiving results. Valid government ID is required when attending classes.
Refund Policy:
100% refund shall be returned if requested by July 20th, 2019.

75% refund shall be returned if requested by July 26th, 2019

No refunds will be allowed after July 27, 2019.
Meet Our Instructors:
See More at - http://ymf-oc.org/
Surveying Instructor - Ron Moreno, PE, PLS
Ron Moreno is a Senior Engineer and City Surveyor at City of Temecula. He is a registered Professional Engineer for state of California and a licensed Professional Surveyor.  Ron Moreno has 27 years of experience working in both private firms and public agencies. He has been an Adjunct Professor at Cal Poly Pomona for almost 12 years.
Construction Instructor - Dan McAuliffe, PE
Dan McAuliffe is a Project Manager for Morley Builders, where he has successfully helped his team complete hospitality, commercial, parking structures, mixed-use multi-family housing, and educational/institutional projects throughout Los Angeles. Passionate about maximizing efficiency for all project team members, Mr. McAuliffe is particularly interested in building information modeling (BIM) and the implementation of Lean Construction techniques during the construction phase of the project life-cycle. Dan has experience teaching construction engineering and management at California State University, Northridge and UCLA Extension. A California-licensed Professional Engineer, Dan completed his M.S. Civil Engineering - Construction Engineering and Management from USC and his B.S. Structural Engineering from UC San Diego.
Geotechnical Instructor - Binod Tiwari, PhD, PE, California State University, Fullerton
Dr. Tiwari is a professor of civil and environmental engineering at California State University, Fullerton (CSUF). In addition to developing graduate program in geotechnical engineering and state-of-the-art geotechnical research lab at CSUF, he had taught over 10 different graduate and undergraduate geotechnical engineering courses at CSUF. His short courses on slope stability and landslide mitigation, retaining wall design and slope stabilization, and foundation design and repair are very popular among practicing civil engineers and architects in California. He has been very active in ASCE geo-institute in both national, where he serves as the National Geo-challenge Director and regional level where he served as the chair of ASCE GI Los Angeles chapter. He is a vice president of International Consortium on Landslides. Dr. Tiwari has been awarded with dozens of national and regional awards including the 2017 Outstanding Professor of the Year award, the highest faculty award provided by CSUF for outstanding achievement in teaching, research, and service. He has supervised over 250 students on graduate projects, theses, and undergraduate research, specifically in geotechnical engineering field and his students are currently working as geotechnical professionals in California, USA, and globally. He is a licensed professional engineer in California and has done extensive consulting work in geotechnical engineering projects all over the world.  
Water Resources & Environmental Instructor - Anthony Farmand, PE
Engineering & Business Manager with over 20+ years of experience in Civil & Environmental Engineering, Program & Project Management, Land Development, Supervision, Oil & Gas, Design & Construction.
Instructor of Hydraulics, Hydrology and Environmental Engineering for the Civil PE Exam since 2002
Registered Professional Civil Engineer in all 50 States, Washington DC, Guam, and US-Virgin Islands
Adjunct Faculty at Norco Community College
PhD, Engineering Management – George Washington University (Fall 2018)
MS – Environmental Engineering – CSU Fullerton, CA
MBA – National University – Fresno, CA
BS – Civil Engineering – CSU Fresno, CA
LEED GA – Leadership in Energy & Environmental Design, Green Associate
QSD/P – Qualified Stormwater Developer / Practitioner
CPESC – Certified Professional in Erosion and Sediment Control
Transportation Instructor - Daniel E. Mitchell, PE
Dan Mitchell is an Assistant General Manager and the Chief Engineer for LADOT, the City of Los Angeles Department of Transportation, where he leads the Office of Project Delivery & Operations. His responsibilities include the planning, design, and implementation of the department's capital improvement and safety projects, including Mayor Eric Garcetti's Great Streets and Vision Zero programs. Dan also oversees the day-to-day operation of the city streets, including the traffic signal system and the ATSAC Traffic Management Center. Mr. Mitchell earned a bachelor's degree in Civil Engineering from Loyola Marymount University and a master's degree in Civil Engineering with an emphasis on Transportation Systems from the University of California at Irvine. He is a licensed Civil and Traffic Engineer in the State of California, is certified as a Professional Traffic Operations Engineer, and has over 20 years of experience in transportation and parking management.
About LADOT: The Department of Transportation leads transportation planning, design, construction, maintenance, and operations within the City of Los Angeles. We work together and partner with other agencies to improve safe, accessible transportation services and infrastructure in the city and region.
Seismic & Structural Instructor - Josh Gebelein, M.S., S.E.
Mr. Gebelein is a practicing Structural Engineer at Parsons. He holds a Master of Science degree in Civil and Environmental Engineering from Stanford University and has more than 20 years of experience specializing in earthquake engineering, performance-based design, seismology and applied mathematics. His projects include many iconic structures of Southern California's landscape such as Wilshire Grand Tower, Metro Exposition Line and Purple Line, Universal Studios Starway Expansion, Disney California Adventure Cars Land Radiator Springs Racers, LAX Theme Building Retrofit, Burbank RITC, UC Irvine Medical Center, and many more. He is a member of ASCE, SEAOC, ACI, and AISC. Mr. Gebelein has been teaching PE Review classes for ASCE since 2007, and teaches Timber & Masonry Design at CSULA.
For more information please contact:
josue.candelario.asce@gmail.com, mvijayakumar@engeo.com, or adubrock@conteches.com
Sponsorship
Save This Event
When & Where

Transportation Corridor Agencies
125 Pacifica, #120
Irvine, CA 92618


Saturday, July 27, 2019 at 8:00 AM

-

Saturday, October 5, 2019 at 8:00 PM (PDT)
Add to my calendar