Event Information
Refund Policy
Refunds up to 7 days before event
These speakers will give valuable insight on how to show everyone that you are a reliable, committed, and valuable new hire.
About this Event
Purpose:
We are very excited to announce the start of a new 3-part series of presentations aimed at preparing university students and early career younger members to make the successful transition into the workplace. Knowledge that was typically learned through trial and error has been condensed into a jam-packed session aimed at giving early career professionals the tools to jumpstart their career. Seasoned professionals who were once in your shoes will give tips and tricks on the essential finishing touches needed to excel in the workplace. These skills include:
Justifying new opportunities with Norisa Abelgas, P.E.
Norisa Abelgas, a Civil Engineer Associate with the Port of Long Beach, will explain how to leave a current position without burning bridges, when an appropriate time to leave is, communicating reasons for leaving, and how to maintain connections after your departure. Attendees will also learn how to evaluate job offers based on items like professional growth, compensation packages, and work culture.
Pitching Ideas when you're new with Alex Lin, P.E.
Alex is a Water/Wastewater Project Engineer at AECOM who will teach you how to pitch innovative new ideas by gauging your audience, planning a comprehensive proposal of your ideas, linking the ideas to the goals and visions of the company, and how to leave room for flexibility and feedback.
Navigating Disagreements with Elizabeth Ruedas, P.E.
This presentation by Elizabeth Ruedas, a Surface Water Engineer at Michael Baker International, answers questions like: how would a professional ask good questions to understand the opposing viewpoint, how to compose oneself when on the receiving end of criticism, respectfully offering counterarguments to the disagreement, and who may or not be appropriate to seek advice on for these matters?
Managing Uncomfortable Situations with Ken Rosenfield, P.E.
Ken Rosenfield, the Public Works Director for the City of Laguna Hills, will give his experienced input on uncomfortable situations like handling a client who is in the wrong, being transparent during a work conflict, how to deal with difficult situations without being disrespectful or pointing fingers, and how to be proactive in addressing these conflicts.
All of these and more will be covered at this first event so make sure you attend to see more! Join us for Part II of this series, where you will have the opportunity to practice what you've learned in this presentation, through various role-playing simulations with YMF and Branch Members.
Event Agenda:
Welcome Message + Etiquette + Agenda
Introduce Pathways Academy and Purposes
Explain the purpose of Pathways Academy Speaker Series
Explain Event Topic, It's importance, and How Topic Was Selected
Ice Breaker
Justifying new opportunities Speaker Presentation + Q&A
Break (5min)
Pitching Ideas when you're new Speaker Presentation + Q&A
Challenging Disagreements Speaker Presentation + Q&A
Managing Uncomfortable Situations Speaker Presentation + Q&A
Introduce & Thank Pathways Accelerator Planning Committee + Speakers
Preview of Part 2 Event & Closing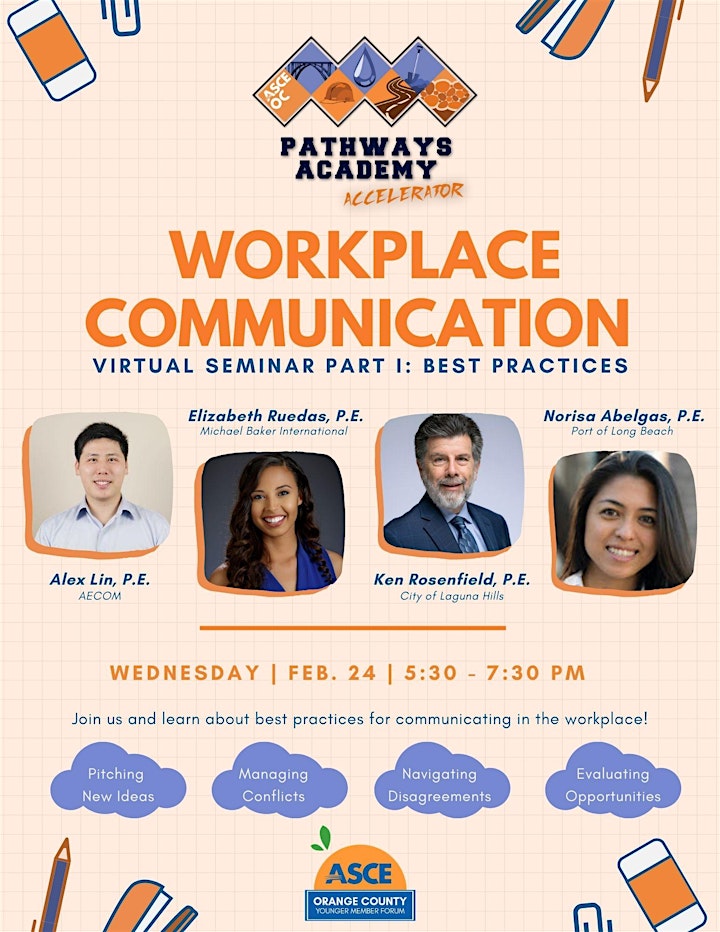 Date and Time
Location
Refund Policy
Refunds up to 7 days before event