Description



ARTISTS TALK 3: Visual Design: PATTERN at City Lights Gallery, Bridgeport
The Cultural Alliance continues its ARTISTS TALK series in collaboration with City Lights Gallery, Bridgeport, in recording the talks of four of the participating artists during the opening reception for Visual Design: PATTERN, on Thurs. Sept. 7 at 8pm.
This is the first in a series of exhibits exploring the principles and elements of visual design, co-curated by artist Jane Davila and gallery director Suzanne Kachmar. The first exhibit explores the principle of Pattern, which is constructed by repeating or echoing a form, shape, symbol or mark to create a sense of balance, harmony, contrast, rhythm, or movement.
The artists selected for this exhibit are showing both large and small works that highlight the many facets of Pattern and Texture, rendered in a variety of media from fiber art to painting to weaving. The artists participating in the ARTISTS TALK are Adger Cowans, Gwen Hendrix, Norma Schlager, and Liz Squillace.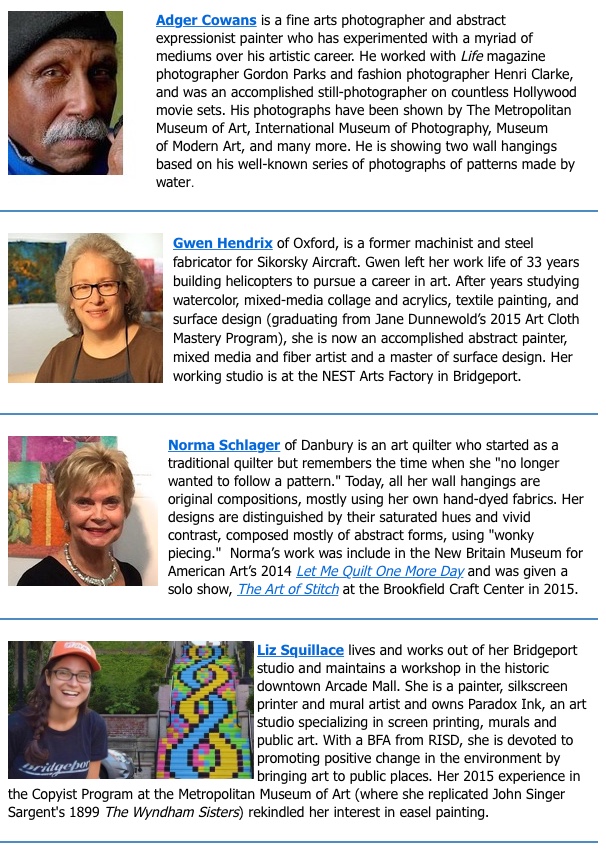 While the elements of design are the "building blocks" - line, color, shape, value, size, and texture, whose arrangement forms the composition of a work of art, the principles of design are the guidelines used to arrange the elements into a composition. The principles include balance, emphasis, harmony, rhythm, pattern, movement, proximity, repetition, variety, proportion, and space.
The videos of this series of talks by artist members, in select group and juried shows, will create an archive of our members discussing their work on our YouTube channel - an asset for our artists and a showcase for the richness of the visual arts in our County. Subscribe to our YouTube Channel here.
PARKING

Ample, safe and lighted parking is available in the Lafayette Square Garage, located on Lafayette between Elm Street and Fairfield Avenue. There is also on-street metered parking and two lots across Golden Hill Street.