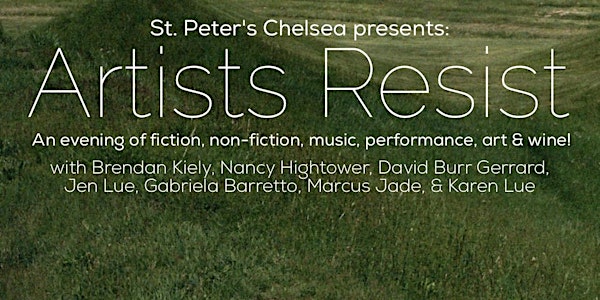 Event Information
Location
St Peter's Episcopal Church
346 West 20th Street
New York, NY 10011
Description
St Peter's Presents: ARTISTS RESIST, a night of fiction, non-fiction, music, performance, and art with Brendan Kiely, Nancy Hightower, Jen Lue, Gabriela Barretto, Marcus Demary, Karen Lue & more.

This is an evening for us to come together and examine what is happening in the world around us. We welcome you to come celebrate community, art and resistance.

Brendan Kiely is The New York Times bestselling author of All American Boys (with Jason Reynolds), The Last True Love Story, and The Gospel of Winter. His work has been published in ten languages, received a Coretta Scott King Author Honor Award, the Walter Dean Myers Award, the Amelia Elizabeth Walden Award, was twice awarded Best Fiction for Young Adults (2015, 2017) by the American Library Association, and was a Kirkus Reviews Best Books of 2014. Originally from the Boston area, he now lives with his wife in New York City. Tradition (forthcoming spring 2018) is his fourth novel

Nancy Hightower has been published in Entropy, Sundog Lit, Word Riot, storySouth Gargoyle, and Cleaver, and has written about politics and religion in HuffPost. From 2014-2016, she reviewed science fiction and fantasy for The Washington Post. She is the author of The Acolyte, (poetry, Port Yonder Press, 2015), and is currently working on a book about digital storytelling with Paul D. Miller for Duke University Press, as well as a memoir about growing up in the evangelical South.

David Burr Gerrard is the author of THE EPIPHANY MACHINE, (Putnam, July 2017) and SHORT CENTURY (Rare Bird, 2014). He teaches creative writing at the 92nd Street Y, The New School, and the Sackett Street Writers' Workshop. He lives in Queens, NY with his wife.

Jen Lue received an MFA in Memoir from Hunter College. A Kundiman fellow, she has been accepted to workshops and residencies at VONA/Voices, New York State Summer Writers Institute, Vermont Studio Center and Anderson Center at Tower View. She lives and works in New York City.

Gabriela Barretto is a NYC based actor and performing and was born in São Paulo, Brasil. In 2012 she received her degree in Communication and Body arts from the Catholic Pontifical University of São Paulo under the theatre wing. Since moving to New York, she is an alumni of the Atlantic Acting School along with the Siti Company Conservatory. She has worked in different theaters in Brasil and has also acted in film. She has performed at the Performance Festival of Belo Horizonte-MG and at the Apartment Festival in Campinas, São Paulo. In film, she worked on "Sylvia- a history of madness", "Vera" and "Concretocinzabstrato".

Marcus Jade writes music, taps his feet, and sings the blues. He was first drawn to music and started Self- learning his way around a guitar at 14 years old/ By that time he had found himself emerged in Indianapolis' eclectic music and art scene where he went to House Shows Underground basement shows and DIY Venues. He has played with many outfits in various genres, from Hip Hop, to Punk, to Metal, to Zydeco, before settling into his own skin, re-igniting his love and passion for blues music, writing composing his own music. Currently living and playing in Brooklyn, he can often be found strumming and setting hearts on fire in art galleries and poetry shops, on rooftops, and in bars or parks- wherever there is silence to fill with music.

Karen Lue received her B.A. in History of Art & Architecture and Economics from the University of Pittsburgh in 2015. After completing a Fulbright English Teaching Assistantship in Taiwan, she began pursuing her photography while living and working in NYC. She works primarily in analog photography and has completed courses in black & white developing and printing and color printing at the International Center of Photography.
Date and time
Location
St Peter's Episcopal Church
346 West 20th Street
New York, NY 10011