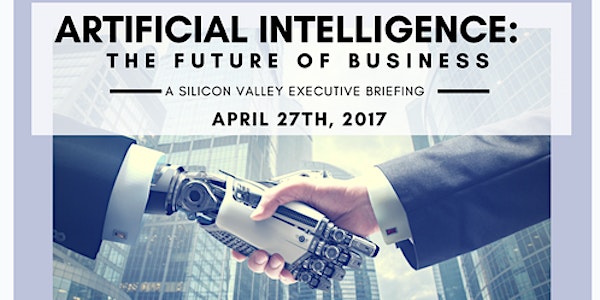 ARTIFICIAL INTELLIGENCE: The Future Of Business: Silicon Valley Executive B...
Location
Silicon Valley Innovation Center
1850 Gateway Drive, Suite # 150
San Mateo, CA 94404
Description
ARTIFICIAL INTELLIGENCE: THE FUTURE FOR BUSINESS
How to Turn AI into Business Value Silicon Valley Executive Briefing
What is Executive Briefing?
Executive briefing is a one day event featuring presentations from CEOs of 20 disruptive startups in AI technology to brief participating corporate executives on the latest trends in AI and help them find applications of AI technology to their business.


What will you get?
Presentations of top disruptors and innovative companies in AI technology;

Hear expert insights and participate in discussions of most challenging aspects of AI;

Test and evaluate cutting edge products and services in AI;

Engage in meaningful dialogue about the future of AI and its transformational impact on your industry;

Build new connections with like minded innovative leaders and technology pioneers;

Develop your action plan for integrating AI technology into your business.
Who you will meet?
20 Disruptive startups and leaders of innovation in AI

Experts in AI technology and keynote speakers

CEOs, chief innovation officers of global companies

C-Level Business Executives

CIO / CTO Leaders

Corporate Investment Managers

VPs of Strategy

VPs of Product Planning

Heads of R&D


Among presenting companies:
Arterys, CureMetrix, Feedzai, Lumiata, Alphasense, Cloudmedx, Abbyy, Clarifai, Pilot, Aiso, AI Brain, Bonsai, Maana, Graphiq, Inboxzeromail, Instreamatic and others.
Among attending companies are:
General Motors, Architecture of Things, Google, Strategic Partners Consulting, Data Monster, Net App, JP Morgan Chase, Samsung, General Motors, UC Berkeley, Citi Ventures, Double Nova Group, Inloop, SK Telecom, Paradigms Consulting Group.
Silicon Valley Executive Briefing Schedule:
08.00 - 09.00 Registration + Continental Breakfast

09.00- 10.00 Keynote Presentation by Andy Zhulenev, Christopher Mohritz, Andrey Kunov - Artificial Intelligence will disrupt industries and transform businesses
~PRESENTATIONS ROUND 1~
Learn about AI applications to improve business processes
10.00 - 10.20 Alphasense Raj Neervannan, CTO, Co-Founder - Natural Language Processing Technology Applications for business
10.20 - 10.40 Maana Azita Martin, CMO - Turning human expertise and data into digital knowledge
10.40 - 11.00 AI Brain Cirrus Shakeri, Ph.D., Chief AI Architect - Personal and social intelligence via smartphones and robotics
11.00 - 11.20 Inboxzeromail Alex Babin, CEO - Intelligently prioritizing business correspondence
11.20 - 11.40 InstreamaticStas Tukshinskiy, CEO - AI solution for voice-response advertising
11.40 - 12.00 Avaamo Ram Menon, CEO AI - chatbots transforming business processes
12.00 - 12.40 Lunch
~PRESENTATIONS ROUND 2~
Learn about AI technologies for creating industry specific applications
12.40 - 13.00 Pilot AI Labs Jon Su, CEO - Computer vision platform for computer-constrained embedded devices
13.00 - 13.20 Jetlore Montse Medina,Co-founder and CEO - AI solutions for Retail Markets (to be specified)
13.20 - 13.40 Mintigo John Bara, CEO, Tal Segalov, CTO - Intelligent customer engagement / Mintigo Innovation 13.40 - 14.00 Flowcast Ken So, Co-Founder - AI application for Fintech industry (to be specified)
14.00 - 14.20 CloudMinds Robert Zhang, Founder & President - AI, Cloud and the Future of RoboticsLearn about AI use in Healthcare industry
14.20 - 14.40 Trace Genomics Diane Wu, CEO & Co-Founder - AI applications for Genetics (to be specified)
14.40 - 15.00 Arterys John Axerio-Cilies, CEO, Founder - Intelligent imaging analytics for a more accurate healthcare
15.00 - 15.40 Cloudmedxhealth Tashfeen Suleman, CEO - Using AI to improve care delivery at all points of care
15.40 - 16.00 Coffee Break
~PRESENTATIONS ROUND 3~
AI in sales and marketing - Learn about the changing sales & marketing landscape triggered by AI technology
16.00 - 16.20 Aviso Michael Lock, CEO - The Next Frontier: AI for the Sales Organization
16.20 - 16.40 Qurious Sabrina Atlenza, Founder and CEO - AI application for Sales (to be specified)
16.40 - 17.00 RocketFuel Mark Torrance, CTO - Use real-time data to anticipate consumer needs
17.00 - 17.20 WeCash Ninghua Wang, Chief Scientist - Credit evaluation based on social networks and big data
17.20 - 18.00 Closing Panel Discussion Experts to be announced. Moderator Andy Zhulenev
18.00 - 19.30 Drinks & Networking
Join the insightful discussion about the most challenging issues of AI technology dialogue and make one step forward to the innovative future together with like-minded innovative executives and disruptive startups.
MORE INFORMATION ABOU THE EVENT: http://siliconvalley.center/artificial-intelligence-the-future-of-business/
About Silicon Valley Innovation Center

Silicon Valley Innovation Center (SVIC) is a leading organizer of thought leadership events in the United States. We help corporations identify and understand the latest technology innovations and re-ignite corporate innovation programs by engaging with industry disrupting startups.
SVIC brings together the best elements of the innovation ecosystem in the Silicon Valley - industry experts, leading tech corporations, disruptive startups, business incubators, R&D centers, venture capital firms, angel investors, service providers, government agencies, and progressive universities.
---