How will artificial intelligence transform society? Join us for an online discussion on addressing challenges & capturing the opportunities.
About this event
Over the past year, amidst the challenges presented by the global pandemic, the role of technology and the importance of scientific and technological progress for the well-being of society and the planet has gained new meaning.
Digital technologies are transforming societies and the way in which information is accessed, shared and understood is being shaped by new platforms and tools. Artificial intelligence (AI), in particular, provides exciting opportunities across diverse fields, from health to development, and is already reshaping our societies. AI coupled with advancements in robotics is raising important questions regarding the automation of the workplace and the type of social protection policies that are needed in response.
How can a human-centered AI design be ensured? What are the main concerns that require ethical considerations and governance responses? What role is there for the developers of these technologies? How can we combine research and innovation in a globally competitive environment and construct an international dialogue and framework fostering human rights?
This public workshop is hosted by the G20 Interfaith Forum working group on Research and Innovation for Science, Technology and Infrastructure, which is presently tasked with offering policy advice to G20 officials on maximizing digital opportunity for all peoples.
For our panel discussion, we are pleased to welcome:
Dr. Peter Asaro, Associate Professor in the School of Media Studies at the New School in New York City
Dr. Kanta Dihal, Senior Research Fellow at the Leverhulme Centre for the Future of Intelligence, University of Cambridge
John Markoff, Journalist and Research Affiliate, Institute for Human-Centered Artificial Intelligence, Stanford University
Dr. Illah Nourbakhsh, K&L Gates Professor of Ethics and Computational Technologies at Carnegie Mellon University
Dr. Selma Šabanović, Associate Professor, School of Informatics and Computing, Indiana University
Moderated by Dr. Branka Marijan, Senior Researcher, Project Ploughshares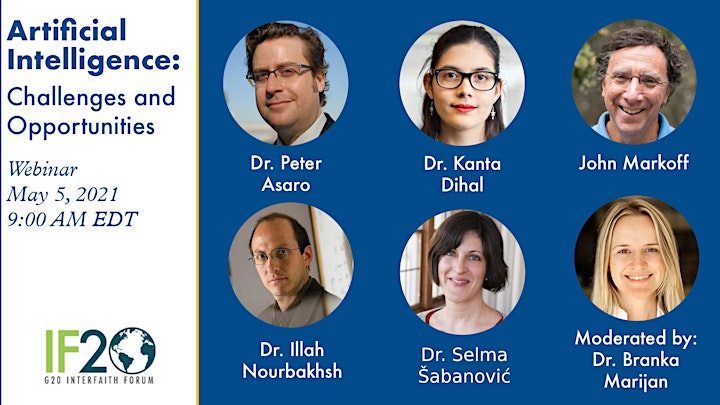 About the Religion, Technology, Innovation , and Infrastructure Working Group