Event Information
Location
Petronas Gallery
KLCC
Kuala Lumpur, Wilayah Persekutuan Kuala Lumpur 50088
Malaysia
Description
ARTERI Pop-Up Classes
The Pop-up Cultural Leadership Institution Is Aimed At Developing Arts Administration and Leadership Capabilities for Arts and Culture Ecosystem Stakeholders
ARTERI, an online Malaysian resource centre for the arts and culture industry, is scheduled to go live this April 2016. ARTERI will increase potential opportunities for Malaysian arts, culture and heritage eco-system stakeholders to contribute to the social, creative and economic sustainability of the sector. As an extension of ARTERI, the ARTERI Pop-Up Classes have been created in collaboration with the local and international community members to become a capacity building platform aimed to develop more Malaysian leaders in the arts sectors. Designed for practitioners, funders, producers, educators, cultural policy makers and critics within the arts ecosystem, the inaugural ARTERI Pop-Up Classes will commence from 15 April to 17 April 2016 at PETRONAS Gallery, Kuala Lumpur.
The following workshops are offered:
Stage Management Workshop
Friday, 15 April 2016
9.30am-12.45pm
Melissa Teoh, Stage & Production Manager
Recommended For: Technical crew, venue management
Media Review Workshop : Why The Arts Needs Criticism
Friday, 15 April 2016
2.30pm - 5.40pm
-Pauline Fan, Writer and Managing Director, PUSAKA
-Sharaad Kuttan, Producer & Presenter, BFM89.9
-Lee Weng-Choy, President, Singapore Section, International Association of Art Critics (AICA)
Recommended for: Editors, writers, bloggers, journalists, arts club editors
Public and Private Partnerships to Catalyse the Growth of the Arts
Saturday, 16 April 2016
9.30am - 12.45pm
Kenneth Kwok, Director of Arts & Youth and Strategic Planning, National Arts Council Singapore
Recommended for: Corporate Funders, Policy Makers, Art administrators/ managers, Arts advocates, activists, NGOs, Corporate social responsibility managers
Preparing to Tour Internationally
Saturday, 16 April 2016
9.30am - 5.30pm
Kristopher McDowell, CEO & Founder of KMP Artists USA
with guest speakers Andrew, Delicata, President of KMP & Domer Balao-as, Manager of ASEAN Projects & Initiatives
Recommended for: Groups and individuals interested in touring beyond Malaysia
Cultural Funding Workshop
Sunday, 17 April 2016
9.30 - 12.45pm
- Datin Marion D'Cruz, Choreographer/ Producer, Five Arts Centre (Krishen Jit ASTRO Fund)
- Solomon Jebaratnam, Programme Manager (Think City Grant Programme)
- Mio Yachita , Head of Cultural Affairs Department & Nurul Amira (The Japan Foundation Kuala Lumpur Small Grant)
Recommended for : Producers, arts administrators/ managers, all level of practitioners
The Assembly of Art Festival Administrators
Friday, 15 April 2016 & Saturday, 16 April 2016
9.30am - 5.40pm
The Assembly of Art Festival Administrators is a gathering of like-minded people, a meeting of concerned voices, a come-together of creative forces, convened by Grey Yeoh. We aim to assemble to discuss the various issues concerning the organising of many an art festival or event.
We want to talk about politics; community outreach; how to raise funds; branding and marketing; curating and programming; talking to the public; working with stakeholders and governments; creating links with other festivals, networking; health and well-being; all the topics that are pertinent to the making of a great festival.
We aim to share ideas, transfer knowledge and exchange skills.
***The Assembly is by invitation only. To express interest in joining the assembly, please visit: http://bit.ly/aaassemble
ARTERI POP-UP CLASSES SCHEDULE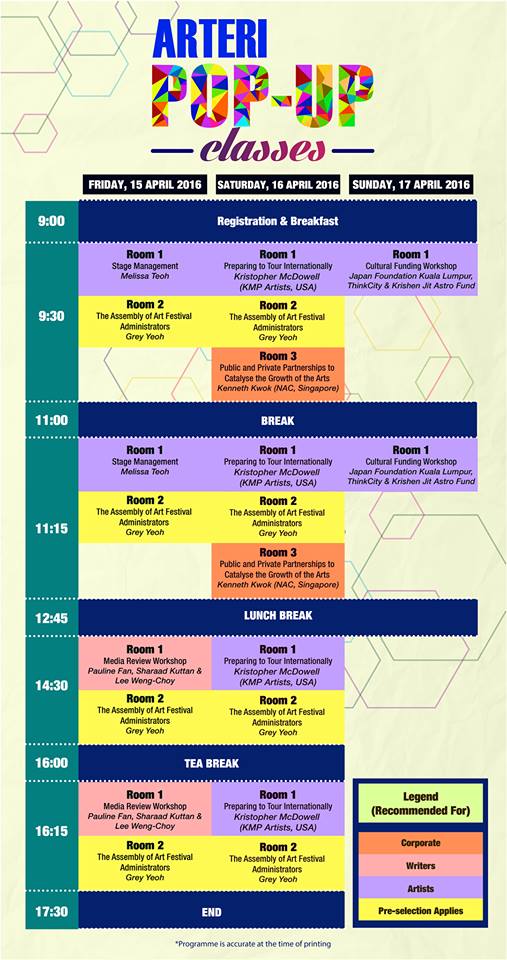 * Classes will be limited to 20 pax per class.
FEES :
STUDENTS**
- Half Day Class : RM 20
- Full Day Class : RM 30
- 3-Day Pass : RM 50
PROFESSIONALS
- Half Day Class : RM 30
- Full Day Class : RM 50
- 3-Day Pass : RM 80
***Fees above apply to all classes except Assembly of Art Festival Administrators Workshop which is free. However pre-selection applies.
Kindly make payment to :
My Performing Arts Agency Sdn Bhd
CIMB : 8001749849
** Kindly present student card upon registration on event day.
* Bookings will only be confirmed based on successful payment. Please email your proof of payment to armani@mypaa.com.my or nurulhayani@mypaa.com.my
For more info please call +603 6207 9566
Thank you!
Disclaimer: The opinions and views expressed by the presenters during the event are the presenters' own and do not necessarily represent or reflect the views of PETRONAS
Date and time
Location
Petronas Gallery
KLCC
Kuala Lumpur, Wilayah Persekutuan Kuala Lumpur 50088
Malaysia