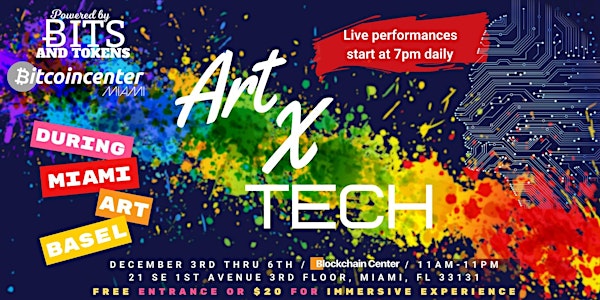 Art x Tech
Join us for: VR/ AR , Live performances, Art Classes, Speakers , Drinks and More!
When and where
Location
Blockchain Center 21 SE 1st AVE 3rd Floor Miami, FL 33131
Refund Policy
Contact the organizer to request a refund.
Eventbrite's fee is nonrefundable.
About this event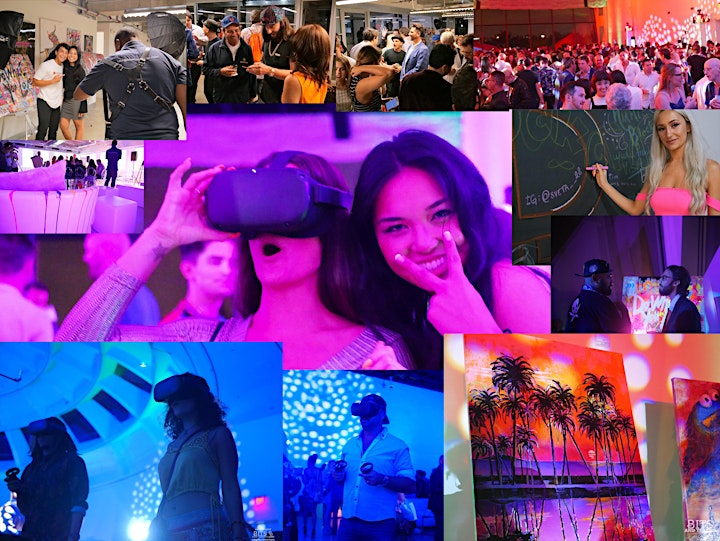 Art🎨 and Technology⚙️ have shaped the 🌎 around us.
Experience the exclusivity between an artist and their content first hand through ; Workshops, Speakers, Games and more.
Bits And Tokens & The Blockchain Center Miami presents;
Art x Tech Gallery. Come Immerse yourself in a mixed reality where there are no limitations to creativity, physically or digitally.🤯
Artists from around the 🌎 will be presenting their most prized masterpieces. Join us for one of the most unique shows and hottest experiences in Miami for Art Basel week!
SEE PRESS RELEASE:
Yahoo Finance: https://finance.yahoo.com/news/blockchain-center-miami-present-art-032500160.html
🤩 General Admission is free!
Add-ons:
Drinks will be available for purchase.
$20 Immersive Experience- includes time in VR,AR, and a Painting class
$40 Week Pass- Get a week long pass to the gallery with Immersive Experience included!
Meet the Artist💃:
Ben Katz
Ben Katz is a New York City-based mixed-media artist and entrepreneur. Always exploring new techniques and mediums, his work is constantly breaking new ground. Katz works with a number of different materials including repurposed tech and a wide variety of found objects. Most recently, Katz has been working with antique findings enveloped in pigmented encaustics, which, when combined, create complex, painterly three-dimensional assemblages.
Nina Swistel
Nina Swistel is a multimedia artist, with recurring themes such as Environmentalism, Feminism and the Internet. Her most recent installation, House of Social Media, deals with the digital divide between the physical world and the internet. Swistel uses materials, such as plastic, resin, plaster, and foam. Swistel often includes found objects that she recycles into her work. Swistel also uses natural elements, such as plants, dirt and rocks. Swistel predominantly focuses on themes of sustainability in her work in order to show a conceptual relationship between society and art. Many sustainable artists are focused on the act of sustainability and less on the conceptual aspects of the work. Swistel uses her work to raise questions, and inspire thought-provoking concepts about sustainability and our society.
Sei Shimura
Sei Shimura is a conceptual mixed-media artist and award-winning contemporary designer based in Los Angeles, CA. Sei was born in Tokyo, raised in New York and earned an art degree at Pratt Institute. Through Sei's exposure to different cities and cultures, his art naturally reflects popular culture touching on topics such as consumerism and capitalism. The bold fine art graphic aesthetic and organic textural quality of his work to create a conversation about the obscurity between art and design. Featured on - Coca-cola and Barbie.
Vince Swain
International Selling Artist ,South-Florida-born painter and graphic arts sensation. His artistic talents sprang forth at a young age where his family, friends and teachers all recognized raw talent in the works. Since his teens, he has been creating stunning street-art and pop-art style artwork in mediums including pen and ink,Paint markers ,acrylics and of course spray paint.
Sofia Maria Paz
Sofia Maria Paz is an Argentine-American artist and MFA printmaking graduate from Arizona State University, where she received GPSA's Teaching Excellence Award. Her art has been exhibited internationally at the Duoro Biennial in Portugal, SGCI's annual printmaking conference, and is the two-year award winner of Speedball's New Impressions national competition.
V E S A
Crypto artist, performer and keynote speaker V E S A is best known for working with Bollywood actress Veena Malik in a world-changing collaboration, which was seen by around 300 million people through BBC World, The Independent, IBT, Times of India, VICE, etc. His innovative mixed media platform Artevo soft forked in 2017 to Art For Crypto, which is rapidly establishing new creative standards in the blockchain art space. He is booked for multiple events in 2019 already as a performer & keynote speaker in international top crypto events. He also writes about creativity on News BTC & Gokhshtein Magazine. His art has been collected by hedge funds, exchanges, CEO's and influencers.
Johnny Dollar
Crypto-Anarchist and Cypherpunk inspired art exploring themes of privacy, surveillance, copyright, hive-mind thinking, virtual-reality, and identity. Questioning humanity's ever increasing interplay with technology whether that be digital, mechanical, pharmaceutical, or neuro-linguistic.
Rani Karnik
An attorney with 15+ years background in corporate governance and compliance. Ms. Karnik's in-house financial services and private practice experience poised her to become an advisor to the Bitcoin Center NYC since 2013, where her interests in technology helped foster a positive crypto ecosystem, encouraging industry best practices and promoting self-regulation, and the myriad applications of blockchain technology for data democratization and long-term, sustainable value creation. Her experience includes legal strategy, negotiations, contract and regulatory interpretation, compliance training and monitoring, improving business practices, creating policies and procedures, and providing institutional guidance in relation to evolving local and federal regulatory requirements. She is also a visionary artist and longtime student of Alex and Allyson Grey of CoSM'S workshops and the Art Students League of New York. Ms. Karnik is a graduate of Barnard College of Columbia University and the University of Pennsylvania Law School.
Soleil River
Nation has had a world of influences in her short life. Born of a Filipino mother and an American father, she has been privileged to travel great distances and enjoy many cultures. Her dynamic sense of self goes way beyond her five years of age, her creative artistry is but one such example. Her sense of style, her comfort with all types of people, young or old, and her intuitive nature would have you believe you are not speaking to a child not yet entered kindergarten.
She started painting at age four and the youngest artists to showcase her artwork during the first only kids exhibit happening simultaneously with Art Basel in Miami Beach in 2018 – Wonder.
Recently, one of her artwork was sold for thousands of dollars on a live-auction during the 5th annual gala for Little Dreamers Foundation (by Phils Collins and Orianne Collins) wherein she is also their first and the youngest art award recipient. She is currently under the tutelage of the legendary artist Romero Britto.
She has been accumulating private collectors since then and has sold numerous paintings.Her happy go lucky nature comes across in her ability to captivate people and put her original happy thoughts into her art.Her original works are self-taught and at this time, limited only by the materials she uses and the restrictions of not having her own studio but the world itself. She names her works and sees them as gifts to be enjoyed by all.
Wendy Atlin,
Wendy's visual arts have additionally been influenced by established modern and abstract artists. She has trained with Mike Elsass, a modern art abstract expressionist and Dael Patton, a renowned local artist known for her mixed media finesse. Wendy's own artistic works are reflective of abstract expressionism. Her style is highly organic, in which her brush, palette of colors and canvas all become extensions of the landscapes she paints. Wendy is a self-taught artist that studied under a number of local greats in her hometown of Toronto, Canada. Wendy has trained with Mike Elsass, a modern art abstract expressionist and Dael Patton, a renowned local artist known for her mixed media finesse.
Jasna Barisic
Jasna Barisic is a Croatian mixed media artist born in Split with her studio in Zadar. In her works she experiments with materials and new techniques. At the moment, Jasna Barisic is focused on working with disposed paper which she recycles herself. In the process, she models it onto a wooden base, creating a rich, resilient, three-dimensional structure as the basis of her artistic expression. She is constantly exploring the possibilities in reshaping material, which makes up the conceptual side of her work as she strives to find her own expression. The theme of Jasna Barisic paintings is the traces of time, events and emotions on both the living, such as the human body, as well as the non-living, such as stone. She is a founding member of ConnectingArt, a group of international artists. Received a degree in Structural Engineering from Zagreb University
Oliver Schibli
Oliver's work pairs the decadent and the minimal, the spectacular and the invisible, seeking to heighten the experience of the spectator by creating immersive environments that transport the viewer into other worlds. The boundless nature of sky and ocean, provoking a striking emotional response. What interests him most about Gold is its scarcity and the emotional response that Gold evokes. Beyond symbolizing opulence and wealth, it manifests a feeling of refinement that is often lost in today's disposable culture. Oliver is a self-taught artist that began creating art in his early years at grade school.
Andrea Musa
Andrea Musa is a Croatian visual fine art artist and her body of work includes painting, installations, photography, and writing. Her work draws on the human experience, elusive concepts of time and space, journeys and is influenced by philosophy, film, literature, the natural world and idea of freedom. Andrea Musa was born in Frankfurt, Germany. She graduated with a degree in Painting from the Assenza Academy in Basel, Switzerland in 2002. She received her Master of Law at the University of Split, Croatia in 2007. She is a recipient of numerous awards, including two first-place awards for graphic design and visual communications (DURH 1998 project and Hypo Jazz Festival Split 2000) and several painting awards: First prize for painting awarded by the Croatian Olympic Committee (Olympic Sports and Art Contest) on the occasion of the 2004 Summer Olympic Games in Athens, Greece; "14th Public and Private Award" (14th "Public and Private - International juried Art Exhibition 2016"); "Iva Vranekovic Painting Award" at the 4th Biennial of Painting, Zagreb, Croatia, 2017. Musa represented the Republic of Croatia at the following exhibitions: United Nations in New York in 2006; The Jordan Festival in Amman in 2009 at the invitation of the Ministry of Culture of the Kingdom of Jordan.
Elisa Rossi
Elisa Rossi is a mixed media abstract artist based in Los Angeles. Elisa was raised and born in Carpi, Italy, where she received formal classical piano training since age five. After earning a Master's Degree in International Relations in 2010 from L.U.I.S.S. Guido Carli university, she lived in Belgrade, Berlin and Brussels while pursuing a career in public affairs. During those years, she was in parallel cultivating her visceral, ever-present passion for visual arts, mostly through drawing and photography. In every place where she lived, the diverse local cultural and historical heritage deeply inspired the development of her creative imagery, as well as the topics that later on inspire her artworks. She now uses painting to explore the symbiotic relationship between the subconscious mind and the artistic output. Carl G. Jung's work 'The Red Book' deeply impacted her in approaching this area of research. She lives her art as a vehicle to authentically deepening her inner investigation while establishing an emotional connection with the audience and has developed a peculiar, original visual language that evokes dreamlike, metaphysical worlds.